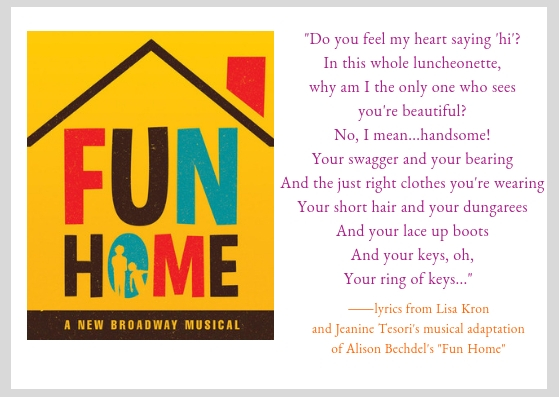 Our hearts are saying hi! June Staff Picks explore LGBTQ+ voices in music, poetry, art, and our nonfiction and fiction collections.
Marie's Pick 
My June pick is the soundtrack for the original Broadway musical Fun Home, adapted from Alison Bechdel's brilliant graphic memoir of the same name. Bechdel came out to her parents in college, and shortly after learned that her father was a closeted gay man. Fun Home explores these broad plot strokes with countless other precise and memorable details about Bechdel's life. The stage production won five Tony Awards (including Best Musical) and is the first musical ever to feature a lesbian protagonist. Both the memoir and musical are complex stories, artfully told, but the soaring music and clever lyrics (by Jeanine Tesori and Lisa Kron) make the soundtrack especially worth picking up. Check out the tracks "Changing My Major" for a sweet, comic take on first love, and "Ring of Keys" (quoted above) for an innocent, profound moment of discovery.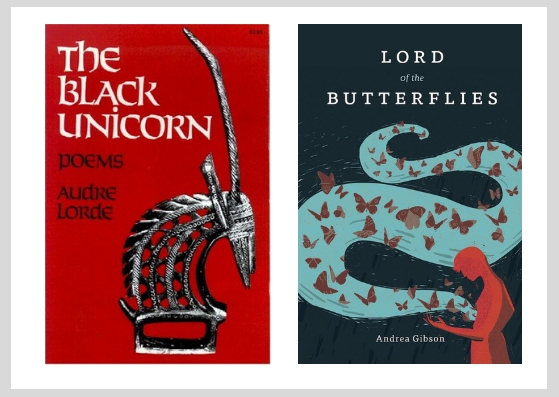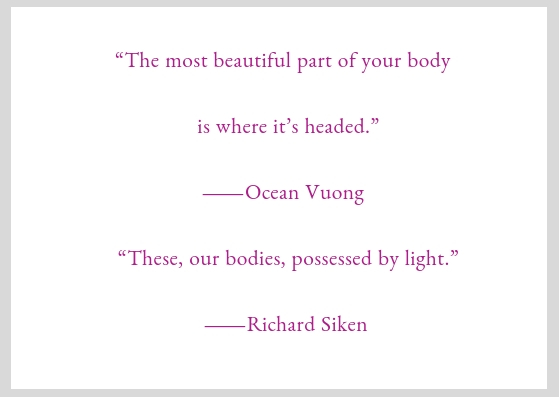 Nora's Picks 
So many wonderful LGBTQ+ writers have found a way to stretch their luminous bodies in poetry. Perhaps it's something about the elasticity of language and form that embraces a more fluid identity. Ocean Vuong (Night Sky with Exit Wounds). Richard Siken (Crush). Adrienne Rich (The Dream of a Common Language). Audre Lorde (The Black Unicorn). Allen Ginsberg (Kaddish). Chen Chen (When I Grow Up I Want To Be A List of Further Possibilities). Marty McConnell (wine for a shotgun). Eloise Klein Healy (Passing). Andrea Gibson (Lord of the Butterflies). Gibson, a Calais native, yearns to feel butterflies and goosebumps, while serving us the kind of poems goosebumps are made of. Poems that are struggles of the body, poems that are gifts to the body. 
 At the moment, I'm also relishing a collection of Molly Malone Cook's photographs with accompanying text by her life partner, beloved poet Mary Oliver. What a delight to hold a book that softly glows with Oliver's love as she speaks of Cook's craft. The very title, Our World, brings forth the idea of two artists finding a way to approach the world we all share, but also a way to share it intimately as a pair. A reminder of all love should be allowed to be: simple, abiding, proud.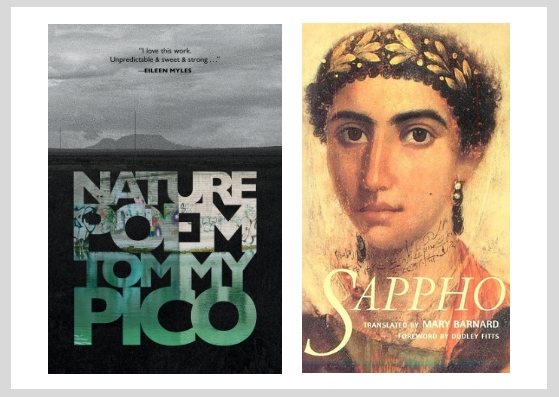 Sarah R's Picks 
On a recent and rare trip to the movies I got to enjoy Wild Nights With Emily, in which Molly Shannon gives life to Emily Dickinson's lesser-known but delightfully gay side. Pulling from a collection of love letters, which history had straight-washed, the film sheds light on the (sometimes secretive) queer romances of great poets. Why not get whisked away by some verse from LGBTQ+ wordsmiths across the ages? Might as well begin with the many translations and unearthed fragments of Sappho, the Ancient Greek poet laureate for women who love women. Onward to the early twentieth century: spend some time with Maine-born bisexual icon and Pulitzer Prize for Poetry-winning Edna St. Vincent Millay, whose own sapphic correspondences can be found in a book of collected letters. For woke and hilarious poetry by a living, breathing, captivating writer, check out Nature Poem by Tommy Pico. The book-length poem muses on colonialism and pop culture among other things, and is full of cheeky remarks on dating as an Indigenous, queer city dweller: "I don't like boys, men, or guys," the protagonist states at the top of a page, later concluding with, "Men dancing is fine tho. / Or like maybe men in socks? I dunno."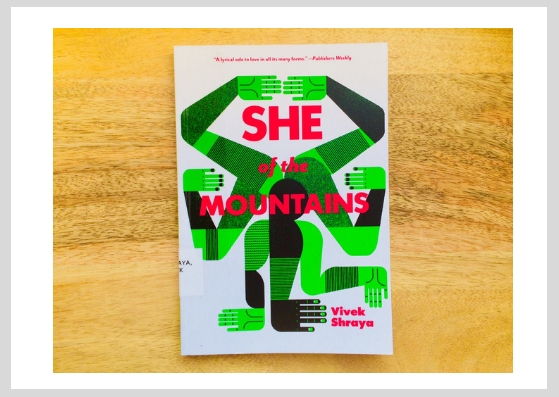 Elizabeth's Picks 
"In the beginning, there is no he. There is no she."
In her 2015 novel She of the Mountains (our Reader's Advisory June 10 Book of the Week) Vivek Shraya shares two tales of love: stories of the goddess Parvati and her beloved Shiva intertwine with those of two lovers in modern Canada.  A lyrical exploration of the complexities of individuality, queerness, and understanding, and a powerful story about hearing your own voice over the din of the crowd, Shraya's riveting work challenges homophobia and identity policing from all corners. This swift, heartfelt, thought-provoking read resonates.  
Bonus picks: Vivek Shraya's new nonfiction title I'm Afraid of Men looks at "how we might reimagine gender for the twenty-first century."
And Ocean Vuong's phenomenal debut novel, On Earth We're Briefly Gorgeous, is finally here. 
_____________________
As ever, thanks for reading! Check out more resources and to see all that we're doing at PPL for Pride Month here.