Are you excited about the eclipse? So are we! Here is some information our librarians have put together to answer all of your eclipse-related questions. We hope that your viewing experience is safe and enjoyable!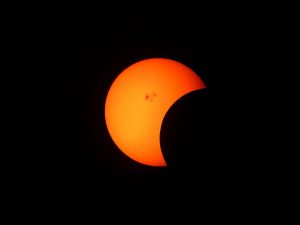 WHAT IS A SOLAR ECLIPSE?
A solar eclipse is a rare natural event caused when the moon passes between the sun and Earth. The moon temporarily blocks the sun from view either partially or totally, depending on where in the world it is observed. In Portland this summer, we will be able to see approximately a 58% eclipse at the maximum magnitude.
WHEN WILL IT HAPPEN?
The 2017 eclipse will take place on Monday, August 21st. It is estimated to begin in Portland at 1:29pm and last until 3:57pm. The maximum eclipse is expected to occur at 2:45pm.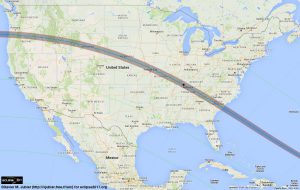 WHERE WILL IT HAPPEN?
It will be visible in some form throughout much of North and Central America. The total eclipse will follow a narrow path from Oregon to South Carolina.
HOW DO I WATCH IT?
It is never safe to look directly at the sun, even when it is partially eclipsed by the moon. The only safe way to look directly at the sun is through special-purpose solar filters, such as "eclipse glasses." Ordinary sunglasses, even very dark ones, are not safe for looking at the sun. You must be sure you are looking through authorized eclipse glasses that have been verified to be compliant with the IOS 12312-2 international safety standard. Look for the symbol that you see below.

WHAT DO I DO IF THE LIBRARY IS OUT OF FREE GLASSES?
If you were not able to get free eclipse glasses before supplies ran out, you might still be able to purchase them. Check this listing of reputable vendors compiled by the American Astronomical Society:
https://eclipse.aas.org/resources/solar-filters
You can also make your own pinhole projector to indirectly view a projection of the eclipse. Check out this video from NASA for how-to instructions using a cereal box:
https://eclipse2017.nasa.gov/how-make-pinhole-projector-view-solar-eclipse
WHEN WILL THERE BE A TOTAL ECLIPSE IN MAINE?
On April 28th, 2024, there will be a total solar eclipse visible from northern Maine.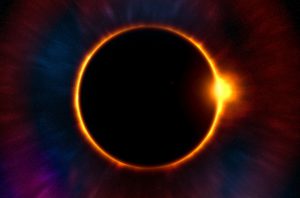 SOLAR ECLIPSE TERMS
Total Eclipse & Partial Eclipse
Depending on where you are when an eclipse happens, the moon might block out the entire sun or just part of it.
Corona
This is the thin ring of sunlight that remains visible around the moon during a total eclipse.
Umbra & Penumbra
The umbra is the darkest, fullest part of the moon's shadow, as would be seen during a total eclipse. The penumbra is a partial shadow, as we will see during this year's solar eclipse in Maine.
MORE INFORMATION
Here are a few websites that offer a wealth of reliable, reputable, trustworthy information about the 2017 Solar Eclipse:
http://www.starnetlibraries.org/2017eclipse/