A First Time for Everything: April Staff Picks
Is it…spring? It's spring! Time for April showers to bring all the flowers, and time for our staff to share the bright, intriguing books we've enjoyed (or are hoping to read soon). Read on for adventures in Europe, compelling memoirs, great gardening books, cozy mysteries, heartbreaking and heartwarming new novels and of course, poetry picks for National Poetry Month. (Bonus: did you know about the City of Portland's incredible tree map?) Read on!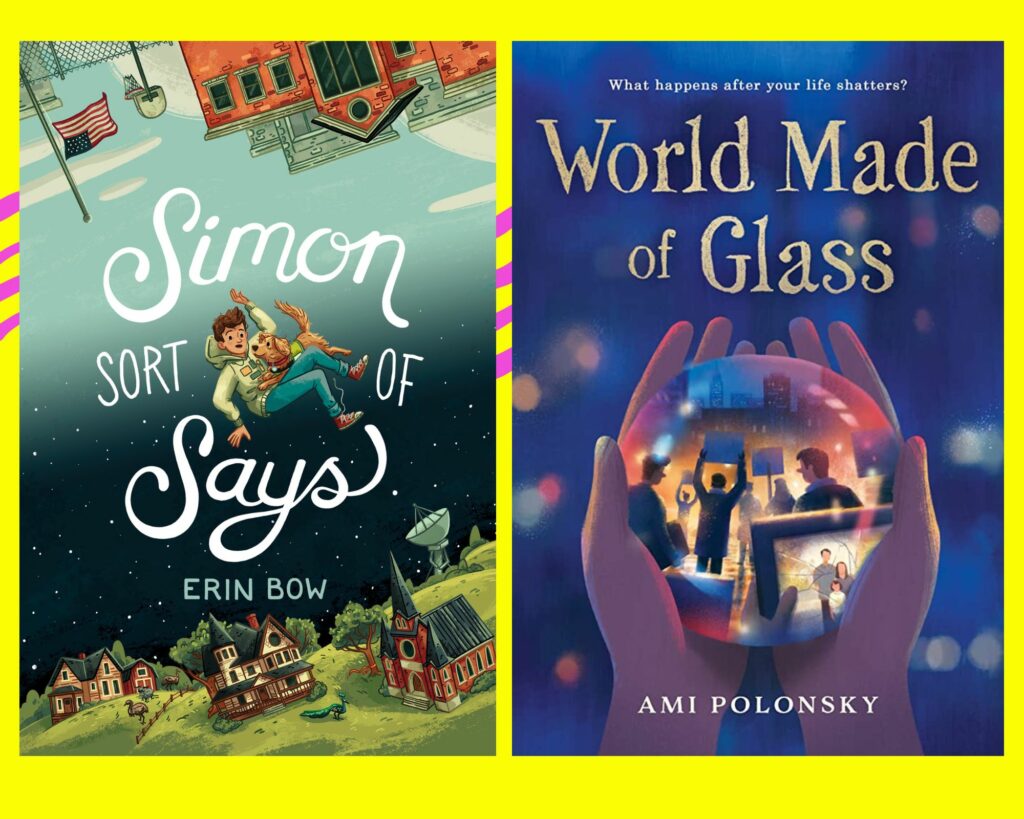 Cindy's Pick  
Here are two new books from the children's library that I'm very interested in.  
In Erin Bow's Simon Sort of Says, 12-year-old Simon O'Keefe comes across as a class clown, telling silly stories about how his family was driven out of Omaha by alpacas and how his mom occasionally has to wrangle emus.  But the story he never tells is one he wishes he could forget: he was the only survivor of a school shooting.  He and his family have moved to the National Quiet Zone, where the internet is banned so radio astronomers can listen for signs of life in space.  Now Simon has a chance to not have his terrible past follow him.  He meets a kid who wants to help the astronomers find what they are looking for and Simon wants to help too!  This is a story about finding new friends, healing from trauma and speaking your truth.  
In Ami Polonsky's World Made of Glass, set in 1987, Iris is trying desperately to act normal and be a regular kid, but nothing feels right when her father is dying of a virus that's off-limits to talk about.  Her dad has AIDS and she resolves to speak out against the fear, misinformation, and prejudice surrounding the virus while getting to know her father better than she has before and discovering more about herself in the process.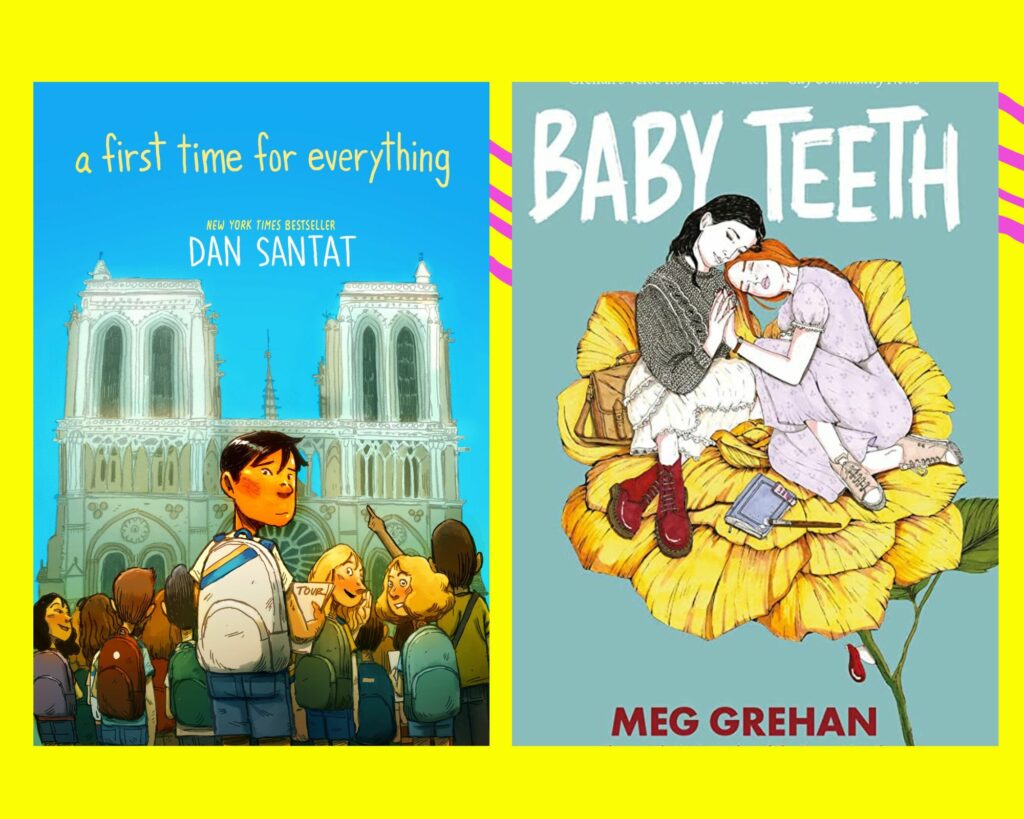 Carly's Picks 
If you're reading this, it may finally feel like spring! But if the weather has other plans, then Dan Santat's new graphic memoir is a great way to celebrate new beginnings. In A First Time for Everything, thirteen-year-old Dan travels to Europe in the summer of 1989. His expectations are low for the trip—he kept to himself in middle school to avoid bullying, and he plans to do the same abroad. But keeping to himself is impossible on a trip where he climbs to the top of the Eiffel Tower, stays with a host family, and sneaks into a Wimbledon match! Through his adventures, he makes new friends—and learns that new experiences might be worth the risk.  
For my next recommendation, let's travel further back in time to 1910. In Krystal Marquis' debut, The Davenports, we follow the Davenport children and their friends in the search for love. But as Black family of wealth and status, the Davenports must also confront racism and navigate gender and class expectations alongside romance. This is a great choice for fans of historical fiction or romance!   
Finally, celebrate poetry month by taking a look at the Teen Library's poetry list for a selection of poems by and for teens. And don't forget about the verse novel! Some of my recent favorites are Baby Teeth and Blood Moon.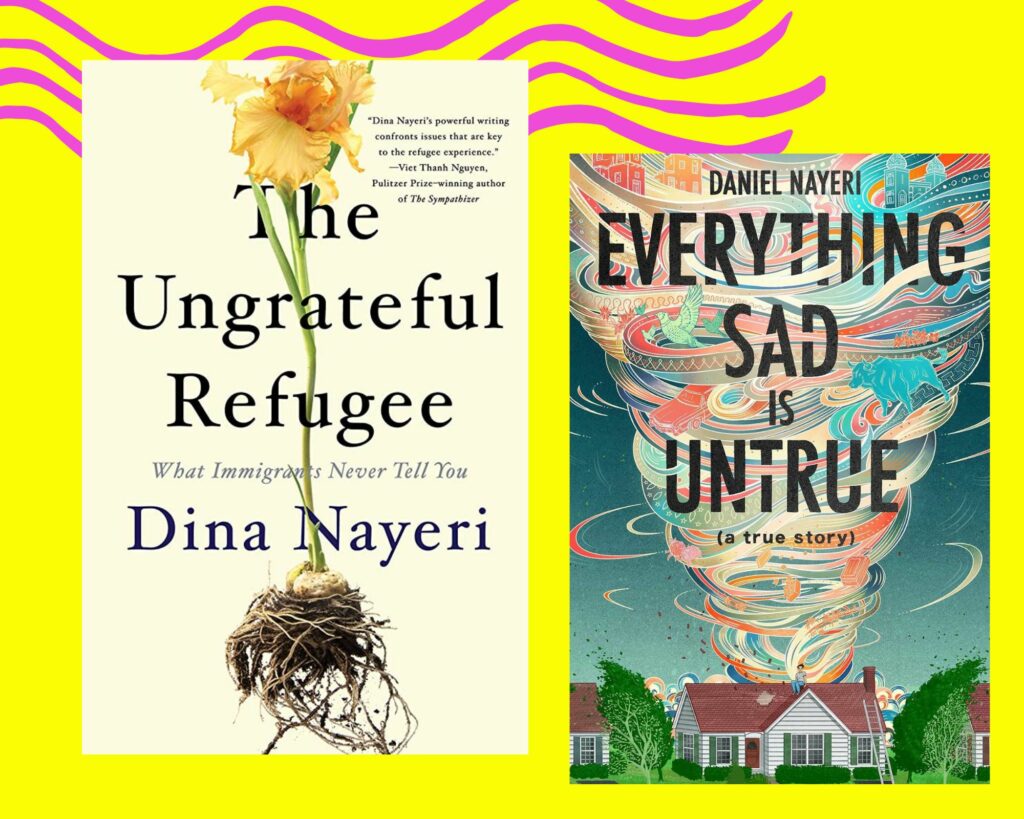 Vicky's Picks 
For me, one of the more rewarding of the library's ongoing programs is our partnership with the immigrant-services agency Hope Acts to provide assistance to asylum seekers as they fill out the necessary (and voluminous) paperwork to remain in the United States. It's had me thinking about some excellent books for a range of audiences that touch on the refugee experience, written by a pair of siblings who themselves became refugees as children when their mother converted to Christianity, a crime in post-Revolutionary Iran. 
Dina Nayeri's memoir The Ungrateful Refugee records the family's odyssey with raw, unfiltered emotion, describing her mother's conversion and their subsequent flight, highlighting the often grindingly humiliating experience of being dependent on others for their survival. Her most recent memoir, Who Gets Believed, is a more expansive interrogation of the nature of belief and skepticism, but threading through it is the conundrum faced by refugees who must prove to a disbelieving state that they deserve welcome. 
In Everything Sad Is Untrue, Dina Nayeri's younger brother, Daniel, also recounts the family's flight from Iran, but with a fictional overlay. Written for middle-grade and teen readers, it won the 2021 Printz Award but boasts both a literary style and complexity of narrative structure that will amply reward adult readers as well. He ranges back and forth in time, exploring in turn topics such as Persian customs of hospitality and the terror of American toilets. 
For still younger readers, Dina Nayeri offers the photoessay The Waiting Place, which introduces children to kids in a refugee camp. Some have recently arrived; some have been there for years. They play, bicker, and dream about the home they left behind and the one they hope they'll find. Photographer Anna Bosch Miralpeix captures these youngsters with sympathy but not sentimentalism. It's an unsettling portrait that underscores the impermanence too many kids endure. 
Readers who've made similar journeys will find much to recognize in these books; those who haven't may understand their new friends and neighbors a bit better.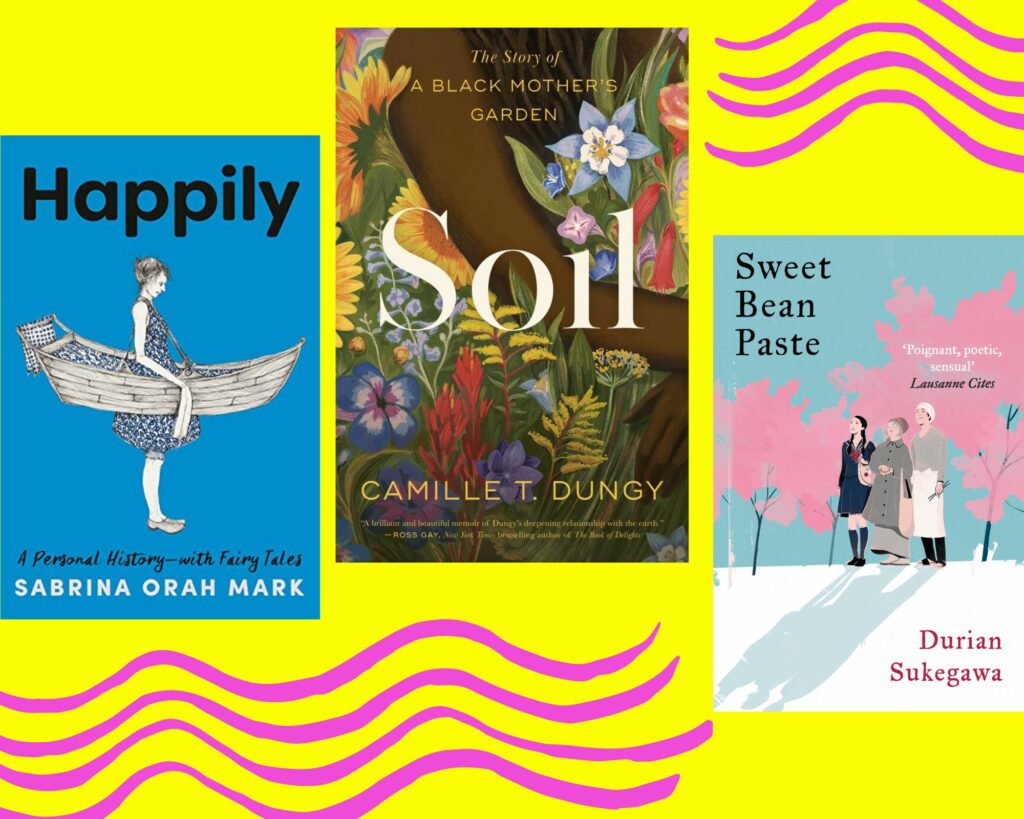 Elizabeth's Picks 
The green of growing things calms me. —Camille Dungy 
Deer and shady sugar maples are both plentiful where I live, so as gardening season begins I'll be reluctantly returning two very helpful books to the library: Deer-resistant Native Plants for the Northeast ("Fill your garden with native plants, not deer") and Making the Most of Shade. Later this spring—on breaks from making the most of shade!—I hope to read Camille T. Dungy's new book Soil: The Story of a Black Mother's Garden. I've followed Dungy's work as poetry editor of Orion (you can read a delightful interview with her here) since she took over from the wonderful Aimee Nezhukumatathil.  
Kelly Link! Her tales are wild and weird and hauntingly close to home. Maybe you yourself could wind up in one. If you loved the titular story in Magic for Beginners, check out Link's new collection White Cat, Black Dog. For a nonfiction spin on fairy tales I'm looking forward to Sabrina Orah Mark's memoir-in-essays, Happily: A Personal History—with Fairy Tales. It has a cover I love and praise from Kiese Laymon: "Magic does live here."  
A friend in Belfast recommends Sweet Bean Paste by Durian Sukegawa (translated by Alison Watts) as a heartfelt novel for spring. Like Soil, it's also a good pick for 2023 Reading Challenge #7: A book with flowers or trees on the cover.  
And, as I am now a full-on convert to genre coziness—cozy fantasy, cozy romance, cozy mystery—I can't wait to pick up Vera Wong's Unsolicited Advice for Murderers by Jesse Q. Sutanto. Which sounds grim. But cozy? I'll just have to read it.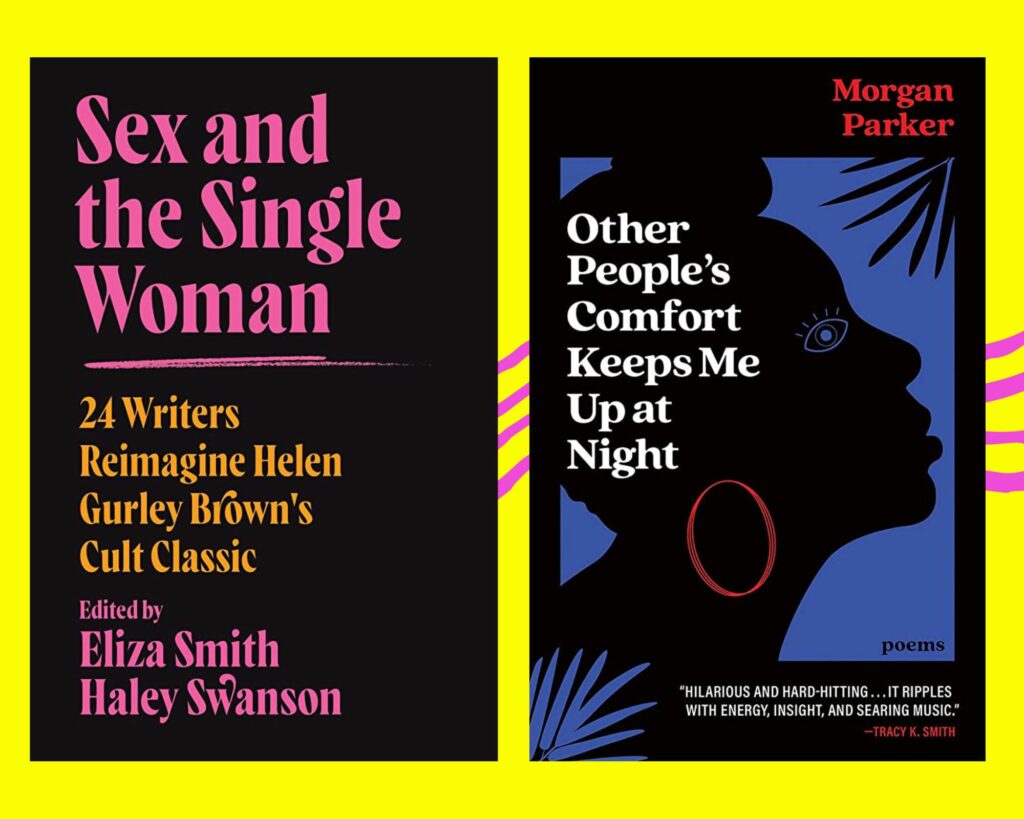 Becca's Picks 
Getting dressed for the day, I find mold 

in an old coffee cup.  What I mean to say is this: 

Honesty is uncomfortable and funny. —Morgan Parker
The first piece by Morgan Parker I read was the essay "Self-help" in the anthology Sex and the Single Woman. (This is a great anthology, by the way.) Morgan extracts and dissects the feelings of dichotomy and dysmorphia that present while moving through life as a perpetually single woman. The essay is honest, in that it is both uncomfortable and funny, as she deftly captures the tension between satisfaction with one's life and the pining for romantic connection. I left this piece with a desire to read more of her work. 
Other People's Comfort Keeps Me Up at Night, Parker's first collection of poetry, is thick with melodrama. Consider some of the titles: "Greetings from Struggle City," "On Children, How I Hate Them and Want to Corrupt Them, How You Know I Hate Them, and What That Could Mean," and "I'd Rather Sink…Than Call Brad for Help!" There are poems imagining scenarios with celebrities and poems imagining the inner lives of Real Housewives. There are also intimate scenes capturing the minutiae of city life and vulnerable portraits of loneliness in other people's company. This collection is like the person who lightens the tension at a funeral by telling a morbid joke. If you're a fan of Billy Collins or Ross Gay but are longing for a sharper edge, then I can't wait to place this book into your hands.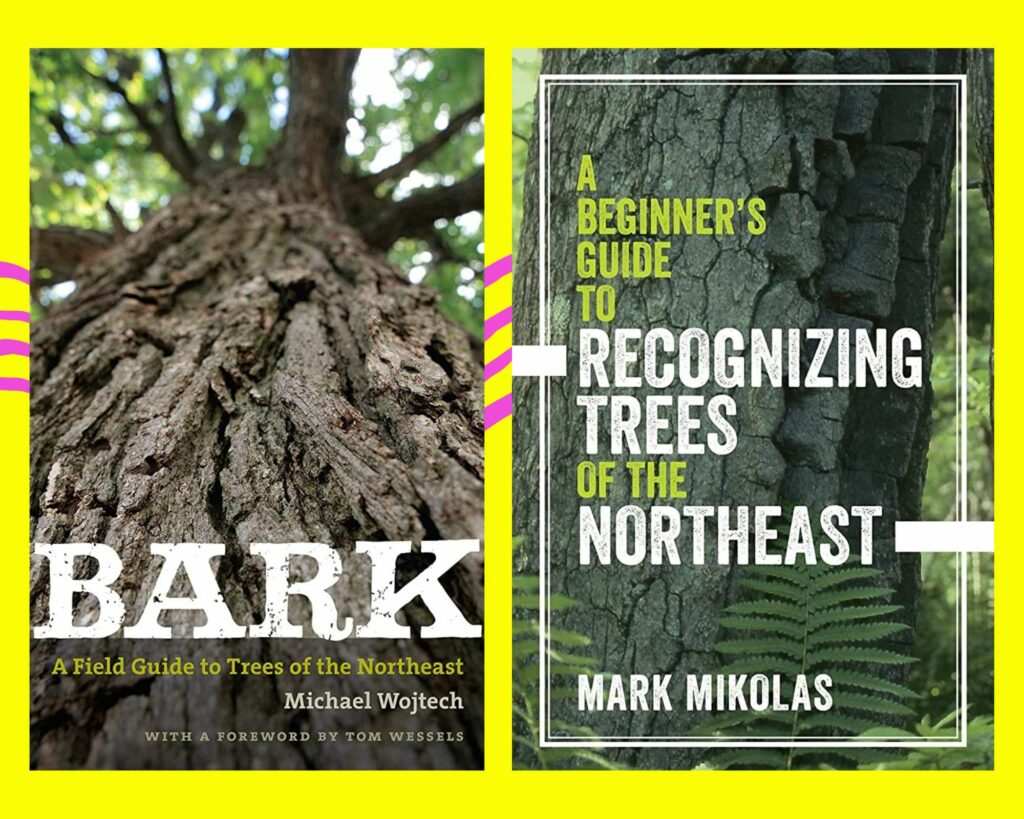 Elise's Picks
Have you ever wanted to be a person who can tell the difference between an ash tree and a maple tree? Or are you just wondering what kind of tree is growing in front of your home? Either way, the library has some great books that can help! I recommend starting with A Beginner's Guide to Recognizing Trees of the Northeast by Mark Mikolas. This book will introduce you to the most common trees growing in Maine and give you many tips on easy ways to recognize them.
Early spring, before the trees have fully "leafed out" is also a great time to appreciate the tree's bark. Michael Wojtech's Bark: A Field Guide to Trees of the Northeast categorizes trees into different groups based on bark structure and has loads of pictures of trees at different ages. It's remarkable how their bark can change with time, just like our skin. There are also some keys for identifying trees by their bark.
Maine's Forest Service has a publication worth checking out for anyone interested in learning to identify trees. Forest Trees of Maine has two in depth keys (one for summer and one for winter) and photos of each tree's buds, leaves and bark. There's also a detailed glossary explaining all the tree terms, and illustrations for when you are trying to find a "leaf scar" or deciding if your conifers needles are "scale shaped" or "awl shaped."
Bonus: If you are stumped on a local tree, you can check the city of Portland's Tree Map!
Stephanie's Pick 
Properties of Thirst by Marianne Wiggins—what a good read, suggested by a patron! The fabulous writing is almost over the top, but always compelling. This novel is a family saga featuring fights, food, and love set in the very thirsty Owens Valley of central California. WWII and the forced incarceration of Japanese Americans at Manzanar highlight more powerful characters, but the enduring battle, which probably still rages, is over water rights. LA water men are evil incarnate for Rocky Rhodes, the patriarch. This is a busy book which captivates until the end. I was confused by the ending, but the Acknowledgement by Wiggins' daughter Lara Porzak reveals important details. Be sure to read that and read this book anyway.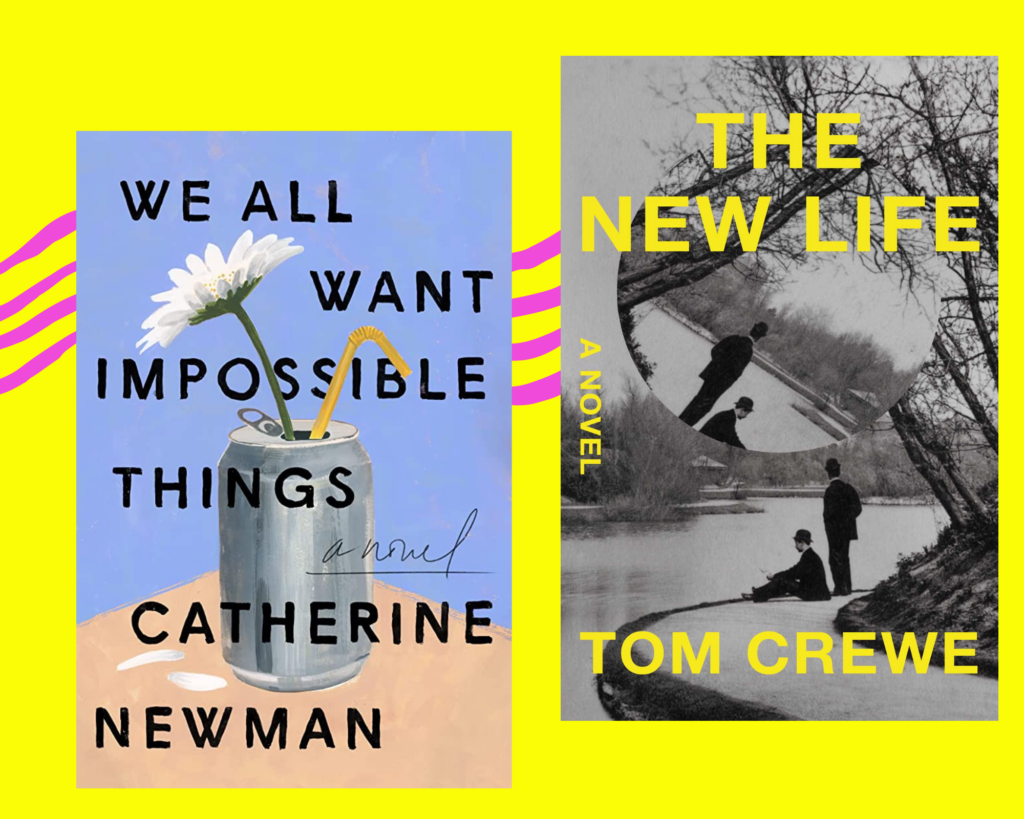 Janice's Picks 
British historian Tom Crewe's first novel The New Life follows early sexologist Henry Havelock Ellis, his wife Edith (a lesbian and prominent feminist activist), John Addington Symonds (writer and gay rights reformer) and his wife Catherine. Other historical figures appear in the late-19th century London setting, including gay rights activist Edward Carpenter and Irish writer Oscar Wilde. Readers who know some of this history—which is not necessary to enjoy the book—might delight in seeing Crewe's treatment of it. Crewe's portrait of book banning, cultural intolerance of sexual and gender non-conformity, and the pleasures and challenges of living outside of social conventions could not be more relevant to our current moment. 
In We All Want Impossible Things: A Novel, Massachusetts author Catherine Newman has managed to tell a story about death that is unsentimentally heartbreaking and laugh-out-loud funny. Ashley, the narrator, is caring for her lifelong friend Edith, who is dying of ovarian cancer in hospice care while surrounded by an eclectic crew of wise and wisecracking family and friends. This is a novel about living and dying, but more importantly about living while dying—which as one of the characters points out is basically what we're all doing all the time anyway. It features a fair amount of entangled grief, sex, partying, and music. I loved this unflinching book about love and loss, but wasn't sure how it might land for others. With some trepidation I recommended it to a close friend who currently has a loved one in hospice, and she promptly texted that it was "the perfect book at the perfect time."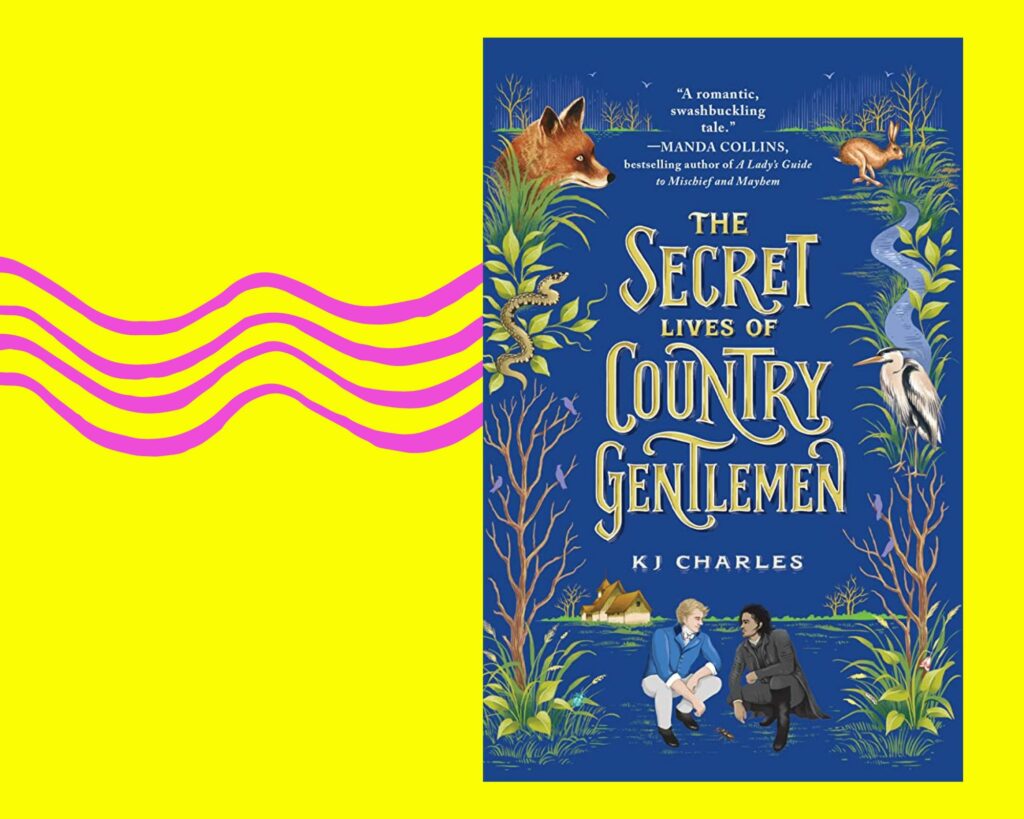 Emily's Picks 
A new book by a favorite author is always a reason to celebrate, and KJ Charles's The Secret Lives of Country Gentlemen is certainly worth cheering for! Charles is among my all-time favorites, and has written numerous queer historical romances that never fail to delight.  
Our story is set in the Romney Marsh in 1810. The marsh is full of smugglers and fascinating wildlife—at least that's what Gareth finds himself captivated by when he inherits his estranged father's house. A nighttime stroll leads him to discover a clandestine smuggling operation—and that Joss, the unforgettable man he fell for (and then out with) in a London molly house, is the head of the Doomsday smuggling clan. Secrets abound, menacing men threaten Gareth and his newfound family for information he doesn't have, and Gareth and Joss find themselves spending more time together on the marsh—pursuing beetles and newts, discovering secret plots, and falling for each other all over again.  
I adored reading this book for so many reasons (the romance! The mystery! The characters!) but the setting is one I won't soon forget. I loved seeing the marsh through both Gareth's eyes as a budding naturalist thrilled to spot each plant and creature, and through Joss's eyes as the smuggler who knows all the best ways to traverse it in the middle of the night when searching for his kidnapped lover. It's great fun to read and will have you giving the beetles and slowly awakening plants a closer look this spring.  
For more excellent queer historical romances with a generous heap of mystery, try Charles's Will Darling series, starting with Slippery Creatures. For another queer historical with more mystery and the potential for romance in future books, don't hesitate to read Lavender House by Lev AC Rosen. 
---
Thanks for reading! You can find all the books we talk about in a booklist linked to our catalog here: "A First Time for Everything: April Staff Picks."
Looking for help with more reading ideas? That is our very favorite thing! Try a book from one of our Staff Picks lists or our Your Next Great Read! service to get your own personal list of reading recommendations. You can also reach out to us at readersadvisory@portlib.org.
posted: , by Elizabeth
tags:
Library Collections
|
Recommended Reads
|
Adults
|
Seniors
|
Art & Culture
|
Readers Writers