A Game of Cones: February Staff Picks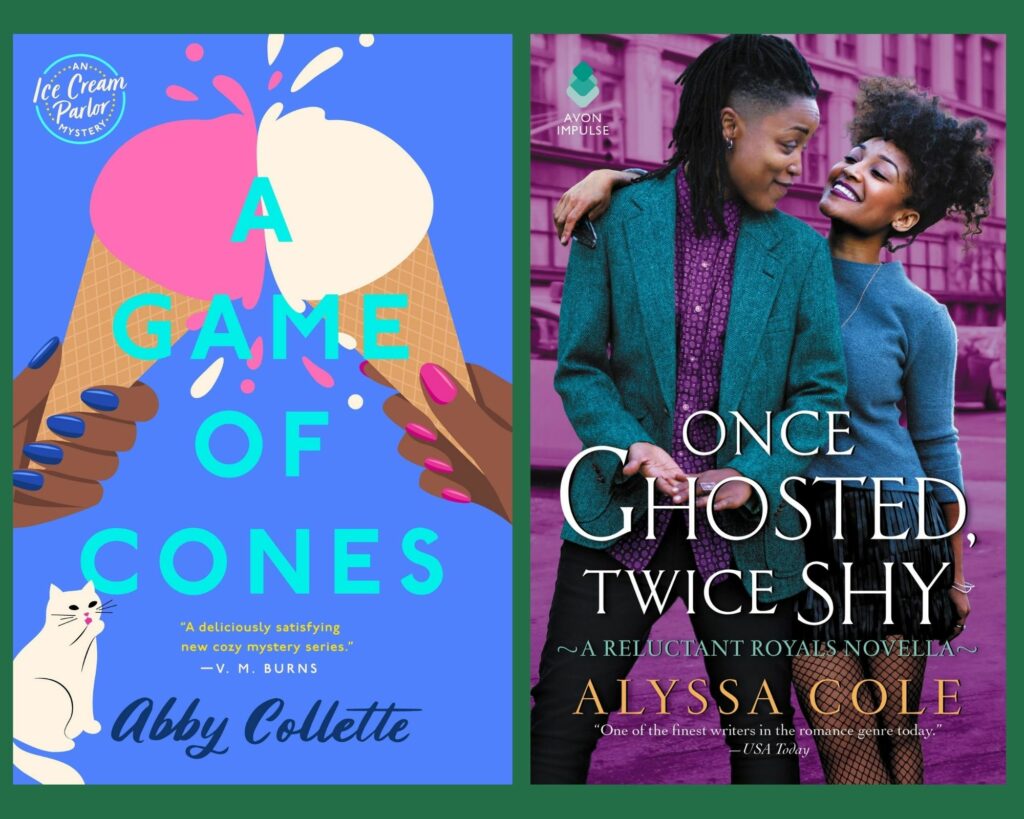 Our staff shares ideas for fiction and nonfiction reads from our Youth and Adult collections. Whether it's a cozy mystery like Abby Collette's A Game of Cones, a heartfelt romance, the latest graphic novel or some stellar sci fi: we've got you covered.
---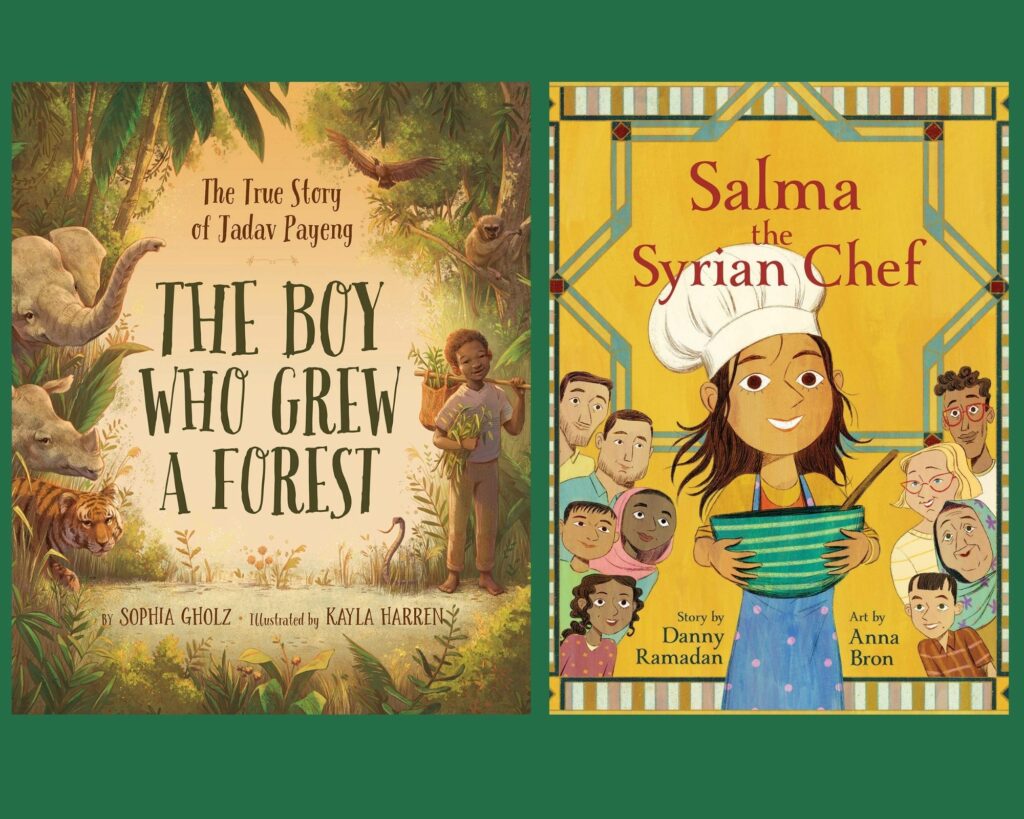 Cindy's Picks 
I'm excited to share three brand new picture books we have in the Children's Library. 
The Boy Who Grew A Forest: The True Story of Jadav Payeng by Sophia Gholz, illustrated by Kayla Harren 
"As a boy, Jadav Payeng was distressed by the destruction deforestation and erosion was causing on his island home in India's Brahmaputra River. So he began planting trees. What began as a small thicket of bamboo, grew over the years into 1,300 acre forest filled with native plants and animals."  Lovely sepia-toned paintings illustrate this beautiful biography of one boy who brought about big changes. 
Momma, Did You Hear the News? by Sanya Whittaker Gragg, MSW, illustrated by Kim Holt 
Soft, comforting pastel images illustrate this small but very powerful book. 
Salma the Syrian Chef by Danny Ramadan with art by Anna Bron 
"All Salma wants is to make her mama smile again. Between English classes, job interviews, and missing Papa back in Syria, Mama always seems busy or sad. A homemade Syrian meal might cheer her up, but Salma doesn't know the recipe, or what to call the vegetables in English, or where to find the right spices! Luckily, the staff and other newcomers at the Welcome Center are happy to lend a hand–and a sprinkle of sumac." Dynamic earth-toned images illustrate one girl's journey to recreating the food she remembers from her home country of Syria.  
---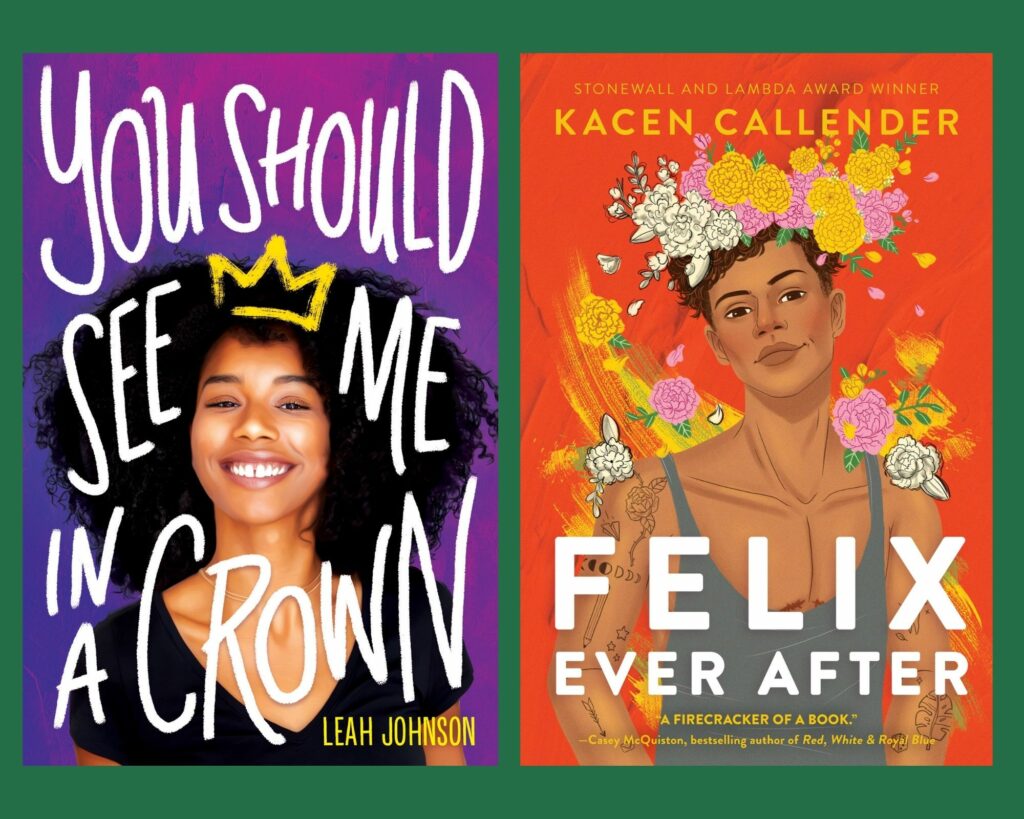 Kelley's Picks 
I'd ❤️ love ❤️ to highlight some of my favorite romantic Teen books by Black authors for Valentine's Day. These will make you laugh, cry, and swoon for first love: 
Felix Ever After by Kacen Callender 
"Felix Love has never been in love, painful irony that it is. He desperately wants to know why it seems so easy for everyone but him to find someone. He is proud of his identity, but fears that he's one marginalization too many– Black, queer, and transgender. When an anonymous student begins sending him transphobic messages– after publicly posting Felix's deadname alongside images of him before he transitioned– Felix comes up with a plan for revenge. He didn't count on his catfish scenario landing him in a quasi-love triangle." 
You Should See Me in a Crown by Leah Johnson 
"Liz Lighty has always done her best to avoid the spotlight in her small, wealthy, and prom-obsessed midwestern high school, after all, her family is black and rather poor, especially since her mother died; instead she has concentrated on her grades and her musical ability in the hopes that it will win her a scholarship to elite Pennington College and their famous orchestra where she plans to study medicine–but when that scholarship falls through she is forced to turn to her school's scholarship for prom king and queen, which plunges her into the gauntlet of social media which she hates and leads her to discoveries about her own identity and the value of true friendships." 
Charming as a Verb by Ben Philippe 
"Henri 'Halti' Haltiwanger can charm just about anyone. But his easy smiles mask a burning ambition to attend his dream college, Columbia University. There is only one person who seems immune to Henri's charms: his 'intense' classmate and neighbor Corinne Troy. When she uncovers Henri's less-than-honest dog-walking scheme, she blackmails him into helping her change her image at school. Henri agrees, seeing a potential upside for himself. Soon what started as a mutual hustle turns into something more surprising than either of them ever bargained for." 
---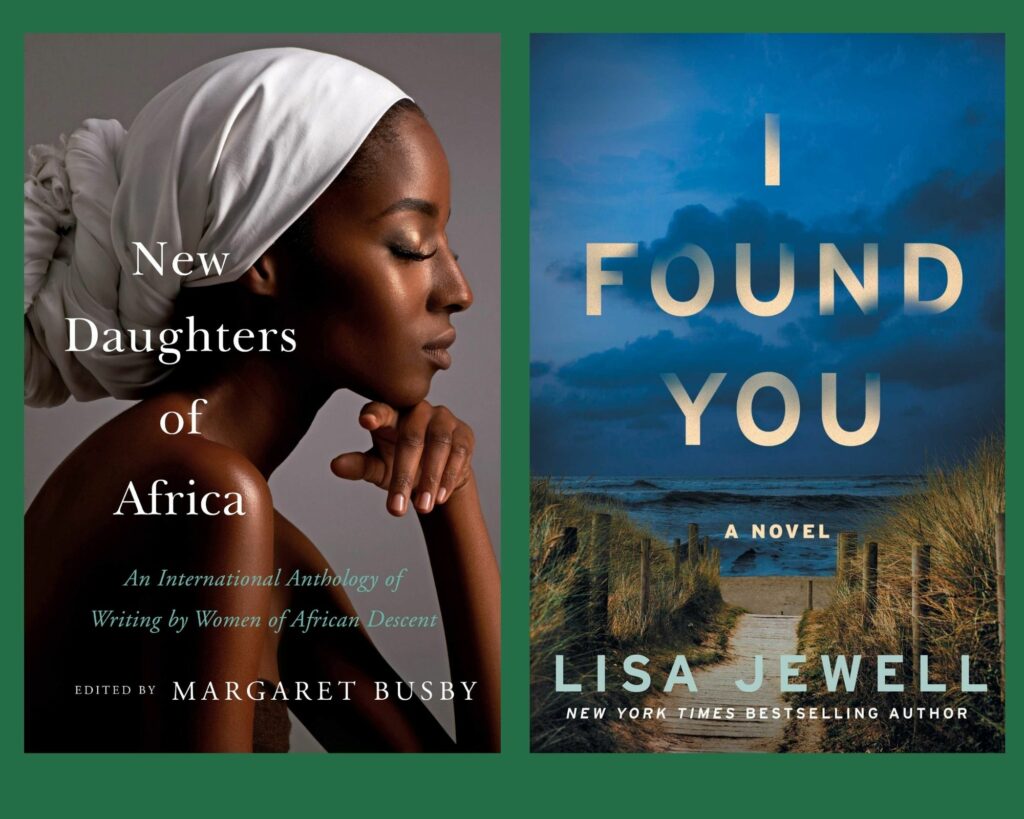 Jim's Pick 
I would like to do a shout out to a book that I enjoyed here at the Burb.  
New Daughters of Africa: An International Anthology of Writing By Women of African Descent shares the writing of more than 200 writers from more than 50 countries, from Margo Jefferson to Ayòbámi Adébáyò, Malorie Blackman and Yrsa Daley-Ward to Edwidge Danticat, Sisonke Msimang and Panashe Chigumadzi. 
Kristi's Picks 
Tim by Colleen McCullough: Absolutely heart wrenching and heartwarming.  Incredibly sweet and pure. McCullough never fails to deliver content that challenges our views and biases with emotion, and love.  
If It Bleeds by Stephen King: Excellent short stories! A must for a new King fan, or a frequent follower. 
Shelter in Place by Nora Roberts: Incredible novel by Nora Roberts, and likely one of her best.  Both page turner and romance, she nailed the realistic genre of today's society with unfortunate events.  
I Found You by Lisa Jewell: A great, typical Jewell book!  
---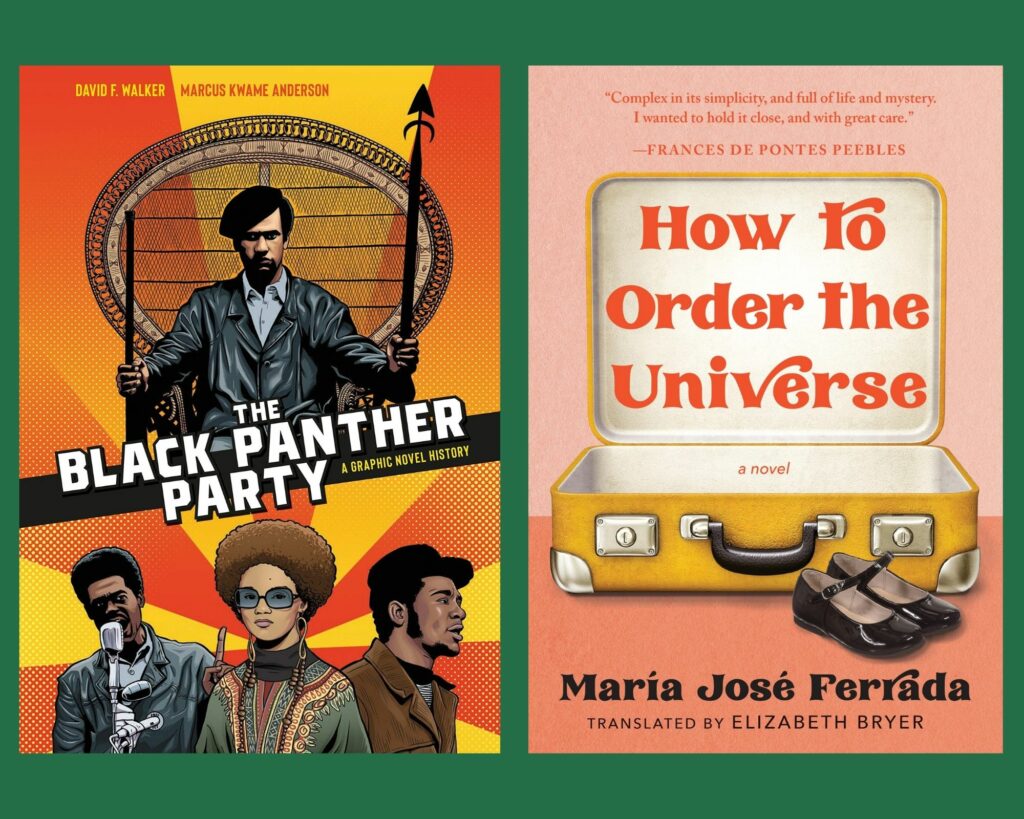 Becca's Picks 
There are so many titles I can't wait to share with you this month! Here are a few that really caught my eye: 
The Ice Cream Parlor Mysteries, by Abby Collette: Win Crewse returns to her Ohio hometown to manage her family's ice cream parlor. She never expected to become an amateur detective, but that's exactly what happens upon finding a body on the eve of the shop's reopening. This coziest of mystery series has two books so far: A Deadly Inside Scoop and A Game of Cones (out in March!).   
How to Order the Universe, by María José Ferrada: Young M loves going on sales calls with her father. She begins skipping school to travel around Pinochet-era Chile and help him close deals. However, after an unexpected meeting with a mystical photographer, life begins to unravel in strange ways. This slightly supernatural coming-of-age story will appeal to fans of magical realism.  
The Black Panther Party: A Graphic Novel History, by David F. Walker and Marcus Kwame Anderson: Learn about the founding and growth of the Black Panther Party, as seen through the eyes of on-the-ground members and activists. Pair this graphic novel with a viewing of the PBS documentary The Black Panthers: Vanguards of the Revolution. 
Lolita in the Afterlife, edited by Jenny Minton Quigley: Re-examine one of the world's most hated and loved novels with this new collection of essays. Would Lolita have been published if it was pitched today? Contributors include Roxane Gay, Lauren Groff, and Andre Dubus III, among many more. 
---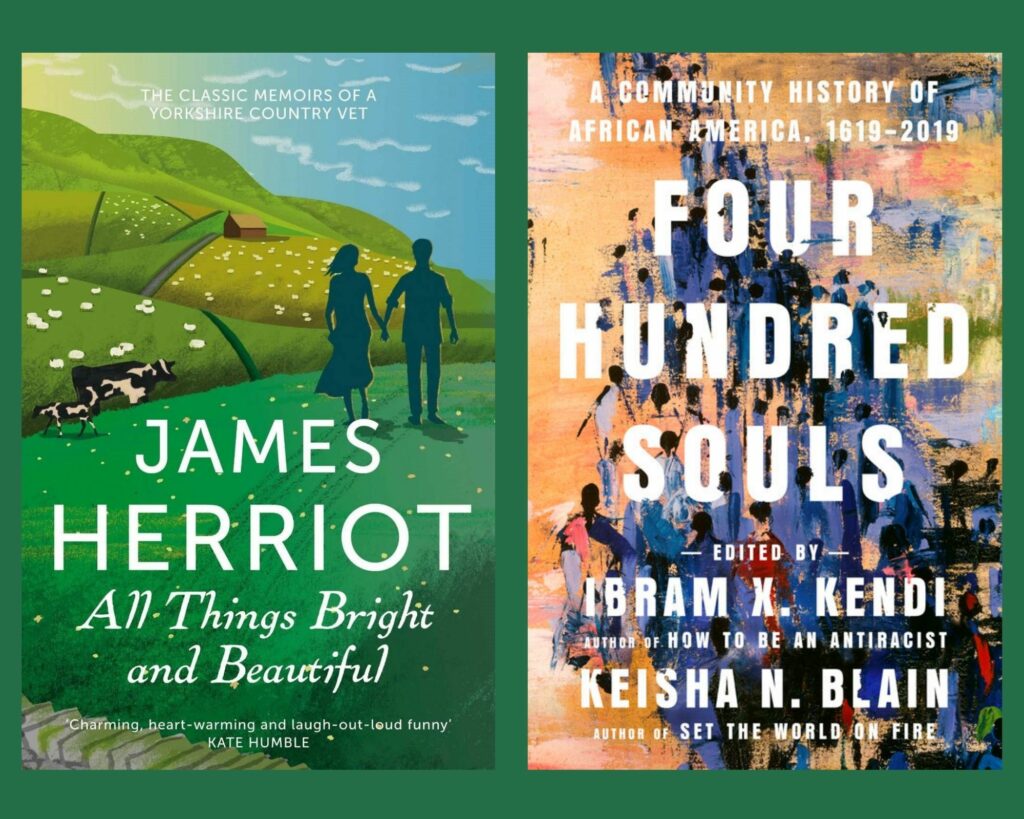 Rachael's Picks 
My husband and I read James Herriot's All Creatures Great and Small and All Things Bright and Beautiful to our kids—then 4 and 8 years old—last year and they are books that appealed to the whole family.  The trials and tribulations of a veterinarian practicing in the Yorkshire Dales in the 1930's are actually incredibly more relatable that you might think, especially written in Herriot's candid and witty style.  We are now watching the new television series created by the BBC and available on Public Television.  Television and film renditions of books are often much less enjoyable than the book, but we all think it captures the characters in the book very well and it's filmed in the beautiful setting of Yorkshire which is lovely to see. 
Raminta's Pick 
I am very excited for an upcoming title, Four Hundred Souls: A Community History of African America, 1619-2019 edited by Ibram X. Kendi and Keisha N. Blain.  
This title brings together the works of over 80 Black writers describing the history of African America (from 1619-2019) and marks the first time this history has been written by so many Black voices in one title. Given the success of Blain and Kendi's previous works, I am truly excited to have this on my hold list. 
---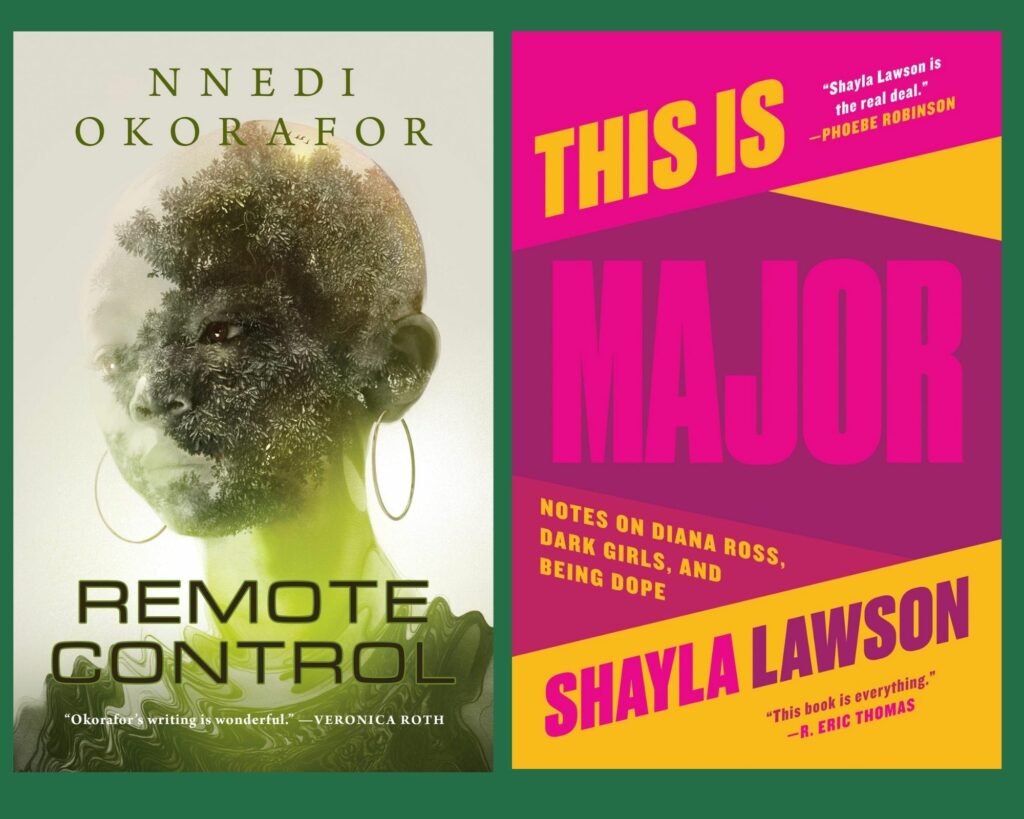 Elizabeth's Picks 
"Her story travelled like an ancestor, always ahead of, beside and behind her." Meet Sankofa: a girl whose glowing green touch has mysterious power, traveling on a poignant quest in a world of shea trees and robocops with only a fox companion at her side. Remote Control is Nnedi Okorafor's mesmerizing new sci-fi adventure—and it fits the 2021 Reading Challenge category "A Book with a Journey…" 
Interested in a book that suits the same Reading Challenge category PLUS checks a box for the Lambda Award Winner or Nominee category (for Lesbian Romance)? Alyssa Cole's Once Ghosted, Twice Shy is full of chemistry, conversation, and two lovers reunited in NYC: "Out of all the train cars in all the world you had to walk into mine."  
This is Major is full of Shayla Lawson's essays and insights. Her article "This Black History Month, Stop Asking Black Women to Do the Most" has been on my mind this week. "I'm soaking in rose petals," she writes. "I'm drinking hibiscus hot tea beside a lavender-scented candle. I'm not available to write your anti-racism booklist."  
Delita Martin's art is beautiful—she uses drawing, painting, printing, handstitching, fabric and decorative papers. "My work is very much pieced together like the quilts I grew up helping my grandmother make." She talks about her process here. You can find her portraits in Shadows in the Garden.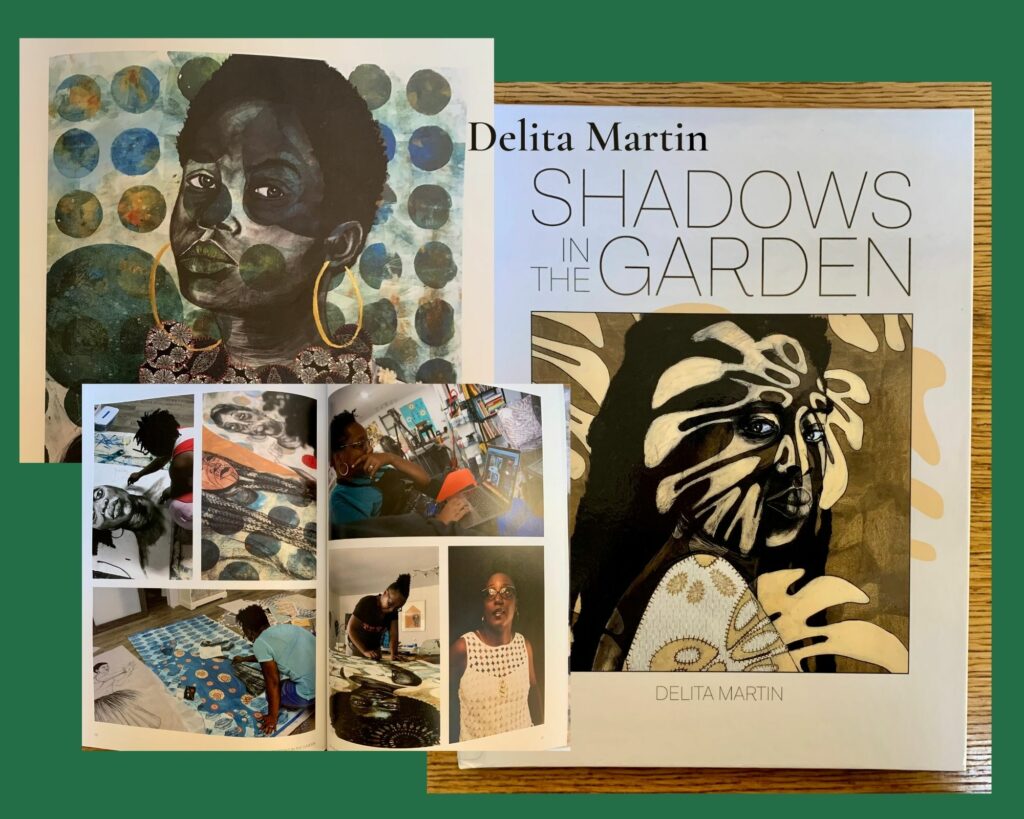 ---
As ever, thank you for reading. If you're looking for more ideas, that is our very favorite thing! We're happy to help. Try our Your Next (Great!) Read service for kids, teens, and adults to get personalized lists of print or eBook recommendations from our staff. Our Reference staff is also available Monday-Friday, 10-4, at 871-1700 ext. 725.
posted: , by Elizabeth
tags:
Library Collections
|
Recommended Reads
|
Adults
|
Seniors
|
Readers Writers