Active Hope
Active Hope : A facilitated conversation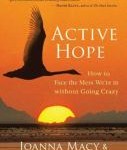 Spring — a season of renewal, a season of mud.  April seems to me to be a perfect time to engage in reflection about what sustains our civic engagement when the cold persists, the mud tracks in, the rain falls.   We keep at our community projects in part because we believe that the sun will shine on us again and that the outcomes will be meaningful and worth our time and attention. However, we also keep volunteering or keep on with activism because the alternative is to give up a sense of optimism and connection and even identity…. Activism is an antidote to despair about civic problems, but even the most intrepid activist experiences discouragement, frustration and burn-out at times.
This 2-part workshop stems from work by Joanna Macy and Chris Johnstone and their book Active Hope,  but it is not necessary to read the book to participate! We will also draw on many other resources, included some shared here.
We are offering two distinct sessions – come to one or both!
Saturday April 12th 10:15am – 12:00pm — Meeting Room 5 –> explore the spiral of the work that reconnects including our biggest concerns for the future and our greatest hopes.
Tuesday April 29th 3:30 -5:00pm — Meeting Room 5 –> explore exercises designed to help sustain hope during dark times and to promote individual and collective self-care without encouraging a turning away from social problems.
Both of these public conversations are intended as starting points – an opportunity for developing and sustaining an Active Hope group will be considered by the group.
Free and Open to the Public – Preregistration is requested to help us plan.
posted: , by PPL
tags:
Programs & Events
|
Recommended Reads
|
Adults
|
Teens
|
Seniors
|
Art & Culture
|
Government