Apple of My Pie: September Staff Picks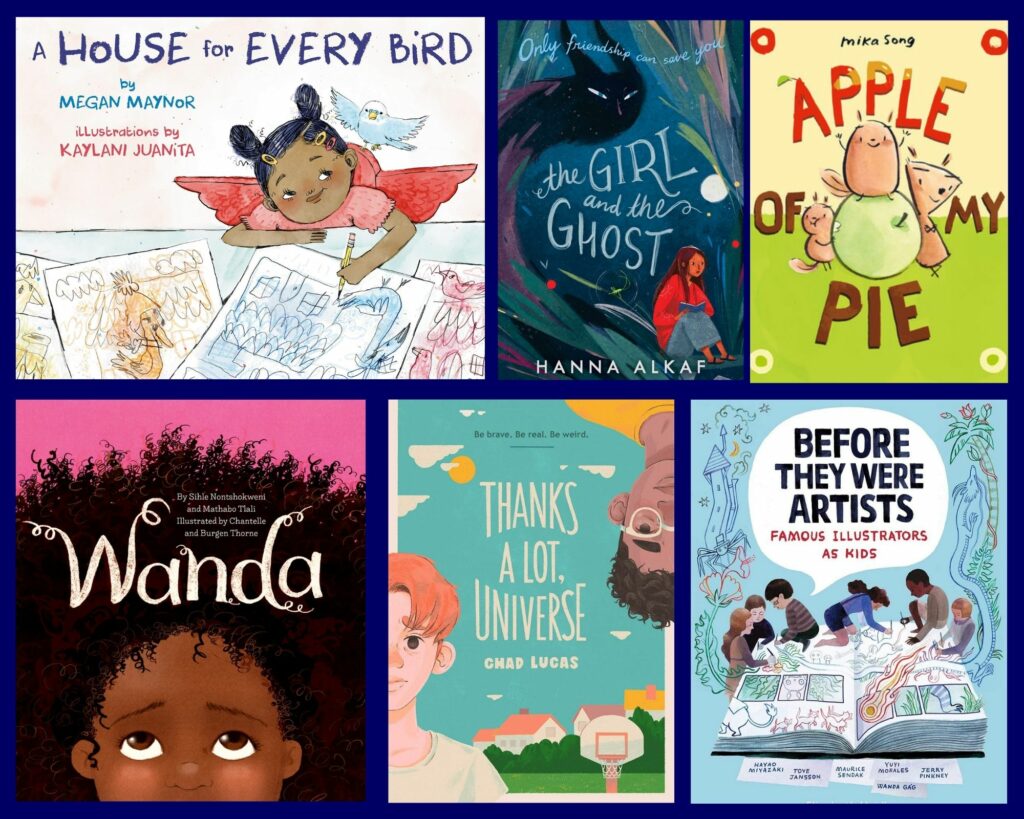 It's September—the best month in Maine? Our September-loving staff dives into reading (and listening!) ideas from our Children's, Teen, and Adult Nonfiction and Fiction collections.  
Elizabeth's Picks 
Apple of My Pie by Mika Song: Hooray, it's apple-picking time! Here's one idea for young readers who are getting started on graphic novels. Very cute squirrels, a rescue mission, and plenty of apple pie makes for a dreamy fall read. 
A House for Every Bird by Megan Maynor with illustrations by Kaylani Juanita (of Magnificent Homespun Brown fame): A young bird-drawing artist figures she knows what her birds want…she drew them, right? She's drawn an orange house for her orange bird and a tall house for her tall bird. But when she discovers her beautiful birds all want to swap houses, she gets to know who they really are. Come for the funny talking birds and the best illustrations—and stay for some gentle ideas about listening and letting go.
The Girl and the Ghost by Hanna Alkaf: Suraya has her own personal pelesit, Pink, a dark spirit who guards her jealously. When Suraya makes a fun new Star Wars-loving friend, her life with Pink changes—can they find enough light to defeat the dark? This sweetly spooky middle-grade fantasy set in Malaysia is great for a Halloween book pile.
Thanks A Lot, Universe by Chad Lucas: "Be brave. Be real. Be weird." This middle-grade novel shines. Seventh-grader Brian is shy and anxious, and he's just been separated from his mom and dad. He plays basketball at school with Ezra, who's kind and funny, and who's one of a whole crew of teenagers and adults who show up for Brian in a very tough time. The narration swaps between Brian and Ezra, and you'll root for both. Lucas' empathy, humor, heart, terrific characters and fantastic dialogue stands out.  
Before They Were Artists: Famous Illustrators as Kids by Elizabeth Haidle: I love the artists and authors included here. With many hours of my life spent happily with the Moomin family and Miyazaki films, I'm so curious to see this new graphic novel.
The Darkness Outside Us by Eliot Schrefer :  This YA sci-fi thriller had me on the edge of my seat. It's full of twists, turns, guesses, revelations, and nail-biting intensity. Ambrose and Kodiak are two 17-year-olds from rival countries alone on a space mission. Sounds simple, right? But it's not simple—and it's not for the faint of heart. I can't say more. The mystery at the heart of this book is a stunner. Unputdownable.  
And just a quick shout-out to some new Adult Fiction coming to the library. I'm looking forward to Miriam Toews' Fight Night, Jocelyn Nicole Johnson's My Monticello, Ruth Ozeki's The Book of Form and Emptiness, and Elizabeth Strout's Oh, William!
Cindy's Picks

I'd like to recommend Wanda by Sihle Nontshokweni and Mathabo Tlali, a new picture book that we have in the Children's Room. The dedication reads: "To friendships that provoke learning, unlearning, and thinking beyond self.  To young Black women, who learned that their hair was a burden and not a crown, we hope this story will lead you to return to the places in your heart where you continue to hide, only to feel unseen.  We hope that you find and feel the memories and hurt so that you may heal and be free."  
This beautiful book begins with eight-year-old Wanda being teased about her hair on the school bus.  Wanda hears the words of her mother in her imagination saying her "hair is strong and beautiful like clouds," and tries to remind herself to be confident, but she doesn't feel it until she has a wonderful talk with her grandmother. The illustrations are filled with warm tones and rich colors and the message is an important one for children: it's okay to be who you are. 
October will bring readers an important new memoir by Rex Ogle, the author of Free Lunch (winner of the 2020 YALSA Excellence in Nonfiction Award).  Punching Bag is a memoir of Rex's life during high school and the pattern of abuse he suffered at the hands of his mother and stepfather. He also heartbreakingly takes care of his little brother, trying to protect him.  It's a deeply heavy—but necessary—story to share, speaking openly and directly to the emotional and physical abuse that so many children experience and that he and his brother survived. For all those coping with trauma, he includes a vital afterword. You will not forget Rex's compelling story once you have read it, and I highly recommend picking up Free Lunch if you haven't yet.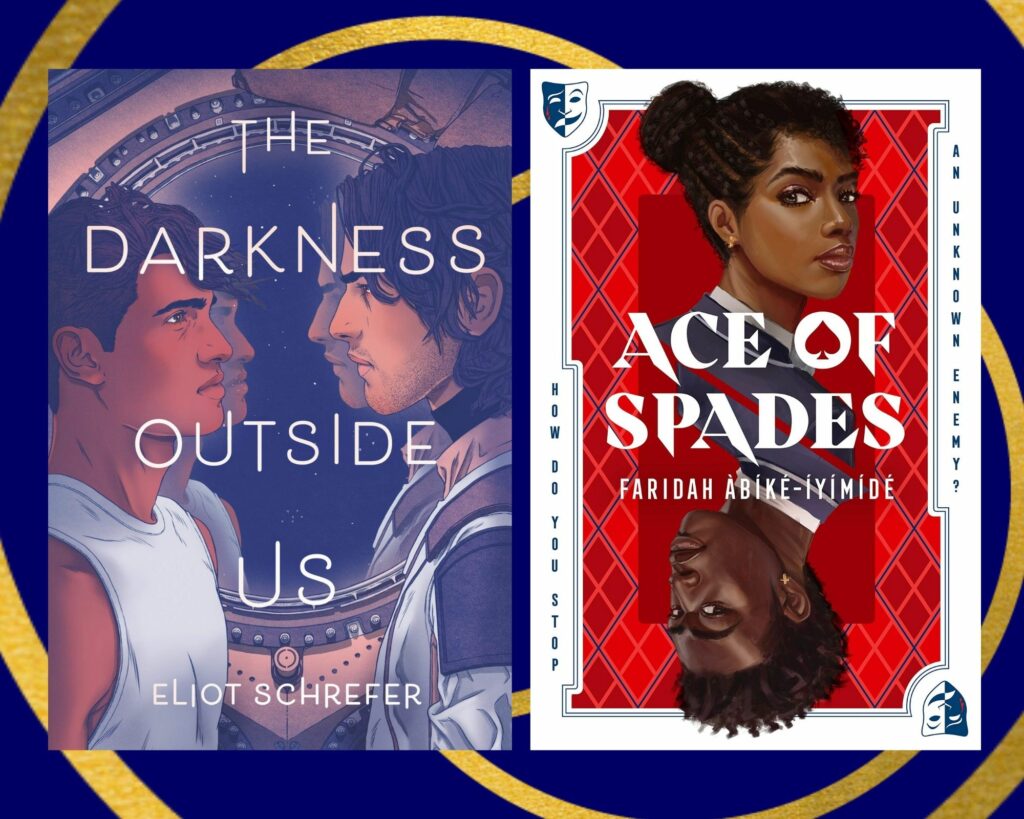 Carly's Pick 
Back-to-school season is a great time to return to one of my favorite genres: dark academia. I can't resist tales of campus secrets, which are often murderous (think Donna Tartt's The Secret History or Marisha Pessl's Special Topics in Calamity Physics) and sometimes magical, too (à la Ninth House by Leigh Bardugo). 
Next on my to-read list is a new addition to the genre—Ace of Spades by Faridah Àbíké-Íyímídé. Chiamaka and Devon are chosen to be senior prefects at their elite prep school, but their seemingly bright college futures are put at risk when an anonymous texter sends threatening and harassing messages about them to the entire school.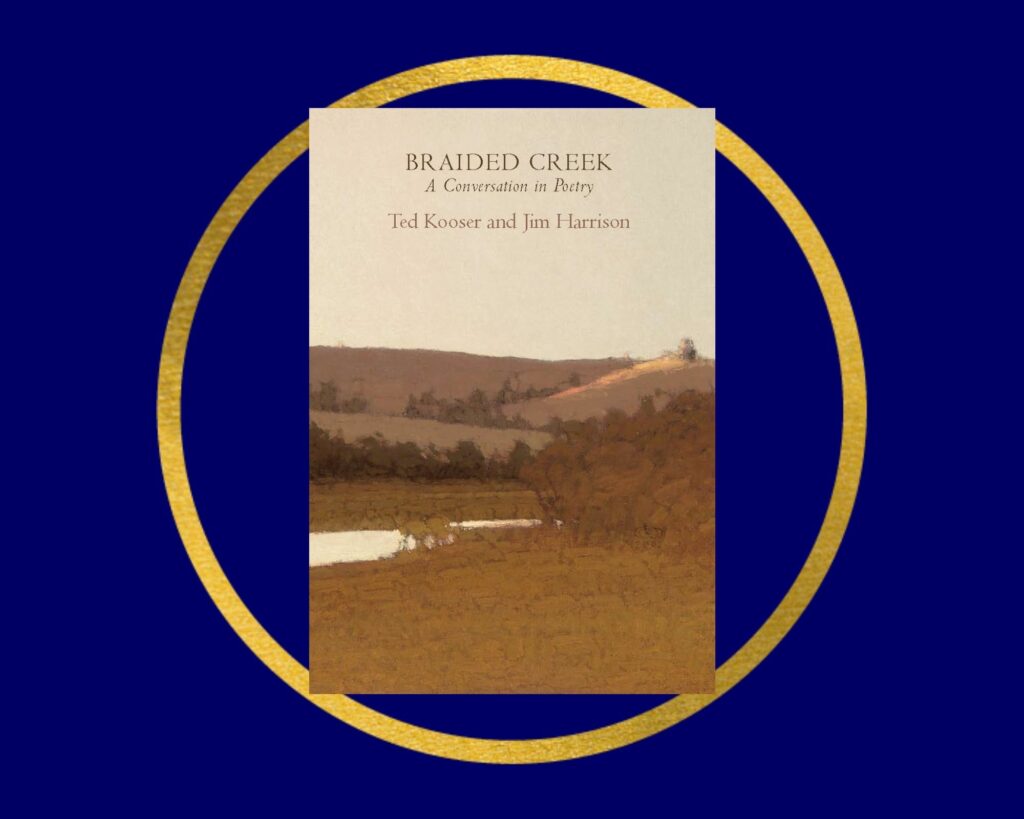 Eileen's Pick 
Soon it will be September, arguably the best month of the year. But as I write, it is unarguably August. Hot and sticky. Not like a cinnamon bun right from the cooling rack, but the kind of hot and sticky that makes work of every breath and lightheadedness a constant state. Summer in Maine is grand in many ways and it isn't that I want to be somewhere else… but the hygrometer that is my hair cannot lie about the humidity: both are high and out of control.  
Nothing too complicated is called for when I sit down to relax into leisurely dewiness. A medium-sized fan trained directly toward where I sit, the only sweat in sight running daintily down a tall glass of sweet tea, and a book that will forgive my heat-addled mental wandering.  
It turns out that the right book is from 2003, Braided Creek: A Conversation in Poetry comprising bite-size poems exchanged as correspondence between poets Ted Kooser and Jim Harrison. A long entry might be a whopping five-liner, with most a tantalizing three-or-four-line tease. They do not include who wrote which bits, saying (also uncredited) "This book is an assertion in favor of poetry and against credentials."  
What matters here is that poetry was written. Perfectly. Succinctly. By these two poets. That is attribution enough.  
All I want to be  

is a thousand blackbirds  

bursting from a tree,  

seeding the sky.  
If you don't have time for that one, how about  
Bucket in the rain,  

rejoice!  
Is there anything cooler than poetry?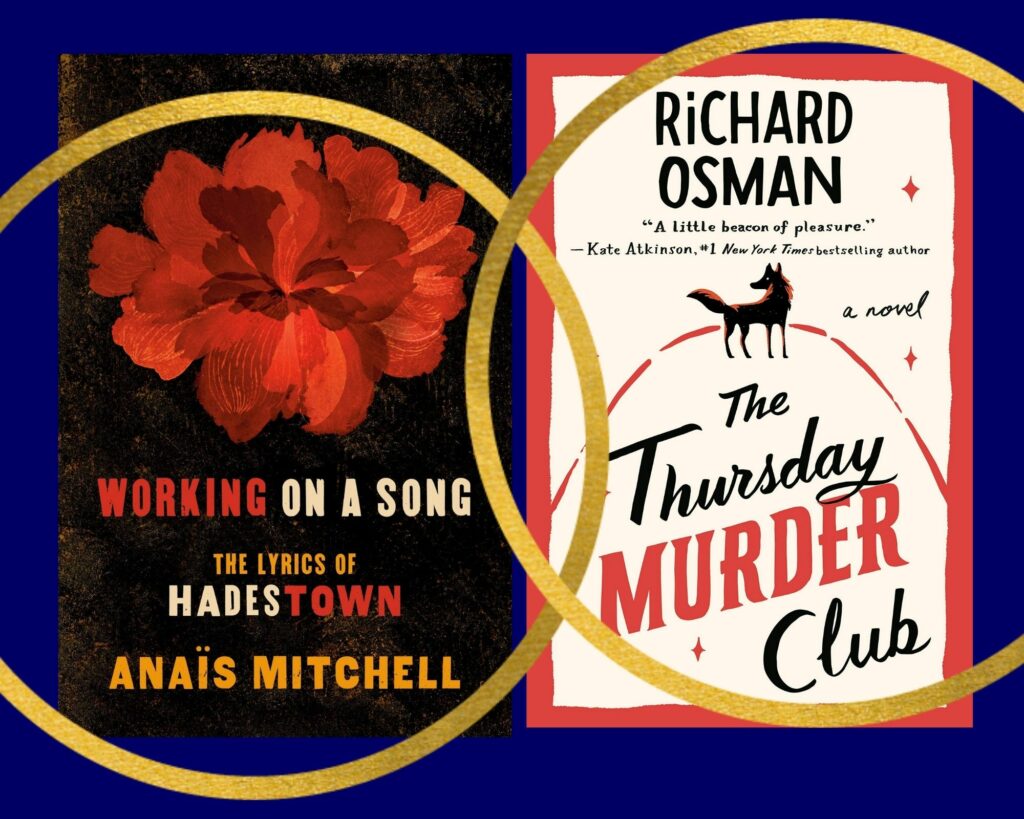 Julia's Picks 
Some flowers bloom / Where the green grass grows / Our praise is not for them / But the ones who bloom in the bitter snow / We raise our cups to them 
Fall is on the horizon, and in the world of Greek mythology, Persephone is making her annual journey back to the underworld where she spends the winter months. It's a perfect time to remember the message of the musical Hadestown: "Spring will come again." Written by folk singer/songwriter Anais Mitchell, Hadestown retells the ancient myth of the poet Orpheus, who travels to the underworld to bring back his lover, Eurydice. Working on a Song: The Lyrics of Hadestown is Mitchell's chronicle of how the show's lyrics evolved through its many versions, from the early years touring out of van in Vermont to the 2019 Broadway premiere. The book includes the compete lyrics of the Broadway production, alongside explanations of how (and why) each song changed over the years. An insightful guide to her own creative process, Mitchell illuminates the art of storytelling through song and demonstrates how ideas, like seeds, can blossom in unexpected ways. 
Accompany Working on a Song with the Tony-winning Broadway Cast Recording of Hadestown to hear the lyrics come to life. 
Stephanie's Pick 
My choice is The Thursday Murder Club by Richard Osman. The Murder Club consists of a diverse and delightful cast of elderly residents at an upscale British senior facility. Usually they research cold cases, but this series of murders is recent and close to home. Headed by Elizabeth, who must be a former spy, and aided by two detectives, the team discovers all. Osman, a British TV personality and wit, provides a well plotted, suspenseful mystery, but the true joy is in his people. He respects these very real old people, who have challenges, but are capable, funny and endearing. I can't wait for the next book, and maybe a BBC TV series.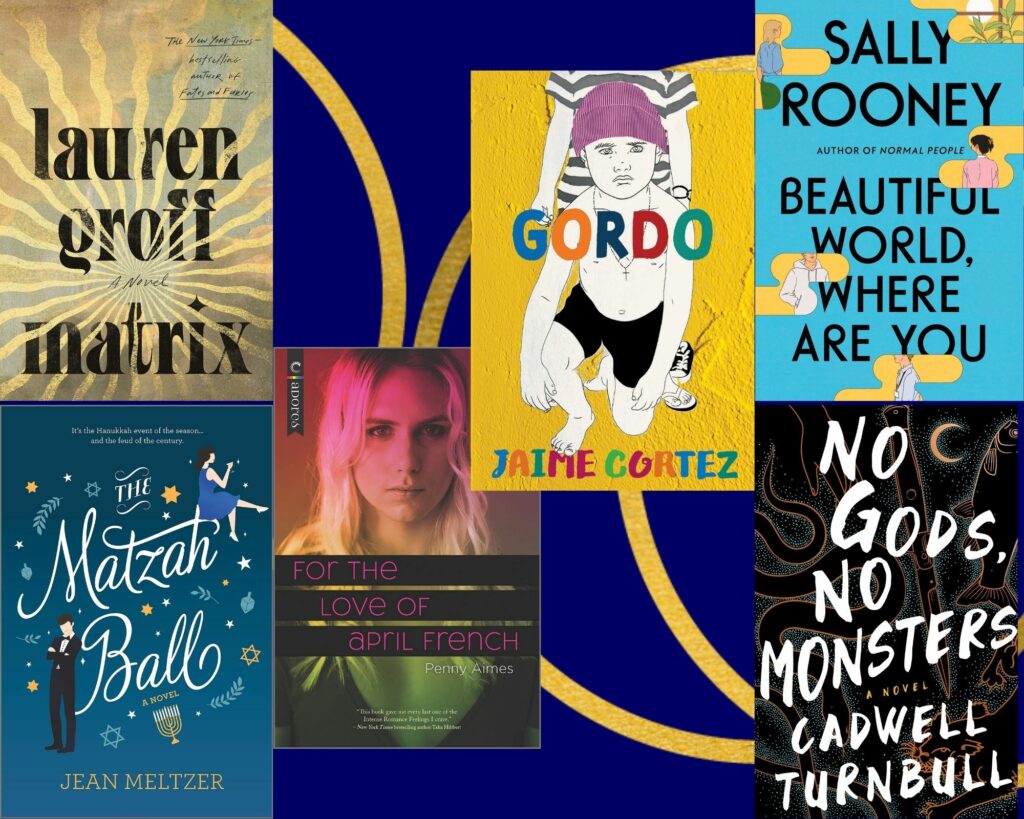 Becca's Picks

September is the start of Cozy Season, where you can comfortably sit outdoors wrapped in a blanket, drink your favorite warm beverage (apple cider, anyone?), and get to work on that TBR pile. Here are a few favorites from our most recent fiction haul: 
Gordo by Jaime Cortez: Gordo tells interlocking stories from the perspective of Gordo, a boy growing up in a family of migrant farm workers in 1970's rural California. Fans of Bryan Washington's Lot will devour this book. 
For the Love of April French by Penny Aimes: If you liked Fifty Shades of Grey but are looking for something with more nuance, you will find a lot to love in this steamy romance! April, a trans woman living in Austin, meets an eccentric Seattle millionaire, and the sparks fly!  
The Matzah Ball by Jean Meltzer: Rachael is a Jewish woman who writes Christmas romances. When her publisher insists she write a Hannukah romance, Rachael heads to The Matzah Ball soiree for inspiration. This is sure to be a standout in this year's pack of holiday romance novels! 
No Gods, No Monsters by Cadwell Turnbull: After Laila's brother is killed by police, her investigation into his death leads her to discover the mythical monsters living among us. Cadwell Turnbull creates a supernatural underworld out of real societal issues in the launch of his Convergence Saga. If you liked Ring Shout and wished it were longer than a novella, you should check this one out. 
Finally, don't forget to get on the waiting lists now for the new Sally Rooney and Lauren Groff! 
---
As ever, thanks for reading! Here's a link to Apple of My Pie: September Staff Picks, a list of all the titles we've mentioned here.

If you're looking for more ideas, that is our very favorite thing. We're happy to help. Try our Your Next (Great!) Read service for kids, teens, and adults to get personalized lists of print or eBook recommendations from our staff. Our Reference staff is also available Monday-Friday, 10-4, at 871-1700 ext. 725. 
posted: , by Elizabeth
tags:
Library Collections
|
Recommended Reads
|
Adults
|
Seniors
|
Art & Culture
|
Readers Writers