Business Breakfast Forum: Innovative Retail.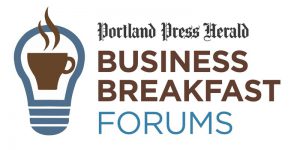 Shopping, whether in store or online, has become a magnet for innovation. Pick a product off a shelf and see a video display of its uses. Overwhelmed by online choices? A personal shopping guide is at the ready. Concierge services are becoming the norm as retailers offer customized convenience in exchange for your purchase. Join our next free Business Breakfast Forum to hear from some Maine companies at the fore of these innovations, and where they are going next.
This event takes place before the library officially opens, so please enter on Elm Street.
Doors open at 7:15 a.m. Program starts at 7:45 a.m. Street parking is free until 9:00 a.m.
Hosted by Business editor Carol Coultas. Carol Coultas has been practicing journalism in Maine since the mid-'80s and focusing on business journalism since 2003. She's been the business editor at the Press Herald, overseeing an award-winning staff, since 2014.
Please register here 
posted: , by Williams Bandoma
tags:
Adults
|
Business
|
Government