Daniel Minter's Illustrations Exhibited at Portland Public Library Lewis Gallery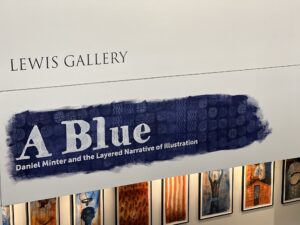 Daniel Minter considers picture books a place and medium to hold crucial conversations with children. Portland Public Library, in collaboration with Camden National Bank, is honored to feature illustrations from his award-winning children's books in a new exhibit. A Blue: Daniel Minter and the Layered Narrative of Illustration will be on view through December 31, 2022 in the library's Lewis Gallery. 
"Supporting our community and its diversity is an important part of our culture at Camden National Bank, so it's an honor to partner with the library to make this exhibit possible. We look forward to sharing this remarkable exhibit with the public, and to watch these beautiful illustrations connect families, neighbors, and visitors in the Portland region."  – Greg Dufour, president and chief executive officer, Camden National Bank.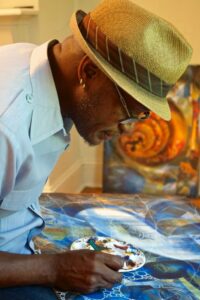 Featured in this exhibit are illustrations from his books Blue: A History of the Color As Deep As the Sea and as Wide as the Sky, So Tall Within: Sojourner Truth's Long Walk to Freedom, Going Down Home with Daddy which won a 2020 Caldecott Honor, The Women Who Caught the Babies, Step Right Up: How Doc and Jim Key Taught the World Kindness, Ellen's Broom which won a Coretta Scott King Illustration Honor, Seven Spools of Thread: A Kwanzaa Story which won a Best Book Award from the Oppenheim Toy Portfolio. Also included in the exhibit are the pieces he created for U.S. Postal Service Kwanzaa stamps in 2004 and 2011. 
In Maine, Daniel Minter's work moves beyond the canvas and the children's book page. As founding director of Maine Freedom Trails, he has brought the history of the Underground Railroad and the abolitionist movement to the streets of Portland in a series of markers. For the past 15 years Minter has used his art and voice to raise awareness of the 1912 forced removal of an interracial community on Maine's Malaga Island. In 2019, Minter co-founded Indigo Arts Alliance, a non-profit dedicated to cultivating the artistic development of people of African descent. Indigo Arts Alliance and Minter are founders of the Beautiful Blackbird Children's Book Festival, an annual event celebrating children's books and creators that tell the stories of the African Diaspora. 
This exhibit was curated by Kirsten Cappy of I'm Your Neighbor Books and was made possible by the generous support of Camden National Bank and Greenhut Galleries. Daniel Minter is represented exclusively in Maine by Greenhut Galleries in Portland.
posted: , by Heather Wasklewicz
tags:
Adults
|
Teens
|
Parents & Teachers
|
Kids & Families
|
Early Literacy
|
Kids Reading Lists
|
Art & Culture
|
Immigration
|
News