Dining with The Kings and Advocacy in Action
The month of May wrapped up with a few members of our staff gathering in scenic Bethel, Maine for the Maine Library Association Annual Meeting and Conference. This year's event kicked off with a Sunday evening fundraiser where attendees dined with Tabitha and Stephen King. The pre-dinner musical playlist was carefully researched and curated by DJ Mark Gordon of RockaShop Sound System which included the King's favorites such as The Cramps' Goo Goo Muck and the Ramones! Following dinner, Tabitha and Stephen King took to the stage for a panel discussion moderated by MLA Vice President, Sonya Durney. The discussion was full of their own personal library stories: Did you know Stephen King threw his Carrie manuscript in the trash and it was Tabitha who pulled it out and helped him edit it …. from there he went on to pursue writing full time! But their main message that was loud and clear: community public libraries must be supported and the freedom to access information found within their collections must be protected!
For the next two days library workers, advocates, and members got to work attending break out sessions, processing the words and wisdom of keynote speaker Tracie D. Hall, executive director of the American Library Association, author Monica Wood, and others.
Here's what a few members of our staff who attended the 3-day conference shared.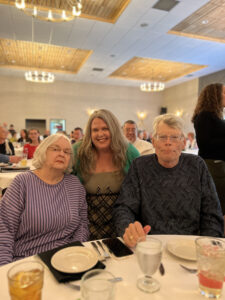 "I love serving on the board of the Maine Library Association because it keeps me connected with libraries and library workers across the state. 'Advocacy in Action' seemed like a fitting theme for our Annual Conference after a year spent helping school libraries fight book bans and planning a salary survey to help rural library workers fight for fair wages. I have volunteered on the conference planning committee for several years and, although it's a lot of work, it's incredibly satisfying to see it all come together and to hear the valuable takeaways people get from it. Meeting the Kings this year was a sweet bonus – I can finally check that off my bucket list!"- Sarah Skawinski, MLIS | Adult Services Director and Membership Chair, Maine Library Association  
"It really resonated with me when keynote speaker Tracie D. Hall, executive director of the American Library Association, talked about the opportunities libraries have to address what Surgeon General Vivek Murthy has called an "epidemic" of loneliness." – Vicky Smith, PPL Access Services Director
"Even though I'm a Youth Services Librarian, I was most engaged by speakers and sessions addressing current and looming big-picture issues facing libraries and library workers. Some of the most interesting discussions were about the future of AI and technology in libraries, intellectual freedom and the freedom to read, and understanding the Maine legislative process.  For those interested in learning more about how they can support intellectual freedom in their communities, especially in schools and libraries, check out Unite Against Book Bans and Educate Maine: Intellectual Freedom." –
Kelley Blue | Director of Youth Services  
"One of my favorite sessions from the MLA conference was called 'Rearranging Religion to Decolonize Dewey.' Elizabeth McKinstry from Springfield City Library hosted the session, and she took us through her library's process of reorganizing religious books in the nonfiction section based on geography and chronology rather than preserving Dewey's more Eurocentric and Christian-centric approach. What really impressed me about the presentation was her explanation of the knock-on benefits of reclassifying the section, among which was identifying subcategories in the religion section that were very light on material—a representation gap that was able to go unnoticed for years because of how the texts were previously organized. I was also very moved by Monica Wood's keynote address. Her messages around the universality of specificity, and how we can all better honor the stories of those around us, were exactly what I needed to hear. I'm excited to do more of my own creative writing with her words in mind." – Brendon Barnes, PPL Senior Library Associate in Interlibrary Loans
Thank you, MLA, for organizing this opportunity for us to come together to learn and support this work we love…and dine with The Kings! For more photos from the conference, check out our Facebook album, Advocacy in Action: Maine Library Association 2023.
posted: , by Heather Wasklewicz
tags:
About the Library
|
Adults
|
News