Getting Outside with History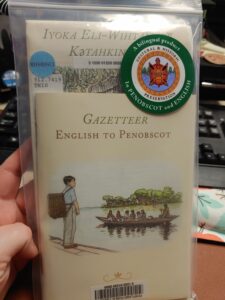 A four year collaboration between James Francis, Carol Dana, and Gabe Paul, of Penobscot Cultural & Historic Preservation produced the map and gazetteer, This Is How We Name Our Lands/Iyoka Eli- Wihtamakw Kǝtahkinawal. The map and gazetteer have been published in both Penobscot and English. The map is a "Penobscot guide to the place names given by our ancestors. On this side are the English translations, and on the other side are the Penobscot names. The separate gazetteer is for your reference, for quick connection between Penobscot and English. The names offer a window into the past and allow us to view the landscape at the heart of our culture." (Quoted from the English side of the  map).  The map features not only rivers, lakes and streams, but also canoe carry routes amongst all of the Penobscot names. 
Paired with our Maine State Park Pass, one could definitely step back in time along the Penobscot river.
This Is How We Name Our Lands is a four color, two-sided map in Penobscot and English. It measures 44″ x 60″ and comes with a gazetteer.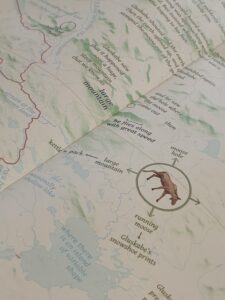 For information on all things Penobscot, please visit the Penobscot Nation website.
posted: , by Raminta Moore
tags: Adults | Seniors | Art & Culture