.Govs w/ Cher!
"A popular Government, without popular information, or the means of acquiring it,
is but a prologue to a farce or a tragedy; or perhaps, both. Knowledge will forever
govern ignorance; and a people who mean to be their own governors must arm
themselves with the power which knowledge gives."
James Madison
letter to W.T. Barry
August 4, 1822
The political turmoil of the past year has had at least one positive side effect: it has spurred a renewed interest in government and awakened a desire in many people to become politically active, or at least more politically aware. But political involvement without political knowledge is useless. As Madison, fourth president and co-author of The Federalist Papers, noted in the quote above, if our government is to work, we need to be knowledgeable as well as passionate.
Unfortunately, all this political ferment brings with it torrents of information, much of it contradictory and all of it claiming to be true. Allegations of falsehood and trickery abound on both sides of the aisle. Real and fake reports commingle online and on television and all purport to be "news". What's a knowledge-hungry truth-seeker to do?
We take questions like this very seriously at the Library. We believe in objective, verifiable facts. We respect an individual's right to interpret those facts as he or she sees fit, but you can't interpret what you don't have. And information is our business. It is our job to connect people with information. To help them learn things. We take that job very seriously.
Part of our job involves information specific to government. PPL is what is known as a Federal Depository Library. The Federal Depository Library Program (FDLP) was created in order to "to provide free, ready, and permanent public access to Federal Government information" [fdlp.gov]. PPL has been a member of this program since 1884. This means we have accepted a particular responsibility to help people learn about the federal government and access the resources it provides. But now we find ourselves bearing that responsibility at a time when the veracity of government information is being called into question like never before.
What follows is the first in a series of posts about government websites and what sort of information you can expect to find on them. We at PPL want you to know about the resources government websites have to offer. We trust these resources will help you learn more about how our government works, so you can be better informed and more involved. Read on to learn about our first government website: Senate.gov!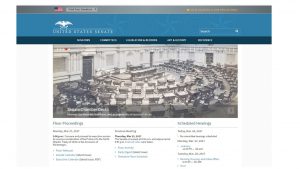 Senate.gov is the official website of the United States Senate. This is the place to find out who our Senators are and what they do all day. There is a lot of information available on the site, far too much to explore completely here. For now, allow me to give you the whirlwind tour:
"Senators"
The "Senators" tab is your guide to the men and women who serve in the U.S. Senate. By selecting this tab, you can find a list of all current Senators. You can choose to view this list arranged by Senator name, state, or party. The list provides contact information for each Senator, as well as links to each Senator's own website. Contact information is invaluable when you wish to let a Senator know your concerns about a particular issue, cheer a Senator on for doing work you appreciate, or let a Senator know when you think he or she is headed down the wrong path.
Also under the "Senators" tab, to the left of the screen, is a subheading called "Leadership". There is also a chart of how the Senate is organized – that is, who the Senate officers, party leaders, and committee chairs are. Each Senator's name is linked to his or her own website, and each committee's name is linked to that committee's website.
"Biographical Directory" is another subheading to select under the "Senators" tab. Clicking here will take you to the "Biographical Directory of the U.S. Congress, 1774-Present". This is where to find a brief biography of any Senator or Representative, past or present.
"Committees"
For more information about the various committees in the Senate, click on the "Committees" tab. Here you will find a list of all the Senate committees. Clicking on a committee name will take you to that committee's website. This is a good place to start to learn about the different Senate Committees and the work they do.
On the left side of the "Committees" page, there are two subheadings called "Membership" and "Assignments". Clicking on "Membership" will take you to a page with a drop-down menu of all Senate committees. Select a committee from this menu to view a list of its members; the address of the committee's website (which links to that site); and any subcommittees that might exist within that committee. The names of the subcommittees are linked to lists of each subcommittee's members. Clicking on "Assignments" will bring you to a list of all current Senators and the Committees to which they are assigned; on this list, each Senator's name links to his or her own website. Each committee's name is linked to its listing under the "Membership" subheading.
You may find that, after your tour of Senate Committee websites, you have a particular interest in one or more committees. To follow their activities more closely, click on the "Hearings and Meetings" subheading, also to the left of the screen. This will show you the schedules of upcoming committee meetings and hearings.
"Legislation and Records"
Clicking on the "Legislation and Records" tab is how to track the actual law-making activities in the Senate. There is a place to search for bills and other legislation before the Senate, such as treaties and nominations. Performing a search here will take you to a list of bills or other documents at congress.gov. Selecting any one of the results of a search will take you to a page about that legislation, including all actions taken regarding it in Congress. For legislation currently pending, this is a good way to follow a bill's progress on the road to becoming a law.
Also under "Legislation and Records" is a section called "Recent Floor Activity". There are several links in this section. "On the Senate Floor" leads to a description of what happened in the Senate on the day specified. "Congressional Record" takes you to the electronic archive of that document on congress.gov. The Congressional Record is the "substantially verbatim account" of what took place in Congress for a particular date – in other words, exactly what was said in the Senate or House sessions, and by whom. (Clicking on the "Congressional Record" link will take you to the Senate portion of the Congressional Record for the date you have specified; once you have accessed the Congressional Record, however, you can browse or search for any issue back to 1995).
Another link under "Recent Floor Activity" is "Daily Digest". This takes you to another version of the Congressional Record, the condensed form that gives a summary of the activity on the Senate floor and in Senate committees for a given day, plus a list of what is scheduled for the next meeting. "Roll Call Votes" is a list of all votes taken during the current session of Congress. The list shows the general tally of votes, yea to nay, but clicking on that tally leads you to a list of all the Senators present for that vote and how each of them voted. Lastly, there is "Floor Webcast". Clicking on this link allows you to choose to watch either live or archived video of the Senate floor proceedings for a given day. The Webcast archive goes back to 2012.
"Reference"
The final part of senate.gov we will consider in this posting is under the section called "Reference". Clicking on the "Reference" tab takes you to a page with several subheadings on the left side of the screen. The first of these is "Virtual Reference Desk". Clicking here brings up a list of topics such as "agencies", "filibuster", and "women in the Senate". Clicking on a topic brings up a compilation of links to resources about that topic, either on senate.gov or elsewhere online. The "Bibliographies" subheading leads to lists of suggested reading about the Senate and other facets of government. Special collections include "Books by Senators" and "Children's Books and Web Sites about Government". Another subheading is "Glossary". The Glossary is a list of Senate-related terms ranging from the basic ("act", "bill", "nomination") to the arcane ("cloakroom", "leave to sit", "Riddick's Senate Procedure"). Click on the term of your choice, and the definition appears at the top of the screen. The final subheading in the "Reference" section is "The Constitution". This links to a full text of the U.S. Constitution. There is an introduction before the text, and a section called "Annotated Constitutions" The second link in this section, titled "The Constitution of the United States of America, S.PUB.103-21 (1994)" links to a special presentation of the Constitution, with original text on the left, and an explanation in more modern language on the right.
The above is merely an overview of senate.gov. It is meant as an introduction to the resources on the site, particularly resources which could help users become more familiar with the Senate, follow Senate proceedings, and offer feedback to Senators. There is more to discover on senate.gov, and I urge anyone visiting the site to explore it thoroughly. I especially recommend the "Art & History" tab, which deserves – and may well get – its own blog post someday!
*information about this website was accurate as of 4/10/17
Cher Lamont works in PPL's Government Documents dept. PPL has been a Federal Depository Library since 1884.
posted: , by PPL
tags:
Adults
|
Government