Have You Been Invited to Take the Challenge?
The Read to ME Challenge is a public awareness campaign to promote childhood literacy in Maine. The Portland Public Library invites you to take the challenge by reading aloud to a child for at least 15 minutes, capturing a photo or video of the event and then posting it on social media using #ReadtoME or #ReadaloudME. The statewide challenge began in the beginning of February with a kick off at the Blaine House – but you still have time to participate!
Why a campaign about reading aloud to children? Research has shown that the single most important activity for building knowledge for their eventual success in reading is reading aloud to children. Reading aloud is important from infancy through high school and perhaps the greatest benefit is that it associates reading and books with warm and pleasant experiences. Parents, caregivers and teachers who read aloud to children are role modeling enthusiasm for reading and books. The more adults read aloud to children, the larger their children's vocabularies will grow and will allow them to make sense of printed words when they begin to read independently. Reading aloud also introduces children to the language of books – which is different than the language used in our daily conversations. And yet another important reason to read aloud to a child is that it sparks and lets them use their imaginations.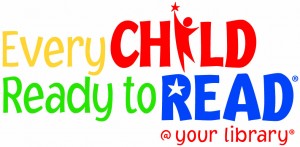 PPL has a strong commitment to early literacy and is a participant in Every Child Ready to Read @ Your Library ® a project of the Association for Library Service to Children and the Public Library Association (divisions of the American Library Association). It is a parent education initiative that stresses that early literacy begins with the primary adult in a child's life. Developing early literacy skills has a long-term impact on children's reading achievement and academic success. Early literacy is what children understand about reading and writing before they can actually read and write. Being interested in and enjoying books is key! Reading, playing, talking, singing, and writing are the five practices that stimulate the growth of a child's brain and make the connections that will become the foundation for reading.
Do you have questions about the types of books that are best to read to children at various ages and stages? Visit the library and the staff at the Sam L. Cohen Children's Library at the Main Library or the staff at our branches will be happy to help you in making appropriate selections. For early childhood teachers, the Children's Library offers over 40 different  "totes" – boxes filled with 15-20 books (with many containing puppets and flannel boards children can use to retell the stories) built on common curriculum themes that check out for six weeks.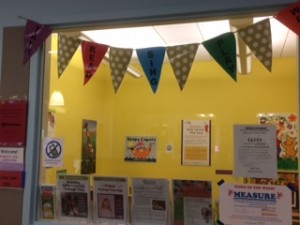 The Early Literacy Play Room in the Children's Library provides a great space to explore and play with your young child. It is stocked with quality toys which are developmentally appropriate for children aged birth-6. It also has handouts to take home, with more suggestions for playing, reading and singing with your child!
Check out all the programs we offer for children! https://www.portlandlibrary.com/highlight/september-programs-sam-l-cohen-childrens-library/. We offer regular story times each week for specific age groups – birth through age 5 as well as a weekly story time in French. We have monthly programs such as creative movement and family yoga. And for children who need a furry, non-judgmental reading buddy, Grace our library reading dog, visits the Children's Library twice a month.
These are just a sampling of the programs we offer, so check out our Kids & Families page as well as the calendars at your local branch library.
The Read to Me Challenge continues through the beginning of March. Take the challenge today and read to a child. And visit the library to learn and explore the different ways you can promote early literacy with the young children you know.
posted: , by PPL
tags:
Adults
|
Kids & Families