An invitation to a discussion : "What Is The What"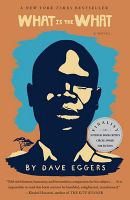 Sudan. A country experiencing serious violence now, a country that endured a civil war lasting over 20 years, between 1983-2005.
Valentino Achak Deng shared his story of surviving Sudanese Civil War, refugee camp, and resettlement in the United States with acclaimed author Dave Eggers and Eggers shares the story, in novel form, with all of us in his 2006 book "What Is The What." While the stories of the "Lost Boys" have changed over the years, "What Is The What" remains an exceptionally important cultural history, narrative of war and survival and the challenges associated with living as a refugee in the United States. Please note: "What is the What" includes vivid descriptions of war related violence and can be a painful – even traumatic – read.
Through a partnership with the Machiah Center and Maine Humanities Council, Portland Public Library welcomes Bates Anthropology Professor Elizabeth Eames to lead a facilitated conversation about the book on June 10th at 6pm. The Machiah Center has provided 25 copies of the book to be checked out and PPL also offers the book as an e-download and audiobook.
To register for the program please sign up at the Reader's Advisory Desk on the 1st floor of Portland Public Library's main branch, or sign up with Kim Simmons at  simmons@portland.lib.me.us
posted: , by PPL
tags:
Programs & Events
|
Recommended Reads
|
Adults
|
Teens
|
Seniors
|
Art & Culture
|
Government