It's Perfectly Normal: September Staff Picks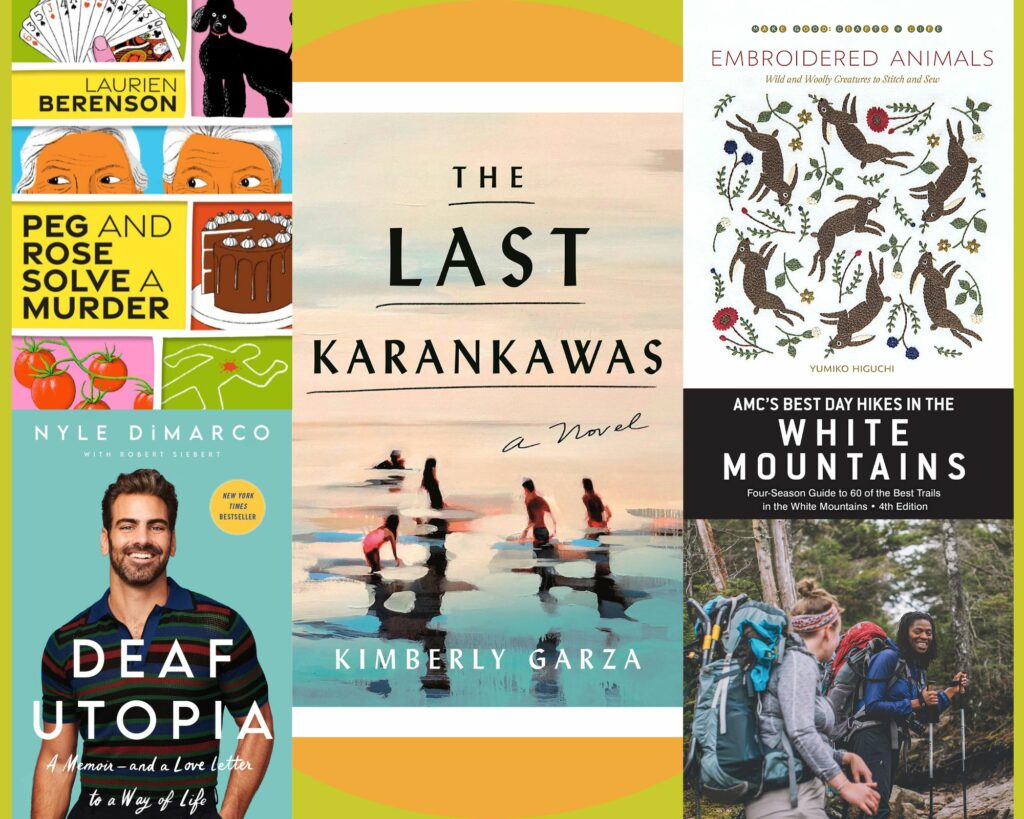 Hello readers, researchers, and library lovers: gather 'round our late summer/early fall Staff Picks! Every September we squirrel away reading recommendations and tuck away titles 'till we have the Heaping-est Heaps of Books to get through fall's dark nights. Hope you are inspired to start gathering your own library books for the season ahead…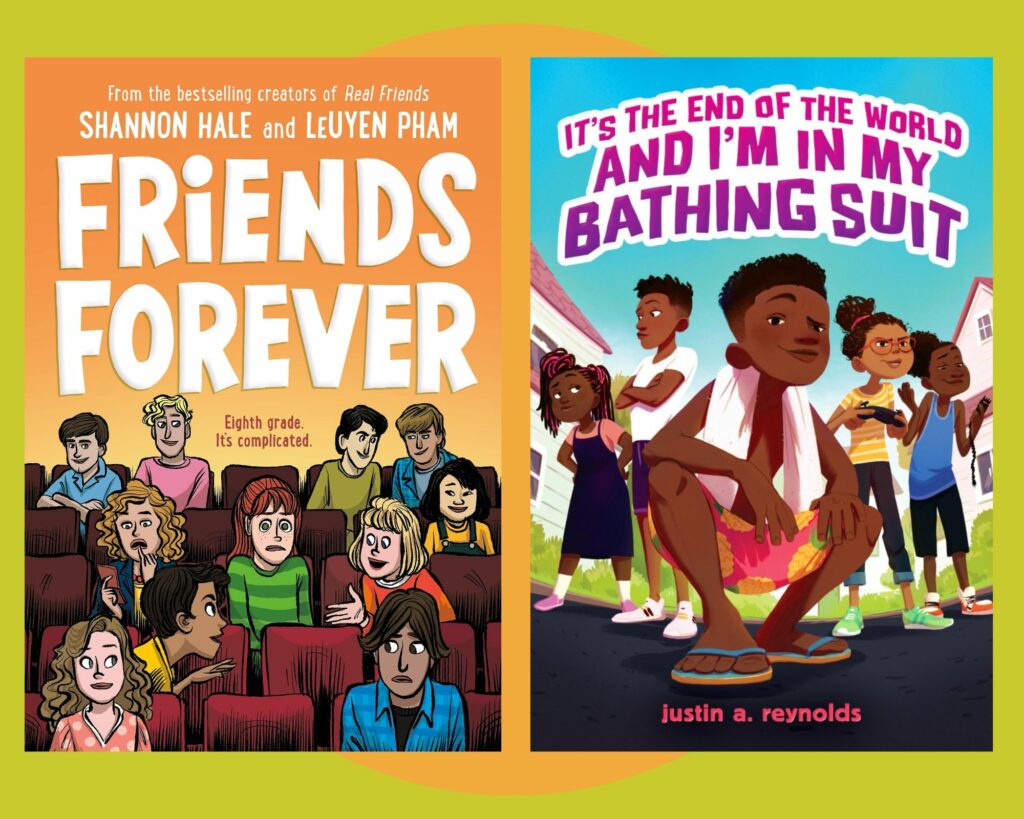 Cindy's Picks 
There are two books I am excited to share with our readers. The first one is the third book in the Real Friends series by Shannon Hale and Leuyen Pham, Friends Forever. We've followed Shannon through middle school in two books, and now, in eighth grade, despite knowing "all" of the things that are the key to eighth grade happiness (beauty, fame, being liked by boys, and being a good person) she discovers that she never feels okay with herself, and nothing seems to be going right.  Will she ever be truly happy? Read this wonderful graphic novel to find out!  
The second book is called It's the End of the World and I'm in My Bathing Suit by Justin A. Reynolds.  This humorous middle grade novel attempts to answer the question: What happens if you have to spend the apocalypse stuck in your bathing suit?  
"On the third day of summer vacation, I devised THEE perfect three-month plan.  It all started when I lost that entire first weekend (and half a Monday!) to more chores than should be legal.  Including THE CHORE I HATE MOST. . .  Also known as The chore That Shall Not Be Named.  Tuh, fine.  I'll spell it.  L-A-U-N-D-R-Y."  
Twelve-year-old Eddie Gordon Holloway decides to wear all his summer clothes at once to avoid having to do laundry! But on the first day of vacation, Eddie ends up grounded until he can get his clothes clean. The power goes out, leaving his laundry soaking wet, so he goes out into the neighborhood in his swim trunks and flip-flops. There, along with other neighborhood kids, he discovers that all the grownups aren't coming back anytime soon.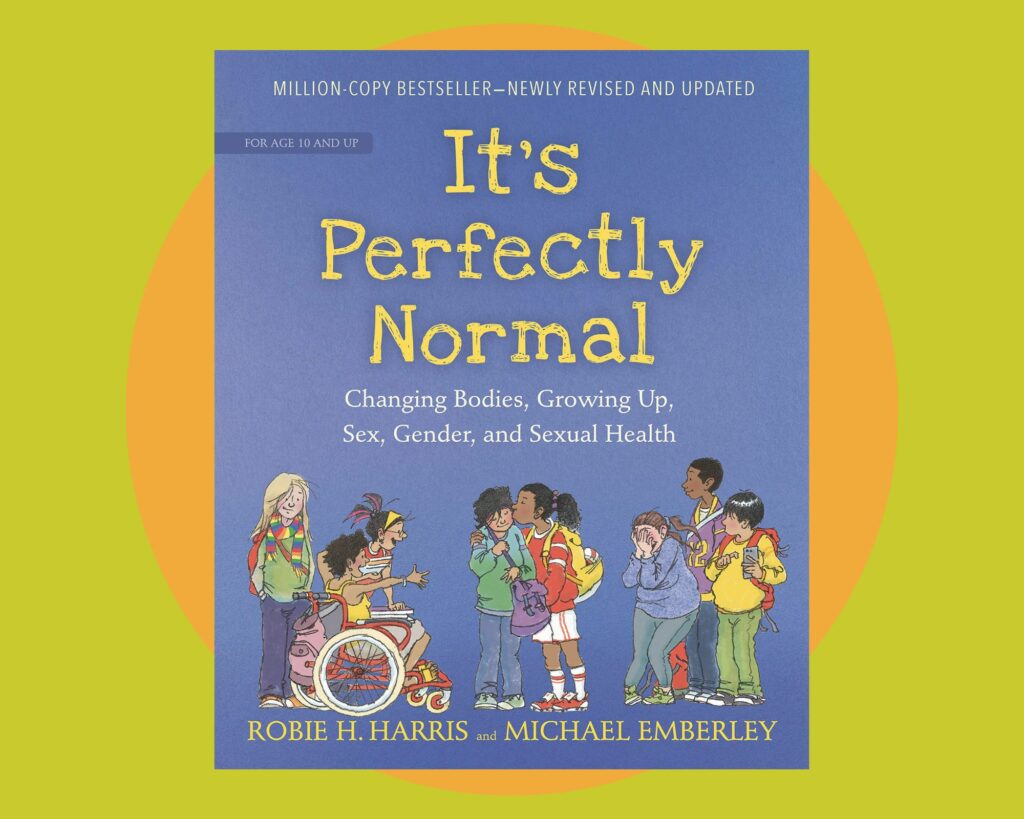 Carrie's Pick 
Last night I cheered to hear that It's Perfectly Normal will remain on the shelf in the MSAD 6 school district! With Banned Books Week approaching I had to weigh in on this gentle, funny, thorough, and developmentally appropriate book. Not only do I wish that I had had this book growing up, oh boy howdy do I wish that this book could be given to every 10-year-old child in hopes that all children receive developmentally appropriate and caring information about their changing bodies and the complex diversity of human experience. Let's keep working to make the world a more caring and inclusive and safe place for all kids.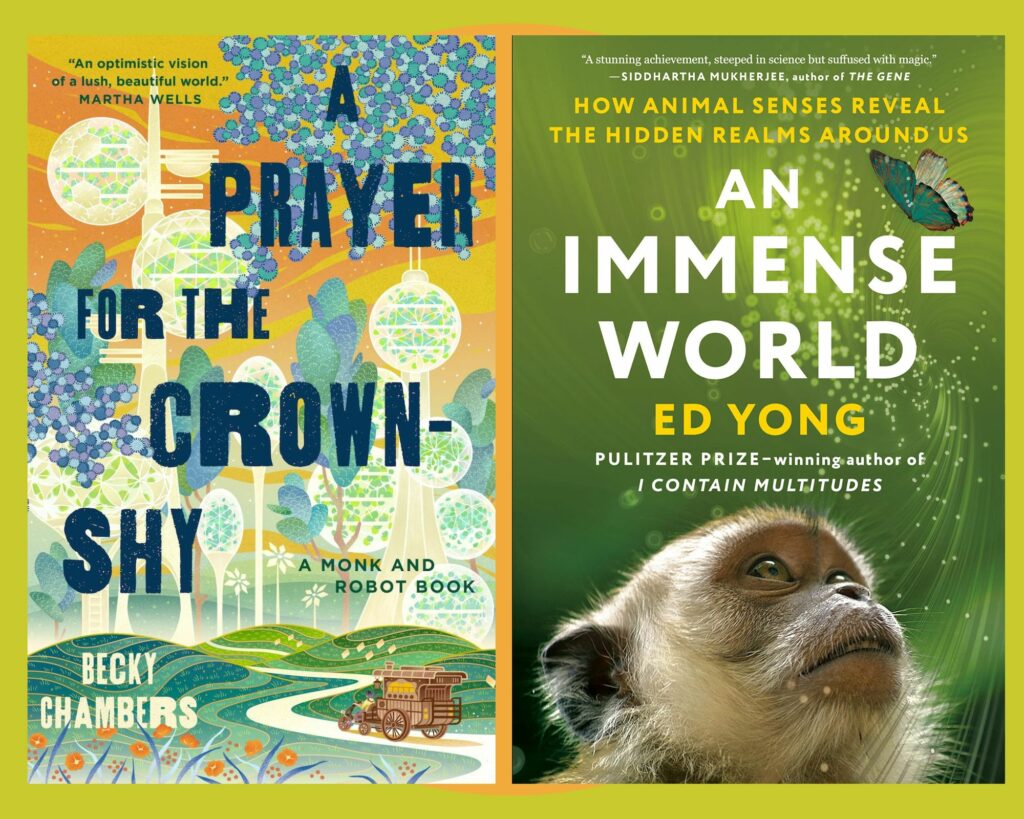 Emily's Picks 
I've been learning a new craft this year, partly helped along by a book from the library that I hesitate to recommend — because I keep checking it out! Embroidered Animals has been a fun guide to crafting tiny embroidered creatures to gift to family and friends, and I look forward to trying some patterns from Embroidered Botanicals next!  
I love getting to listen to audiobooks while I sew, and a recent favorite is Ed Yong's engaging An Immense World, which gives us a glimpse into the sensory worlds of animals. You can stitch a tiny owl for a loved one while learning more about the incredible senses they use to hunt their prey! I enjoyed hearing Yong narrate his audiobook himself in his British accent — his joy in sharing the research of fellow scientists is very apparent.  
Looking for a science fiction tale to listen to instead? Becky Chambers' Monk and Robot series tells an introspective and funny story of two unlikely friends finding companionship as they explore the woods and villages of a distant moon together. Chambers' books are such a comfort, and Em Grosland's narration captures the spirit of Sibling Dex and their curious robot companion, Mosscap.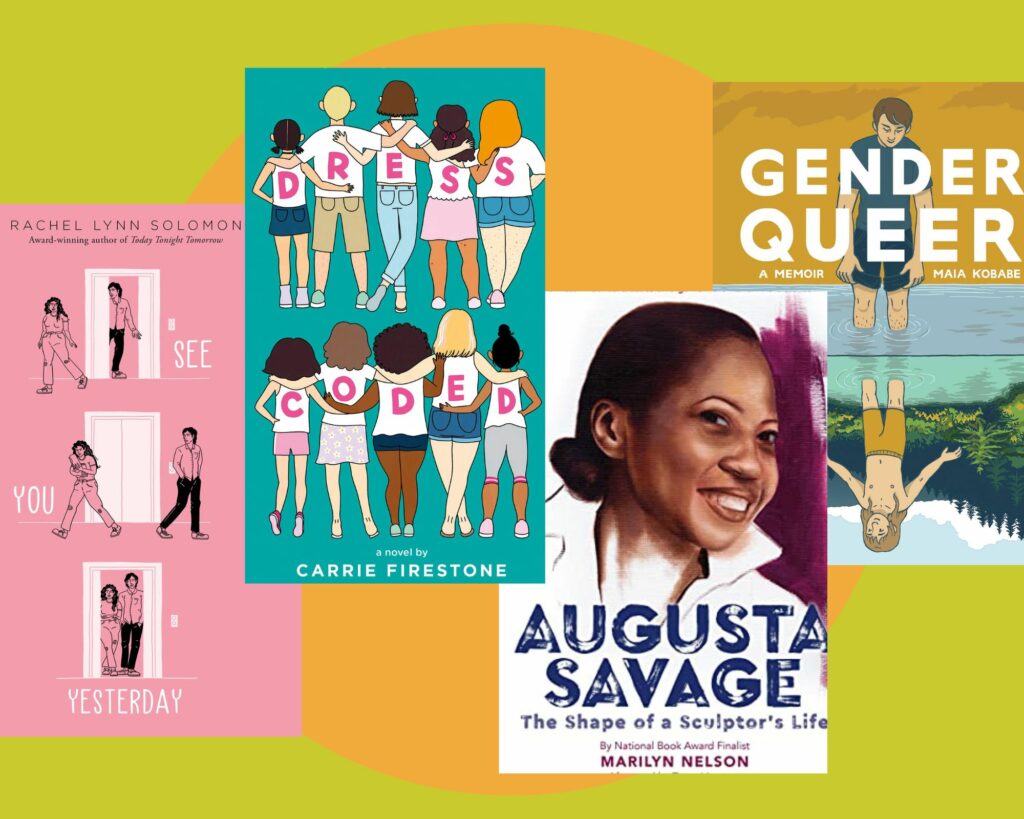 Carly's Picks 
The first day of school feels like a fresh start, but what if you have thirty of them? The Groundhog Day trope gets a collegiate spin when freshmen Barrett and Miles repeat their first day of college on loop in Rachel Lynn Solomon's See You Yesterday. If you're in the mood for an adorable rom-com with a dash of science fiction, this one's for you. (It's also a good choice for Colleen Hoover fans.) 
For an energizing girl-power read, try Carrie Firestone's Dress Coded. When eighth-grader Molly realizes that her school's dress code targets and shames the girls in her middle school, she takes a stand by starting a podcast. Molly interviews her classmates about the times they've been unfairly "dress coded," galvanizing them to speak out and work together to change the policy. 
I was so moved by Marilyn Nelson's biography in poems, Augusta Savage, which honors the life of the groundbreaking sculptor and educator. Savage was a key voice and artist of the Harlem Renaissance, and her commitment to her craft never wavered, even in the face of racism and lack of funding. 
Finally, I recommend Gender Queer by Maia Kobabe. In this beautifully-drawn graphic memoir, Kobabe tells the story of navigating and understanding eir sexuality and gender identity. Kobabe's honest and vulnerable autobiography may help some readers feel less alone in their own self-identity journey, while other readers may develop empathy for their friends, peers, and family who are in the process of understanding themselves.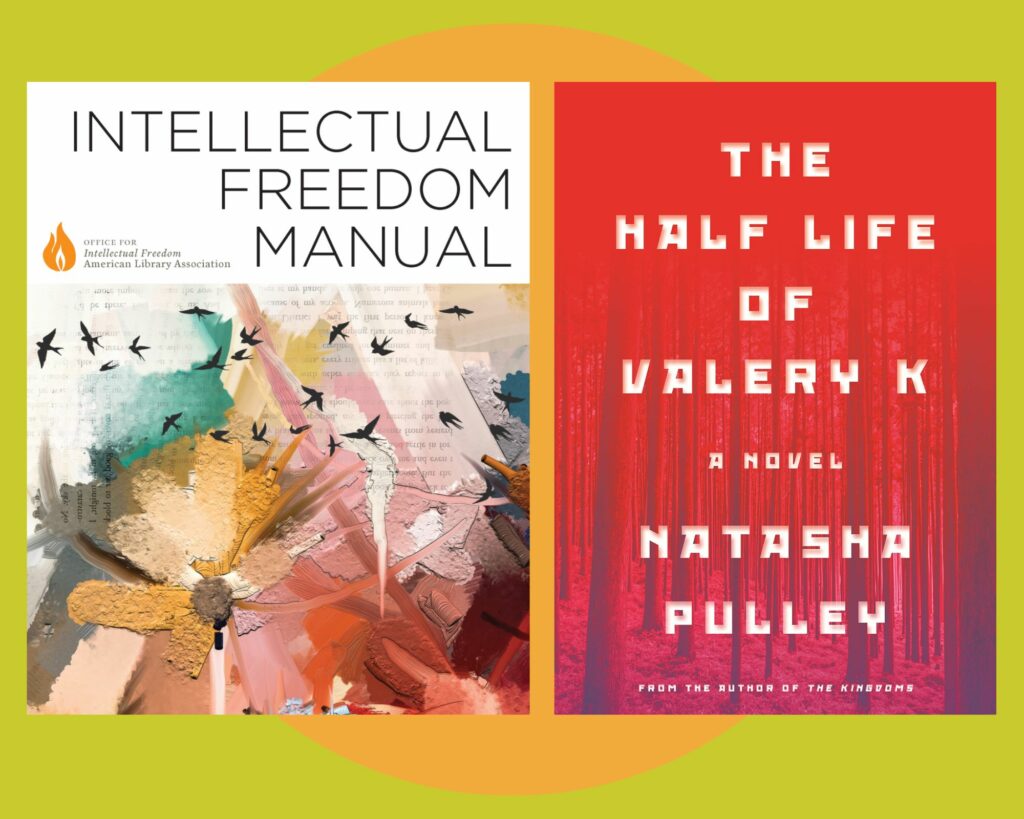 Sarah S's Pick
In September we talk about banned books, but what we're really talking about is intellectual freedom, the freedom to read, and the right of every individual to seek and receive information from all points of view without restriction. As challenges to library materials continue to mount in our own backyard, I turn to the Intellectual Freedom Manual for guidance and inspiration as library workers unite to protect the freedom to read.   
Julia's Pick 
I'm always excited to see a new book by Natasha Pulley, and The Half Life of Valery K soared right over my already high expectations! It's a moving exploration of loneliness and human connection, set against the backdrop of a radiation laboratory in Soviet Russia. Biologist Valery Kolkhanov is released from the gulag to serve out the rest of his sentence at the Lighthouse, a mysterious research facility in the middle of an irradiated forest. Of course, all is not as it seems at the Lighthouse, and as Valery begins investigating the secrets around him, he forges an unexpected connection with the enigmatic head of security, Shenkov. Despite the thriller-like set-up, it is this deepening relationship between Valery and Shenkov that forms the emotional core of the novel and kept me reading late into the night. This is historical fiction at its best: it's meticulously researched but never stilted, and the science is delivered in drily witty layperson's terms. Plus, there's a pet octopus named Albert!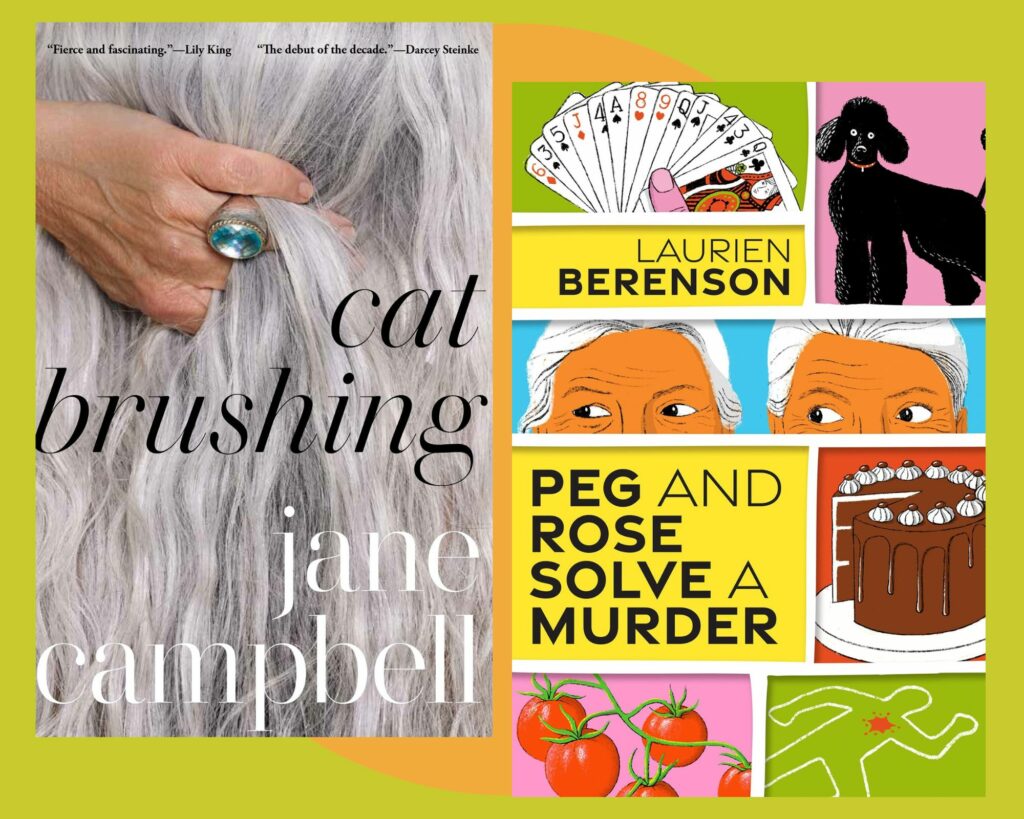 Becca's Picks 
When you picture a protagonist who is an older woman, who do you see? Chances are, it's probably a spinsterish busy body like Miss Marple, drinking tea and solving crimes. Or maybe it's a sad and lonely woman like Miss Havisham, doomed to relive the worst moment of her young life in perpetuity.  
As beloved as these characters can be, we're ready to see something different…and this season, publishers have come through! Here are three new favorites with older women as the main character(s): 
Mary: An Awakening of Terror

, by Nat Cassidy –

Mary

is in my top-five books of 2022. Our main character is about to turn 50, alone in New York City without a family, a partner, or a job. When she returns to her hometown in Arizona to take care of her brash aged aunt, Mary uncovers the truth about her own troubled past. This trope-filled romp has it all: Cults! Body horror! Ghosts! Perimenopause! I was laughing in both delight and horror the entire time.

 

Cat Brushing

, by Jane Campbell – Not only is

Cat Brushing

a book of stories about older women: it's a book of erotic stories about older women. More specifically, it's a book of erotic stories about older women that was written by a first-time author at 80 years old! 

 
Peg and Rose Solve a Murder

, by Laurien Berenson – This launch of a new cozy mystery series is a spinoff of Berenson's

Melanie Travis series

. Peg and Rose are sisters-in-law who never got along. Rose decides to let bygones be bygones, inviting Peg to attend her bridge club. After one of the club's best players is killed, Peg and Rose find themselves in a senior citizen underworld of gambling, adultery, and other crimes. There are a lot of books containing senior citizens behaving badly, but it's often purely played for laughs.

Peg and Rose

subverts this trope, giving us complex characters with active social lives and serious hobbies intertwined with the best the cozy mystery genre has to offer. (Plus, there are many,

many

dogs.)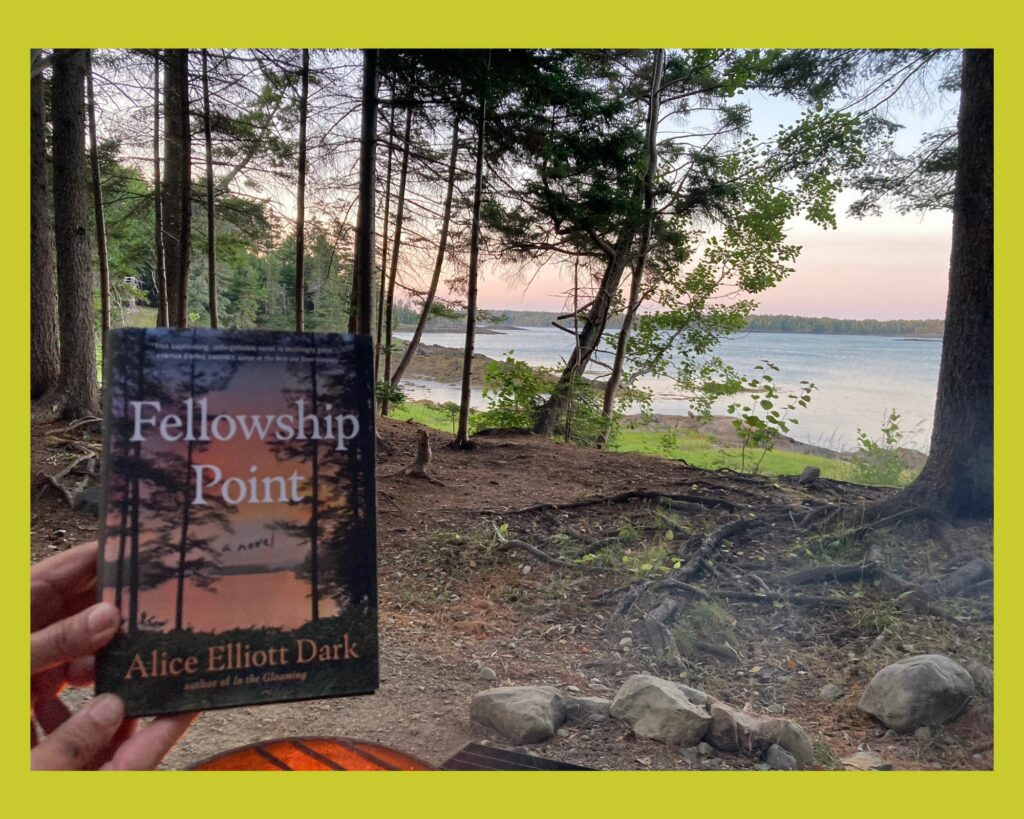 Gail's Pick 
Recipe for bliss: get yourself a copy of Fellowship Point and take a vacation immediately, preferably three days on the coast of Maine, where much of the book takes place. After I finished this story of the friendship of two octogenarians, I wanted to start it all over again, but as its next reader was waiting, I settled for thumbing through its pages for an hour, searching. When had the author first woven in each thread of the storyline, and where had it appeared and reappeared, until the tapestry revealed itself? A fascinating look at friendship, legacy, and how art and life twine around each other.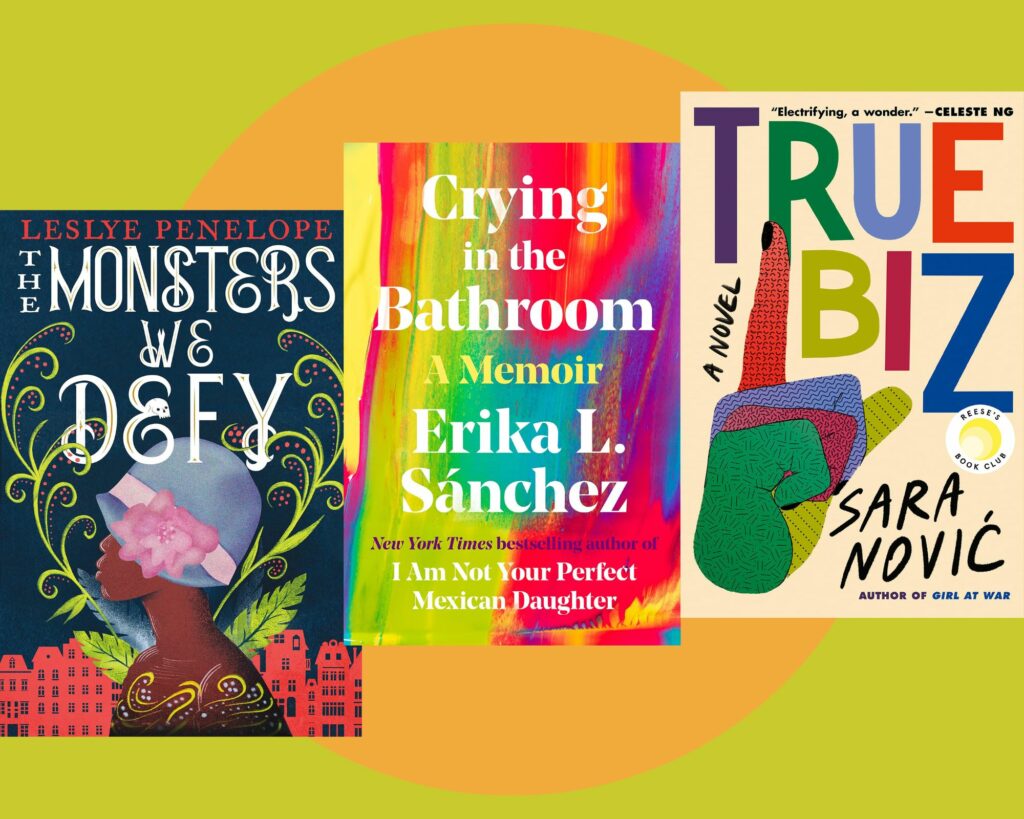 Elizabeth's Picks 
What's in my towering TBR book-stack this September, you ask?  
Is there a new historical fantasy with a motley crew of characters attempting a heist? Yes! Check out Leslye Penelope's The Monsters We Defy.  
Any Dark Academia options for back-to-school days? I'm really excited about R.F. Kuang's Babel (the first in a new series set at a fantastical Oxford) and Naomi Novik's The Golden Enclaves (the last in a series that started at a school full of monsters and magic).  
Another great campus novel, but realistic fiction? "The students at the River Valley School for the Deaf just want to hook up, pass their history finals, and have politicians, doctors, and their parents stop telling them what to do with their bodies." Sara Nović's new novel True Biz is electric.  
A book for hiking as the leaves start to turn, or to plan future trips? AMC's Day Hikes in the White Mountains is a treasure trove for the outdoor enthusiast. It shares 60 great day hikes, including universally accessible trails, and is full of detailed information about the trails and the birds, animals, and plants—hobblebush! bog bilberry! Greenland stitchwort!—of the White Mountains.  
An "utterly original memoir-in-essays that is as deeply moving as it is hilariously funny?" I'm looking forward to Crying in the Bathroom (by Erika L. Sánchez).  
I also recently returned some late-summer favorites. Nyle DiMarco's Deaf Utopia is a joyful, gripping, heartfelt memoir. Science journalist Ed Yong (see Emily's Picks, above!) edited The Best American Science and Nature Writing 2021 and it's full of gems—wonders and sorrows. And The Last Karankawas by Kimberly Garza is a luminous, stunning debut novel about a tight-knit community on Galveston Island as they brace for a hurricane: "Storms are part of the world, this world, this place."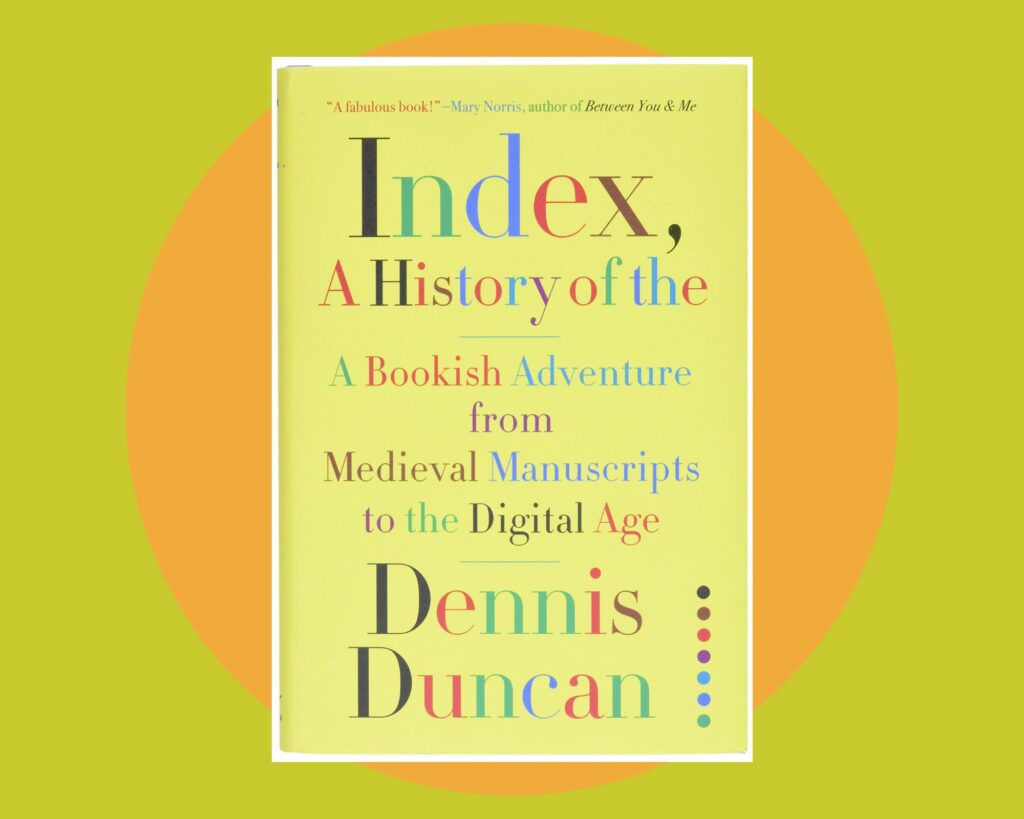 Vicky's Picks 
Does the prospect of reading a history of the index make your eyes glaze over? Well, try Index, A History of the instead.  
Author Dennis Duncan takes readers from the first preserved records of alphabetization (on clay tablets found in Syria) to modern machine indexing in learned, lively, and often laugh-out-loud fashion. Do you doubt me? As Duncan surveys the lurching development of what he calls the "humble back-of-the-book index" he breathes life into the stories of those who tussled with the challenge of organizing textual information. Of medieval monks who created a concordance so overstuffed it is unusable, he writes, "To be fair to the friars of St Jacques, if they had committed one of the cardinal sins of indexing, it was because they had literally just invented the form. Other indexers do not have this excuse"—and follows this up with a modern-day example of the same sin.  
Readers come away with both an enhanced understanding of the development of the book in the Western world and delighted astonishment at how much literary cattiness can take place within the confines of an index.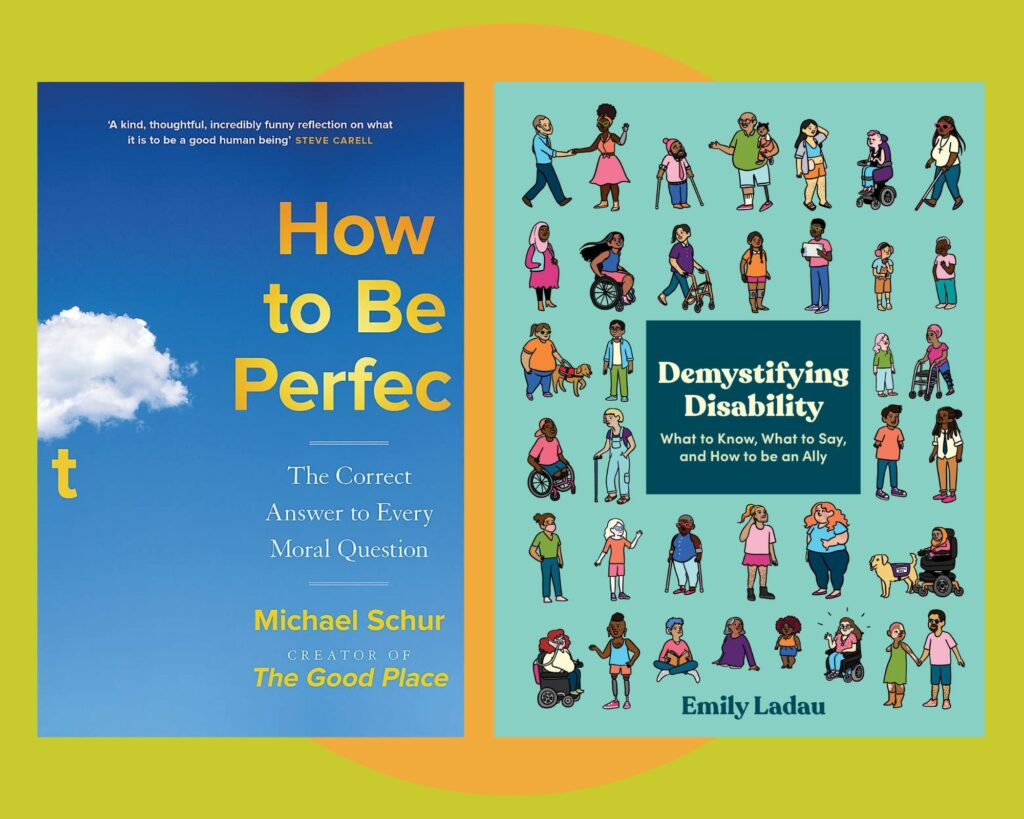 Jill's Picks 
Regardless of age or proximity to school children, I'm embracing September and back-to-school season with books that help me learn and grow.  
How to Be Perfect: The Correct Answer to Every Moral Question by Michael Schur (creator of TV show, The Good Place) is a nonfiction book I'm looking forward to. It is described as witty and insightful, and seems to be a friendly introduction to the complicated world of moral philosophy.   
Demystifying Disability by Emily Ladau is a nonfiction book that covers history, commonly asked questions, and etiquette around disability in an approachable way. This book appears to be written as a guide for nondisabled folks who want their actions to match their good intentions.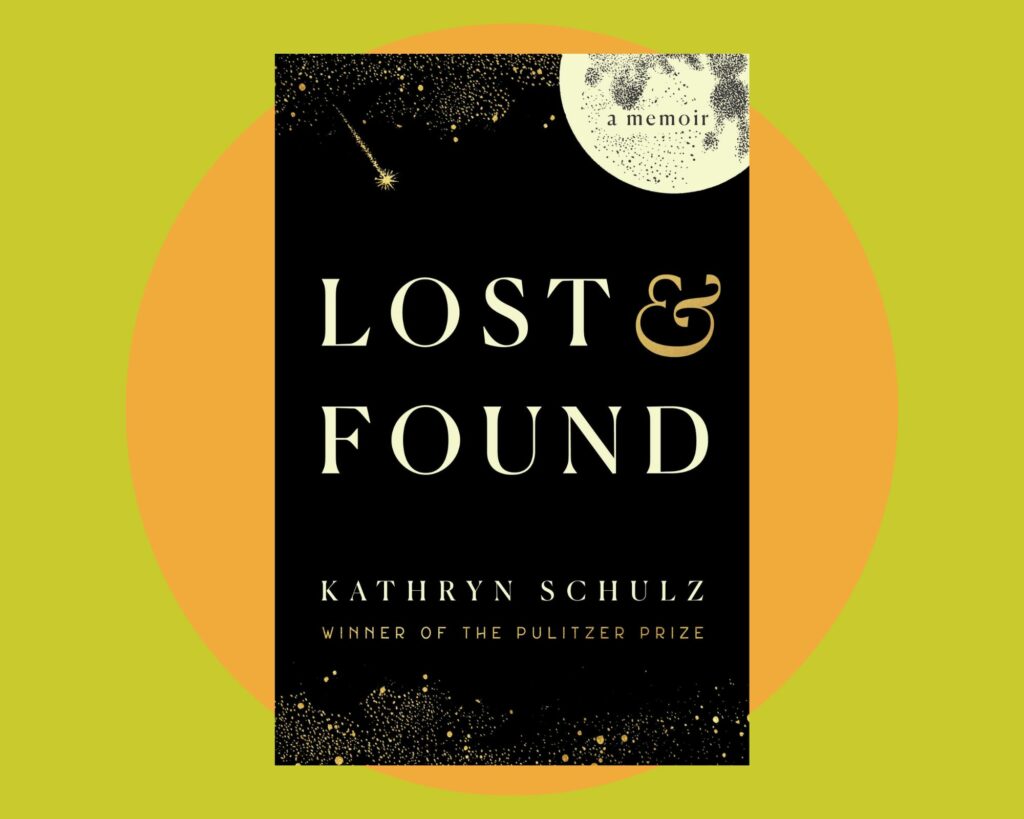 Eileen's Staff Pick 
 "To be bereft is to live with the constant presence of absence."    
 I consciously registered New Yorker magazine staff writer Kathryn Schulz a while back, while reading her "Personal History" piece ("When Things Go Missing") in a February 2017 issue of The New Yorker magazine.  It was a pleasingly long essay about losing car keys and memories and people, about loss in its many manifestations.  It blew me away at the time, making it absolutely necessary to alert my friend to it with a near frantic email—Did you see it?  Have you read it? What do you think? Is it just me?  Do you love it too? 
 Schulz opens her 2022 book Lost & Found with that self-same essay, blowing me away yet again.  This time she has made of it a balancing act, supplementing it with writing of finding and being found by love in roughly the same slot in life's timeline as she is losing her beloved father. 
 It is a slim-ish book and, heck, I'd already read half of it, right?  So why did it take me a couple of weeks to read it all the way through?  I guess it is denser than its page-count would have me think.  And I guess, too, that I just wanted to roll around in Schulz's deep thinking about things that matter.  
 Fast-forward (if only that was possible) in endlessly disorienting Pandemic World.  Everyone, everywhere has lost things, large and small.  In the gap between her essay's appearance in The New Yorker and my reading Lost & Found, I lost that dear friend, the friend with whom I just had to share her essay, perhaps making for me more poignant her reflections on loss. 
Schulz truly accounts for her entire title.  If only for her exhaustive and fascinating history of "&" (read: the ampersand), I recommend that you read this book.  I will never see "&" or hear the word "and" the same way.  "And" bestows continuity, connection.  It allows for two or more things to march together:  Us and them.  Cream and sugar.  Hot and sticky.  Lerner and Lowe.  Franny and Zooey.  Itchy and Scratchy.  Chocolate and peanut butter.   Peace and prosperity.  Blood, sweat and tears.  Lost and found.  A story ends… "and they lived happily ever after".  And still it leaves room for "and… then what?"  "And" perpetuates possibility.  And growth.  It is a conjunction, more than just grammatically.  It connects us, the natural world and each other without regard for whether we are similar or in opposition.  It joins everything and everyone with the past and the future and, fortune help us, the messy present.  
We are all part of a long list conjoined with countless repetitions of "and."  We always will be, whether we acknowledge it or not.  Best to see it for what it is, and figure out "and…now what?" 
 ___________________________________________________
As ever, thanks for reading. For a full list of the books we discuss here, see It's Perfectly Normal: September Staff Picks.
If you're looking for more reading ideas, that is our very favorite thing! Check out our Your Next Great Read service for readers of all ages, or simply reach out to our staff at readersadvisory@portlib.org for your own personalized booklist of reading suggestions. You can also explore our staff-made booklists on genres, topics, and writers like Latinx Voices, Picture Books for Starting School, Say No to Censorship, Fiber Crafts: Sewing, Embroidery, Mending, and more.
posted: , by Elizabeth
tags:
Library Collections
|
Recommended Reads
|
Adults
|
Seniors
|
Art & Culture
|
Readers Writers