Montgomery's View: LOOK UP! (a picture book)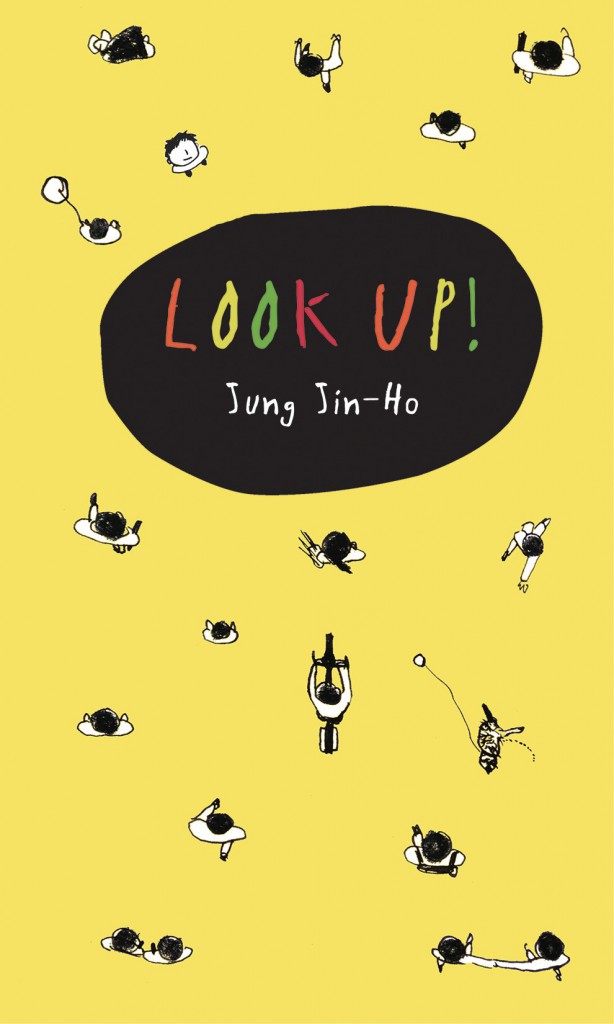 LOOK UP!
by Jung Jin-Ho
Published by  Holiday House
The reader needs to study the opening scene of this book and figure out what they are looking at. It appears to be a view of a sidewalk from above with a line of trees to the left and people walking. Turning the page a wheelchair begins to edge into the scene from the right – another turn shows a head peering over a balcony to watch below. The scene is always the same except for the changing bodies – dog walkers, bicyclists, walkers, children playing games, kite flier,umbrellas in the rain and so on. The monotony and loneliness of the girl are palpable by the sameness and the lack of color. In this scantily worded book – the girl calls out to those below to "look up" – she wants to be noticed and a part of the scene. Finally, a boy looks up and notices her.  He lies on the ground so she can see more than the top of his head. A woman joins him and soon there are nine people and a dog on the ground looking up. Then the girl looks up at the reader and smiles. The turn of the page shows the same scene with color – the world is now different and kinder.  If you look carefully you will see an empty wheelchair with a smiling girl and boy standing next to it. The interesting perspective of this book delivers its power.  It is a tale of friendship, warmth and grace.
In its simplicity it packs a wallop.
Pick up a copy at the Portland Public Library
posted: , by Mary Peverada
tags:
Montgomery's View
|
Recommended Reads
|
Kids & Families