We are currently experiencing a problem with patron login and are working to resolve the problem. The Classic Catalog (under the "How Do I..." tab) is working if you want to log in to your account. If you need help with renewals or holds, please call 771-2730 and we'll be happy to assist you. Our apologies for the inconvenience.
X
Meet Jenna: PPL Associate Director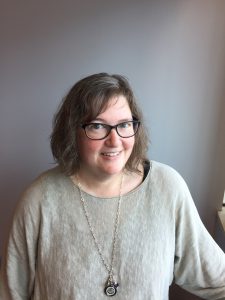 "Portland Public Library has closed the books on another amazing year! With your generous support and donations, we've been able to add a variety of titles to our print and digital collections, and our staff and partners have organized countless free events for everyone to enjoy: author talks, concerts, gallery exhibits, film series, and of course story-times, teen activities, business workshops for entrepreneurs, and technology help for all levels. When I glanced back over last year's event calendars and librarian-curated booklists, I realized I couldn't pick my own favorites to highlight here – there's just so much, something for every age and for every interest. Maybe you only drop by at lunch and read the newspaper in the sunny Atrium, take advantage of our fast and
upgraded
WiFi, or download an audiobook from home for your next road trip. As our new tote bags say No One Beats Our Prices!
We often ask ourselves, 'who are our patrons, who are we trying to reach?' And inevitably, our answer is everyone. Because no matter which branch you visit, we're all part of the same community, and our diversity of people, of materials, and of the experiences we share together, it's what makes Portland so special. Thank you for ensuring that PPL remains the social, cultural, and civic heart of Portland. Together, we speak volumes! (puns always intended)."
-Jenna Mayotte,
Portland Public Library Associate Director
posted: , by Heather Wasklewicz
tags:
Adults
|
Discover Portland