Messy Roots and Heartstoppers: June Staff Picks!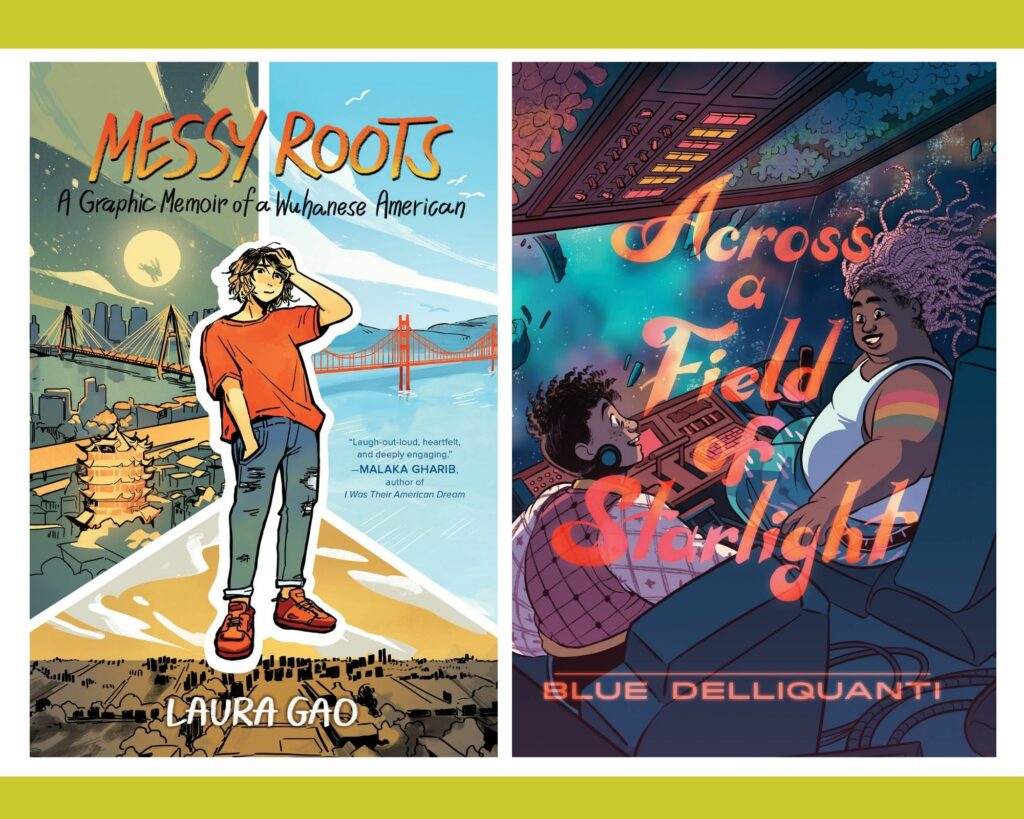 Welcome to our June Staff Picks!
"Romance is having a moment. It brings me so much joy to see how mainstream romance has blossomed from a small garden of hydrangeas into acres upon acres of sweet and juicy crops of all kinds." —from Becca's Picks
This month we swoon over queer romances, pick up picture books, dive into nonfiction depths and pile on the love for two titles: our top picks were Messy Roots by Laura Gao and Heartstopper by Alice Osemon, both chosen by more than one staff person. Read on to discover all the gems of June…
---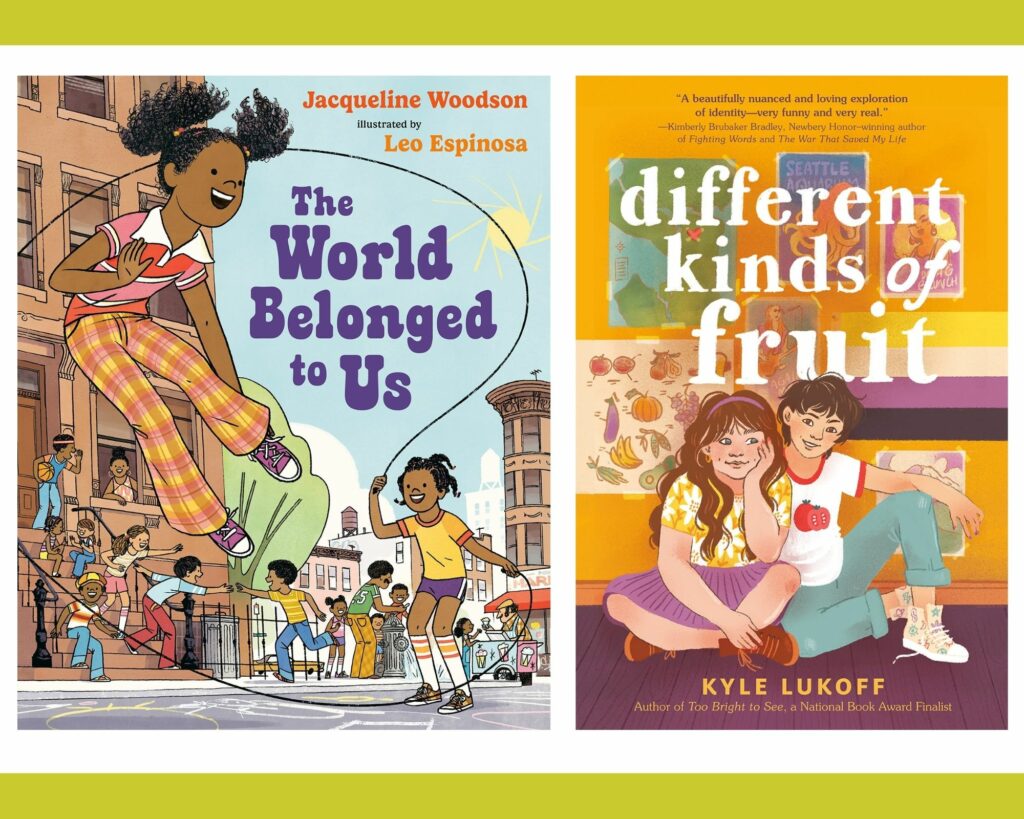 Emily's Picks 
Jacqueline Woodson's The World Belonged To Us is a gorgeous new picture book and conveys all the joys of school letting out and spending summertime in the city. Unsurprisingly, it is beautifully written, and we loved Leo Espinosa's fun, bright illustrations of all the kids playing outside in 1970s Brooklyn. 
Kyle Lukoff's Different Kinds of Fruit is a standout for me this month, and I especially recommend listening to Cassandara Morris's lively audiobook narration via cloudLibrary. It's the story of Annabelle, a curious and charming sixth grader growing up in a small town expecting her new school year to be the same as every other — and how everything changes for her after she meets a new classmate. Annabelle quickly becomes close with the new student Bailey, who is nonbinary, and they open up Annabelle's world to different ideas about gender, and they inadvertently encourage Annabelle's parents to share more of their own family history. Narrator Morris captures the bold personalities of Annabelle, Bailey, and their classmates who fight back when faced with prejudice, and Lukoff's writing feels immediate and very real. Excellent reading for kids (and adults!) who love contemporary fiction and stories of family, friendship, and standing up for yourself and others.  
Young readers who are longing for magical worlds to delve into this month also have a wealth of new titles to explore! Our household has been abuzz with talk of Witchlings, Claribel A. Ortega's story of witchcraft and impossible tasks—and competitive toad races. (And once kids finish Witchlings, definitely seek out Ghost Squad, Ortega's charming debut!) Readers who love books that combine the best of science fiction, fantasy, mythology, and videogames will adore Zachary Ying and the Dragon Emperor by Xiran Jay Zhao. It's a fast-paced story that features a 2,000 year old Chinese emperor possessing an AR headset, launching Zachary from Maine to China on a supernatural quest to save the world! And our family's current read-aloud is the incredibly engrossing The Marvellers by Dhonielle Clayton, with a mysterious international school of magic in the sky that every reader will long to attend.

---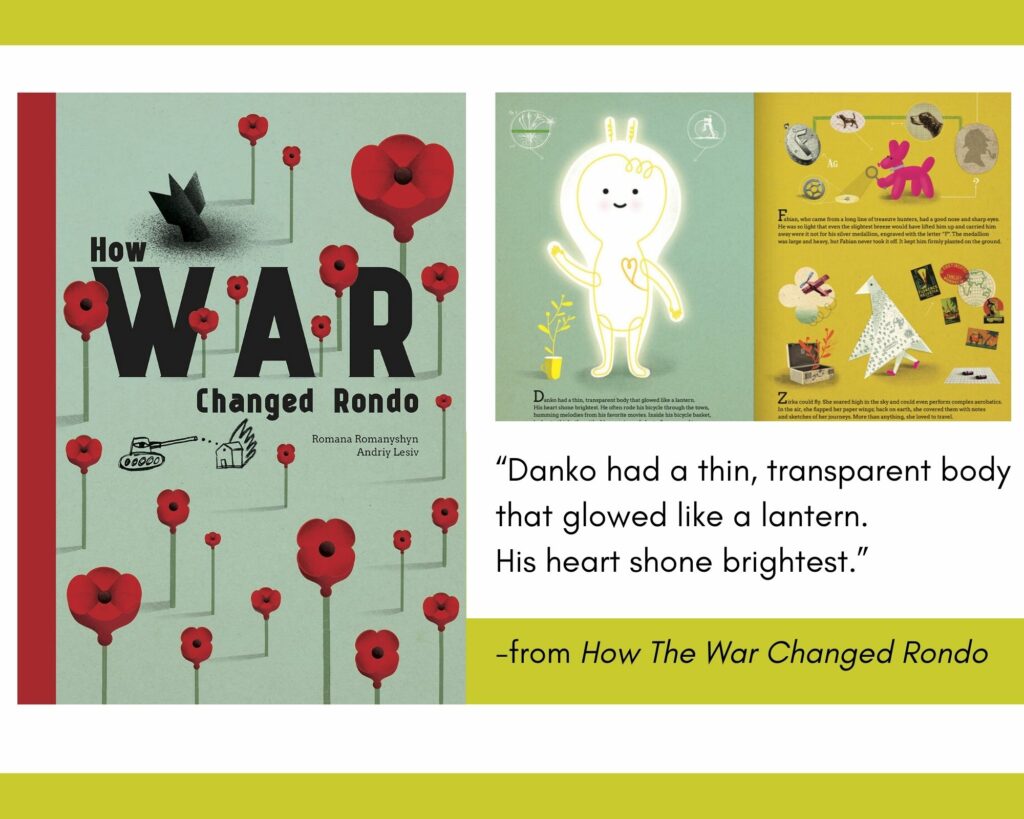 Vicky's Pick 
Originally published in Ukraine in 2015 following Russia's seizure of Crimea and invasion of the Donbas region, the picture book How War Changed Rondo gave Ukrainian children a way to process what it means to experience and survive war. Published in the United States in 2021 in Oksana Lushchevska's translation, this tragically timely and poignant fable is now accessible to English-speaking readers. Romana Romanyshyn and Andriy Lesiv, a couple, collaborated on both text and illustrations to tell the story of the peaceful, happy town of Rondo via three main characters: Danko, a walking lightbulb; Fabian, a balloon dog, and Zirka, an origami bird. War is depicted as a terrifying, unreasoning force that wreaks destruction—yet the impossibly fragile protagonists fight back. The fantastic setting and surreal treatment allow young readers to understand without being overwhelmed. In the end, each character bears scars, but their community survives to thrive again. Here's hoping.

---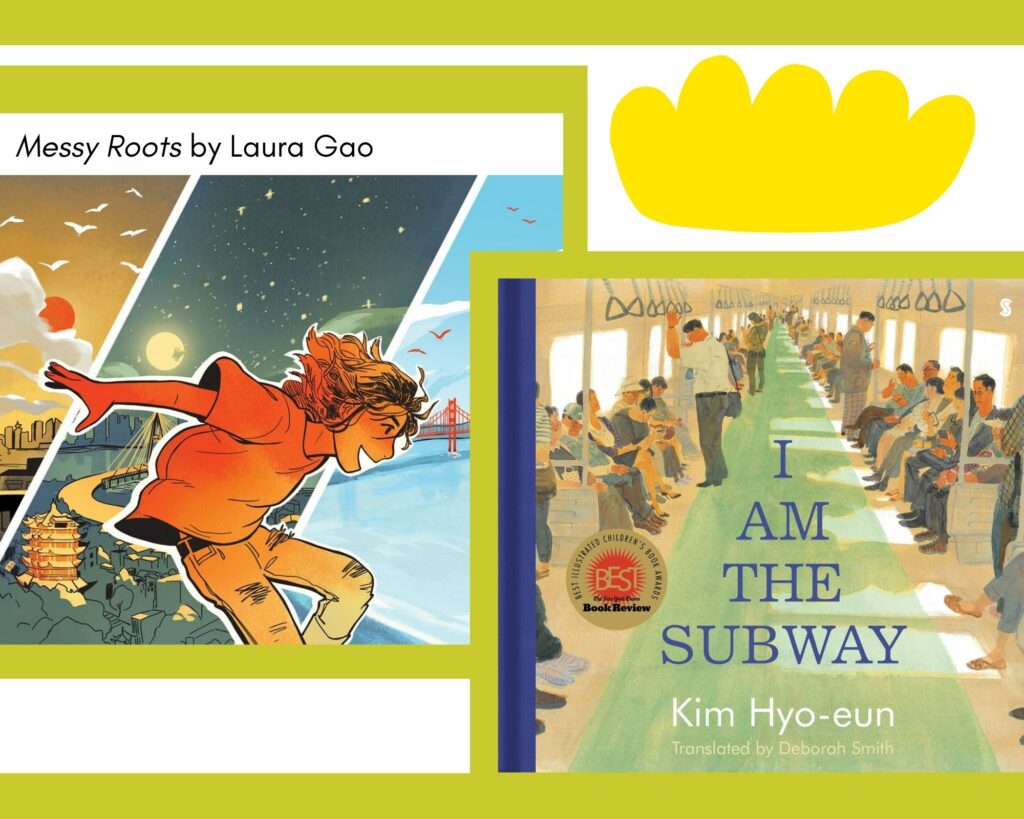 Una's Picks 
Kids' book rec: I Am The Subway—Ever been on public transit, look around, and wonder what goes on in other passengers' lives? This book explores that with all the whimsy and wonder of a picture book, reminding us that a community is a living mural of unique stories and lives. 
Graphic novel: Messy Roots—While there is no "one size fits all" narrative for anyone's life stories, the broader strokes of experiences– growing up as an outsider, struggling to untangle your roots to find yourself, and finally coming to realize and revel in the messiness of it– are certainly relatable to many. For me, some of the smaller details, such as having your home language slip away with time and feeling the linguistic divide between yourself and your family grow, are where Laura Gao's story truly resonated and made me feel less alone in my experiences. I highly recommend it for anyone, especially those who have felt similarly.

---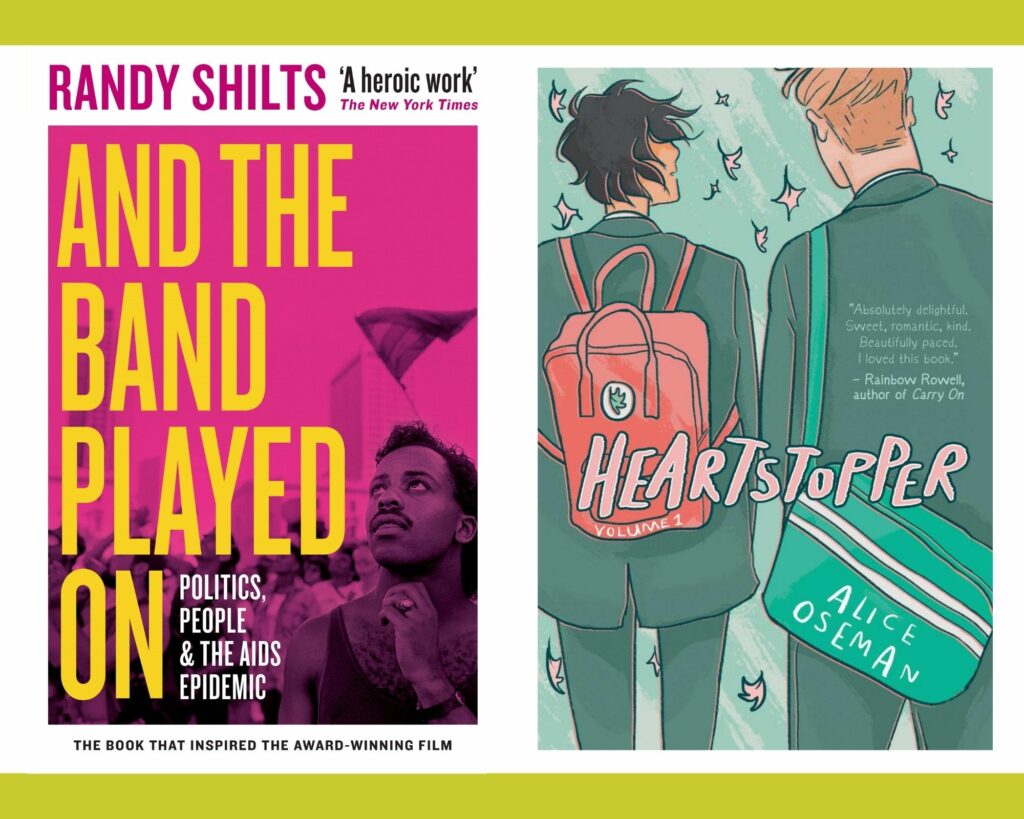 Jill's Picks 
I have two Pride Month picks: And the Band Played On: Politics, People, and the AIDS Epidemic by Randy Shilts and Heartstopper by Alice Oseman. These picks are LGBTQIA+ themed, but the similarities stop there.  
In And the Band Played On, Randy Shilts' timeline interweaves devastating personal accounts of HIV/AIDS diagnoses alongside public health bureaucracy. For those who did not live through the height of the epidemic or were more insulated from its impact, the book provides a much needed political and cultural contextualization. During Pride, it reminds me of the queer community's history of protest and struggle for change. I'll stop myself there to avoid editorializing, but I found the book tragically eye-opening.  
I haven't read the graphic novel Heartstopper *yet*, but I'm patiently waiting my turn on the library's holds list. It's currently drawing even more popularity after the premier of its TV series adaptation that was written and co-executive produced by the author, Alice Oseman. Heartstopper is an adorably sweet story of queer teen romance. It's written for and about teens, but its feel-good vibe also appeals to broader LGBTQIA+ audiences who didn't have many depictions of healthy and supportive queer relationships in media when they were growing up. It's a book that fills me with joy and hope for the future.

---
---
Cindy's Pick 
I recently read the most wonderful LGBTQIA+ romance graphic novel called Heartstopper.  It takes place in an English all-boys high school. Charlie and Nick couldn't be more different: Charlie is a drummer, a runner and has been bullied in the past year when he came out as gay, and Nick is a rugby player who's a year older. The two boys form an unlikely but adorable friendship. They are so supportive of each other, and Nick quickly realizes that he has more fun with Charlie than he has ever had with any other friends. Charlie develops a crush on Nick very quickly. 
What follows in the first volume is Nick slowly realizing that he may have just as big of a crush on Charlie as their friendship deepens. It is the sweetest friendship and romance, absolutely a treasure. You can find all four volumes at PPL. I cannot wait to read the next volume!

---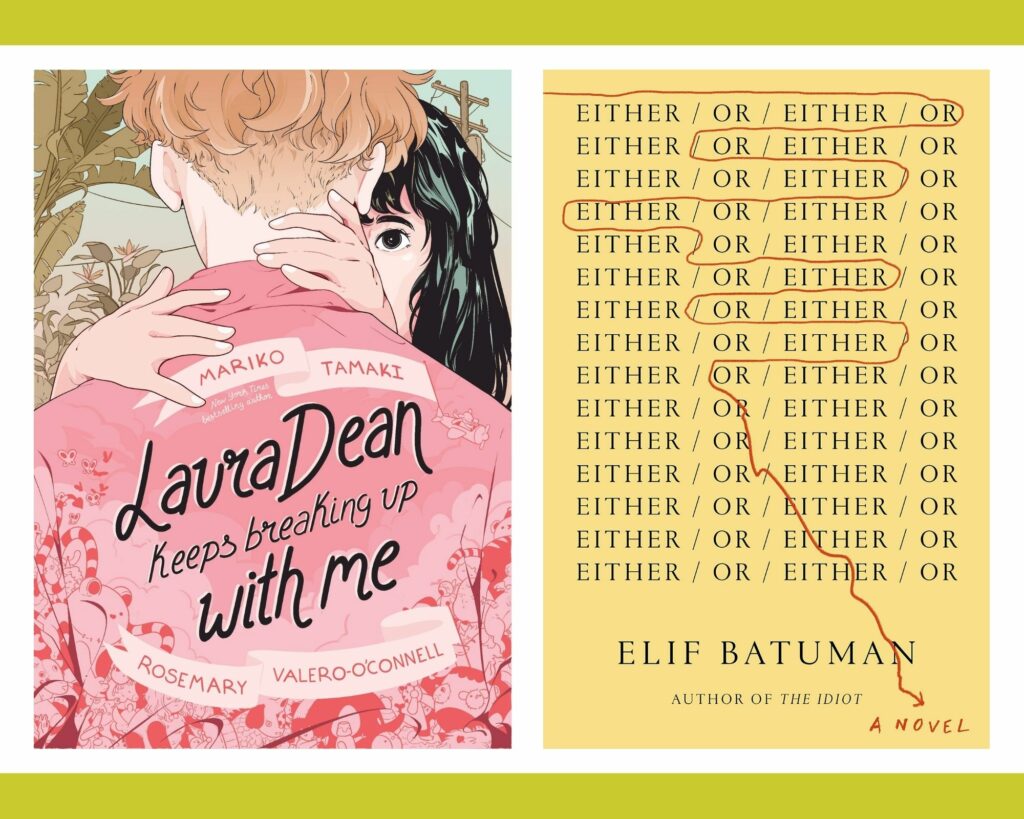 Carly's Picks 
Yes, it's true: Heartstopper  is wonderful. Through Alice Oseman's expressive art, readers follow high schoolers Charlie and Nick as they become fast friends before falling for each other. The series is sweet and charming, and it also addresses sensitive teen topics with thoughtfulness and care. If you've already read the books and watched the show, you may be looking for graphic novels to tide you over until Volume 5 comes out next year. I recommend Check, Please! by Ngozi Ukazu, Blue Flag by Kaito, Girl from the Sea by Molly Ostertag, Bloom by Kevin Panetta and Savanna Ganuchea, and Laura Dean Keeps Breaking Up with Me by Mariko Tamaki.
 
And while school may nearly be out for the summer, I love campus novels in any season. In fact, I regularly reread Elif Batuman's The Idiot, which follows main character Selin during her freshman year at Harvard in 1995. Selin's dry observations of adulthood and academia make me cackle, and the chronicle of her first love—forged primarily by way of this new thing called email—will leave you reminiscing about the early internet. Given how much I love The Idiot (along with Batuman's essay collection, The Possessed), I've come to the conclusion that I would even read a phonebook if Batuman wrote it. Most luckily for me, the sequel to The Idiot, Either/Or, comes out this week. 

---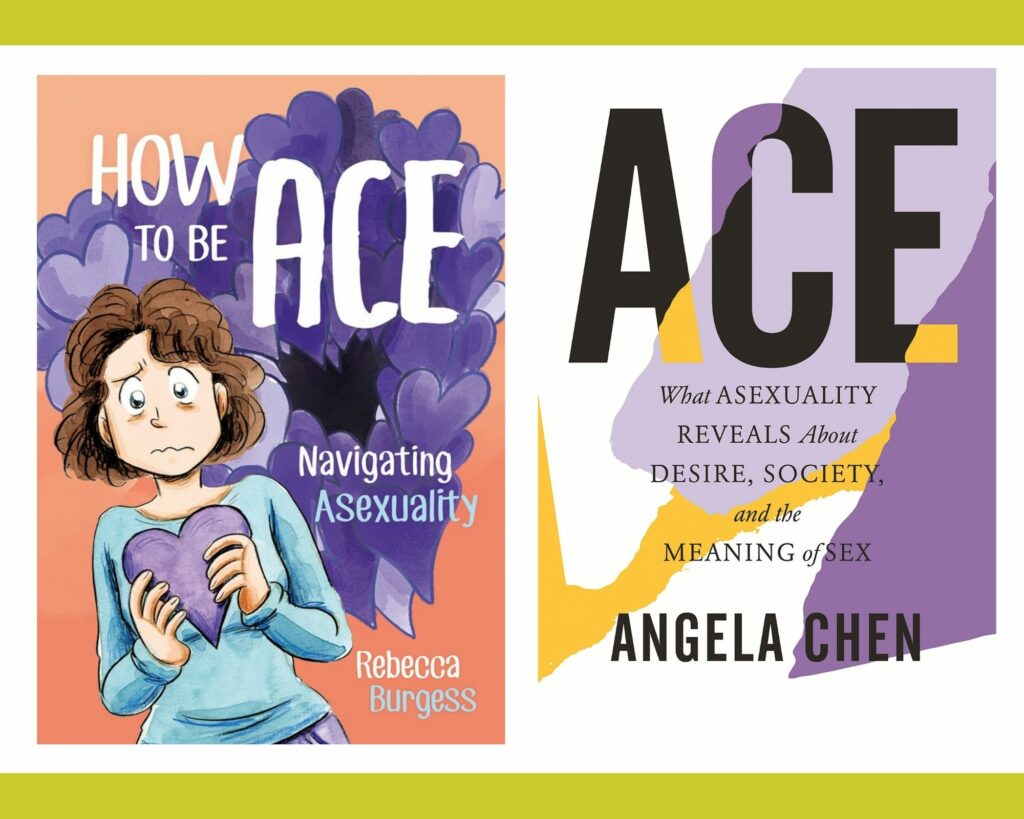 Julia's Picks 
For Pride Month, I would like to recommend a few recent books on asexuality for readers of all ages! Whether you're an ace-spectrum reader looking for representation, or you've never heard of this orientation and want to learn more, these four reads are a great place to start. 
For kids: Rick, by Alex Gino, is a gentle middle-grade novel about finding community and true friendship. Sixth-grader Rick discovers a home in the Rainbow Spectrum Club at his new middle school and a new word to describe himself: asexual. But can he keep his new friends a secret from his bullying best friend, Jeff? And what might Rick's (surprisingly cool) Grandpa Ray have to teach him about being his authentic self? 
For teens: Alice Oseman's Loveless tells the story of Georgia, a rom-com-obsessed university student who has never had a real crush. As she navigates her first year of uni with her two best friends and a bubbly new roommate, she learns more about her own identity and discovers that friendships can be as rich and fulfilling as any romance. Shakespearean hijinks and an enemies-to-lovers side plot round out this breezy YA novel. My favorite line: "There's nothing you have to do except be." 
For adults: Ace, by Angela Chen, is part memoir, part nuanced inquiry into the many facets of asexual identity. This is not simply a primer on asexuality; Chen is less interested in definitions and labels than in the lived experiences of people on the asexual spectrum (aces). She reflects on her own personal journey as an ace woman as well as those of a wide variety of aces, paying welcome attention to the intersection of asexuality with race, gender, and disability. 
Also recommended for both adults and teens: The humorous and informative graphic novel, How to Be Ace: A Memoir of Growing Up Asexual, by Rebecca Burgess.

---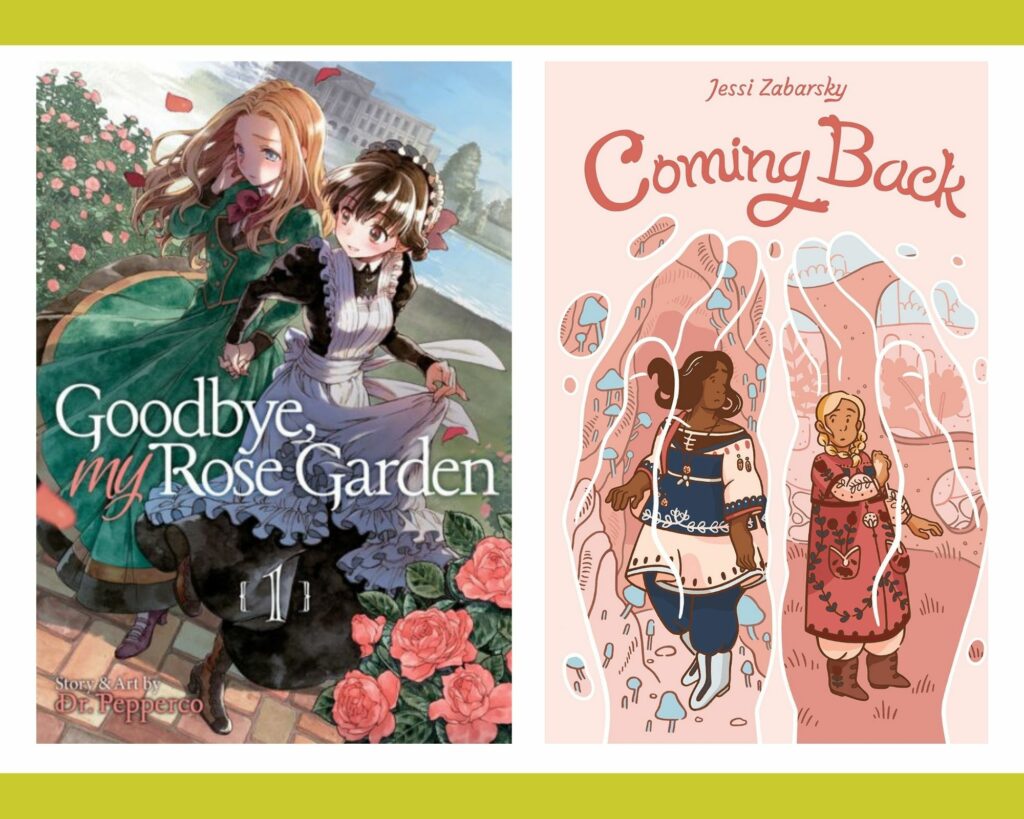 Megan's Picks 
Goodbye, My Rose Garden is a romance between women set in England in the early 1900s. Hanako is an aspiring writer who travels to England from Japan, hoping that the difference in culture will make it easier for her to publish her own novels. Alice is a noblewoman with a sunny exterior and a hidden secret. Their paths cross when Alice hires the stranded Hanako as staff for her estate. The two women grow close, but when Alice makes an outrageous—and dangerous—request of her new maid, Hanako must decide what she is truly willing to do for her new companion.
In the graphic memoir Messy Roots, Laura struggles with her family bonds near and far. She clashes with her parents, whose standards and priorities are hard for the teen to understand, and fights against the growing distance between herself and the relatives she had to leave behind in Wuhan as a child. Her journey to find her own place to call home leads her to her college art degree and a new queer community.
Stone Fruit chronicles the slow crumble of Bron and Ray's relationship. The two have their best moments when babysitting Ray's niece, Nessie, romping through woods and fields as joyous monsters. Outside of those times, their connection wears thin. Everything falls apart when Bron leaves to reconnect with her disapproving family, but Nessie's mother, Amanda, becomes a surprising source of stability for Ray, who is lost without Bron.
In Coming Back, Preet longs to have a child, but the village's customs (in which children are granted to couples in the form of seeds that wash ashore) prohibit her from motherhood without a co-parent. Valissa, Preet's partner, must delve into the depths of the island's library catacombs to find the source of a magical ailment plaguing the community and cannot stay to help raise a child. Torn apart by their conflicting duties and desires, the two women must travel through a world of dreamlike landscapes and fantastical residents to find their way back to one another.
Lu and Fassen met by chance on war-torn planet as children in Across a Field of Starlight. From then on, the two secretly kept in touch using a device of Lu's own making, despite the danger it put them both in. Now adults, Fassen—a medic in the fight against the expanding empire—and Lu—who lives peacefully with their family in a hidden, peaceful commune—defy the odds and meet again, with grave consequences.
In The Greatest Thing, Winifred's two best friends have started attending a new school without her, and she's feeling left behind and friendless. Her time as a teacher's assistant in the photography class leads her to new friends, but though they connect over making zines and going thrifting, each teen is scared to reveal their secrets to the others—Winifred included.
As a bonus, here are two books I'm looking forward to: Mamo and The Well.

---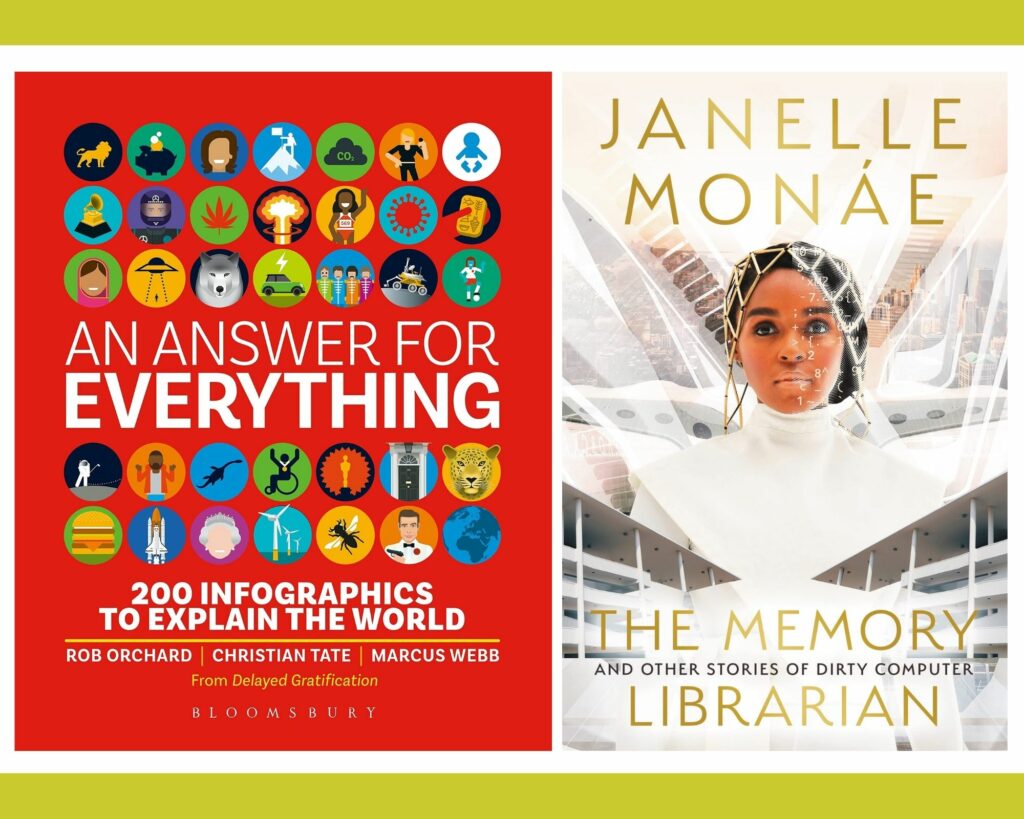 Raminta's Picks 
An Answer for Everything: 200 Infographics to Explain the World: I am a sucker for fun graphic design and infographics are right up there for me. While this book is more UK focused, it has a lot of interesting factoids to get you through your day. One of the better UK facts has to do with a government website where citizens can put up e-petitions on all sorts of topics. For example: "Change the plural of sheep to sheeps. If the letter 's' is good enough for other words it's good enough for sheeps." There's also an entire section dedicated to what was left on the moon. Apparently, among other things, there are 44 American spacecraft, one stack of two-dollar bills, seven hammers, and seven hammocks. Also, if you have an extra $6 million, you can hire Ariana Grande for a personal concert. However, with that same amount of money, one can have 150 personal Vanilla Ice concerts ($39,999 each). If you like weird facts with great graphics, this is for you! 
The Memory Librarian: I can honestly state that I had been waiting for this title since it was announced last year. I'm a fan of Janelle Monae's music and acting and I knew that this book would be something special. The short stories in this book are more like novellas, taking you deep into the world of the Dirty Computers. One doesn't necessarily need to be aware of Monae's Dirty Computer album in order to enjoy this book. Each story takes place within that universe but can definitely stand alone. I highly recommend listening to this book as Monae's narration, in my humble opinion, takes the reader deeper into each story she reads. Take the plunge if you want to explore speculative fiction.

---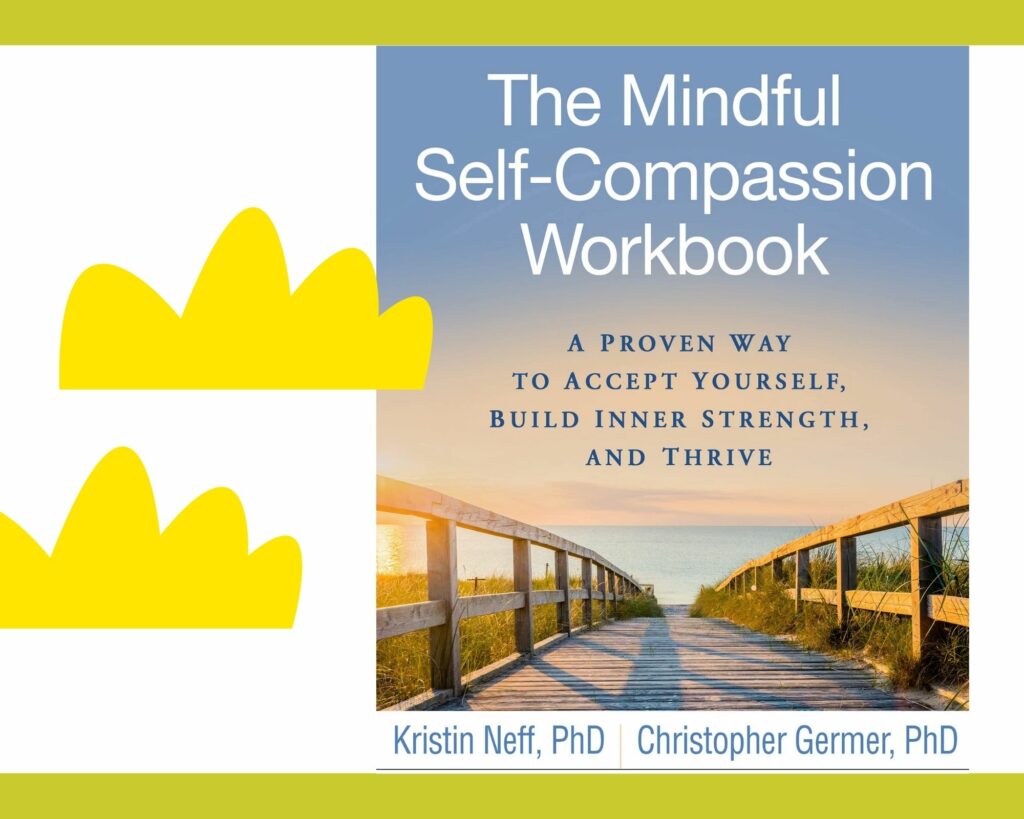 Eileen's pick: 
The Mindful Self-Compassion Workbook by Kristen Neff & Christopher Germer 
Yes, yes, I'm going the self-improvement/self-compassion route. I don't mean to belabor the point, except to say that each of us is worth the work and will required to be comfortable in our own skin. 
Neff and Germer's approach may be too touchy-feely for some (in which case there are likely a zillion other books and resources to sample that may get you where you want to go), but I like it. I return to it when I feel myself backsliding into the deep grooves of self-defeating habit. Exercises, informal practices and meditations form the backbone of the process, and there is a list of audio files to support the work. 
If you are not subject to a steady stream of self-criticism and assumptions that you are defective in irreparable ways, major and minor, you have my awestruck admiration seasoned with a soupçon of disbelief and a generous dollop of envy. But if you are feeling stuck in that swamp and you'd like to disengage from the mire, the better to slide into your own bespoke birthday suit, maybe The Mindful Self-Compassion Workbook can help you on your way. 
I am not perfect, you are not perfect, nor is anyone else and that is just fine. Really.

---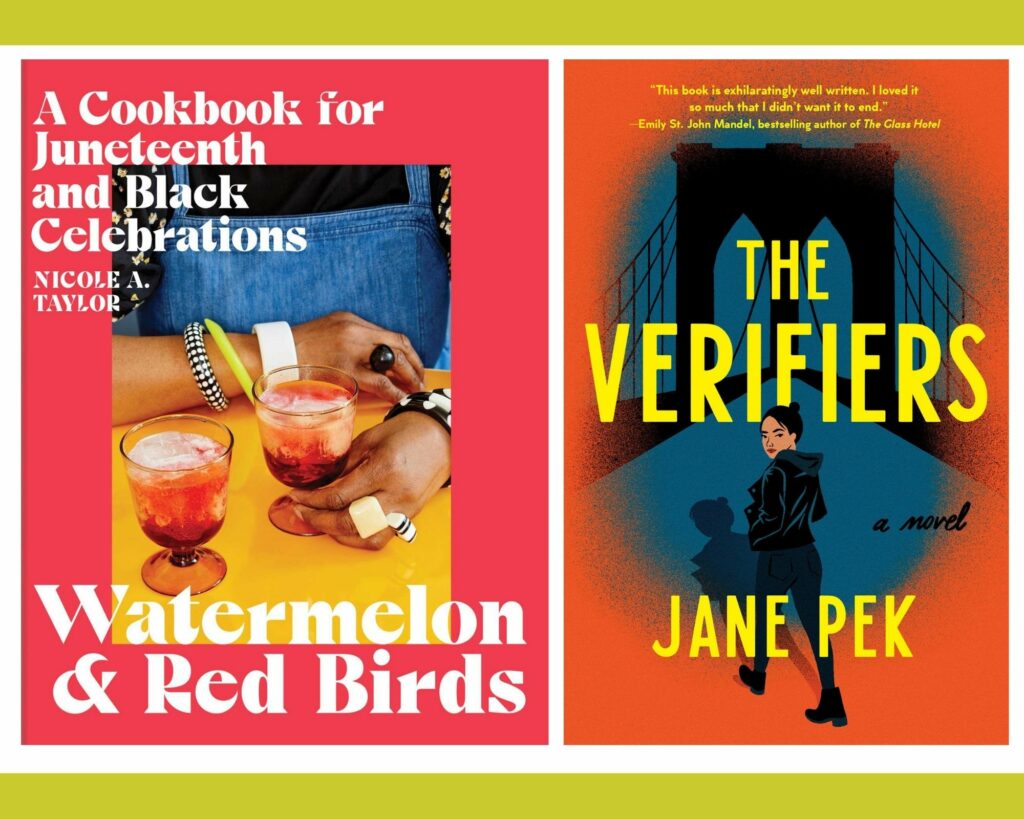 Elizabeth's Picks 
Nicole Taylor draws on years of gathering with friends and family on Juneteenth to talk history, culture, recipes and togetherness in Watermelon and Red Birds: A Cookbook for Juneteenth and Black Celebrations.  
I arrived late in life to the Whodunit party but I'm now hooked on all the plot twists, red herrings and marvels of a good mystery—especially a genre-expansive, queer literary mystery mashup like Jane Pek's The Verifiers. Something alarming is going on in the very weird world of dating apps and big tech, and Claudia Lin—20-something, New Yorker, amateur sleuth/bike-commuter, lover of old romances, Inspector Yuan mysteries, and pancakes—is on the case! Can she beat the algorithm??? 
While I wait impatiently for the final season of Derry Girls (Sister Michael!), I'm also on hold for Did Ye Hear Mammy Died? A Memoir by Séamas O'Reilly, described as "both cheery and heartbreaking."   
Tasha Suri's The Jasmine Throne is an EPIC high fantasy—it's full of magic, drama, desire (will Priya and Princess Malini fall in love or betray each other?) and rich worldbuilding. Bring this tome to the beach! Or to the mossy, magical woods. I'm also looking forward to another epic-first-in-a-trilogy, this one starring: The Stardust Thief by Chelsea Abdullah. 
And if you've read Kali Fajardo-Anstine's stellar short stories, you'll want to check out her debut novel in June—the luminous Woman of Light.

---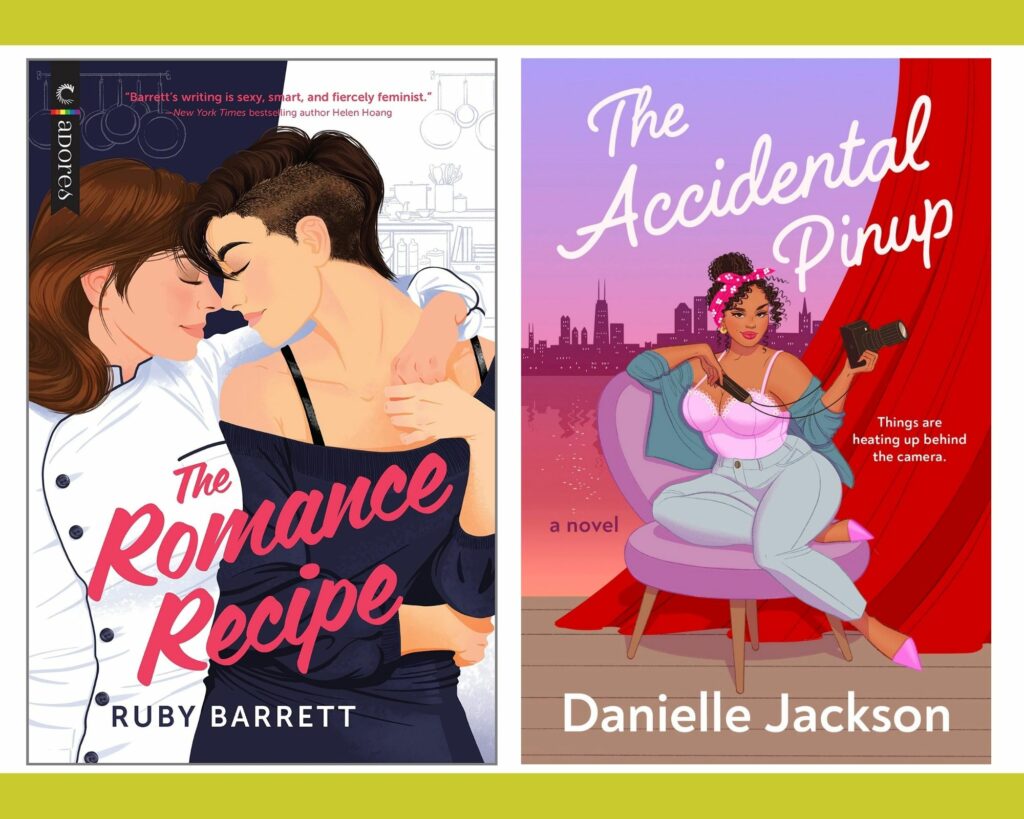 Becca's Picks 
Romance is having a moment. It brings me so much joy to see how mainstream romance has blossomed from a small garden of hydrangeas into acres upon acres of sweet and juicy crops of all kinds. Here are some recent and upcoming romance releases that will keep you swooning* all summer long.  
The Romance Recipe

, by Ruby Barrett: I love the diverse array of LGBTQ+ romances published by Carina Adores, and

The Romance Recipe

is no exception. The proprietor of a failing restaurant hires a reality TV star turned chef to help save the business. Naturally, the restaurant isn't recovering, and our protagonists love/hate each other. Will an appearance on a popular television show for foodies help turn things around? 

 

By the Book

, by Jasmine Guillory: The queen of "enemies to lovers" strikes again! Izzy, a book editor looking for her big break, is assigned to mind a reclusive former child star as he writes his memoir in his big empty castle. They're both not feeling great about the situation. Will he finish his book? Will it catapult Izzy's career? Is it all a spinoff of

Beauty and the Beast

? Time to find out!

 

The Accidental Pinup

, by Danielle Jackson: The world of romance publishing is (slowly) starting to publish books that feature and praise all types of bodies. A boudoir photographer steps out from behind the camera to model her best friend's new lingerie line. Things take a turn when she realizes her biggest competitor will be photographing her. Can they survive the shoot? Will the subject matter heat things up? 

 
* If you find yourself really swooning, you may be experiencing heat stroke. Know the signs!
---
As ever, thanks for reading. You can find our full booklist of reading recommendations in Messy Roots and Heartstoppers: June Staff Picks. 
If you're looking for more reading ideas, that is our very favorite thing! Check out our Your Next Great Read service for readers of all ages, or simply reach out to our staff at readersadvisory@portlib.org for your own personalized booklist of reading suggestions.
posted: , by Elizabeth
tags:
Library Collections
|
Adults
|
Seniors
|
Readers Writers