MONTGOMERY'S VIEW – Flora & Ulysses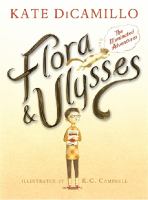 Flora & Ulysses by Kate DiCamillo Candlewick Press, 2013
I happily read this book a bit ago – but like Montgomery chose to ruminate before posting. Now – this book was just awarded the Newbery Award – and Kate DiCamillo has been chosen the new National Ambassador of Young People's Literature. It is time I spread the word a little further.
Flora is a lonely girl who is obsessed with comics – her mother calls her a "natural born cynic." But Flora's life changes dramatically when she resuscitates a squirrel who is nearly killed in an encounter with a Ulysses 2000X vacuum cleaner. She quickly discovers that the incident has given the squirrel powers (the squirrel lifts the vacuum over his head in one paw.) Flora is reminded of her favorite comic hero the Amazing Incandesto – and her imagination helps her leap to the conclusion that the squirrel will perform great and wonderful feats. Soon the squirrel's new abilities become even clearer as he shows his skills at understanding Flora, typing and composing poetry. Flora opens her heart totally to Ulysses. However, the squirrel's greatest enemy is none other than Flora's romance writing, squirrel hating mother.
DiCamillo has written a story full of heart and humor – but the quirky cast of characters give the reader even more as the author explores loneliness, accepting differences, overcoming fears, abandonment – and love. The black and white illustrations capture the mood and the comic sequences sporadically placed "illuminate" the amazing adventures of Ulysses – and augment Flora's obsession with comics. Flora soon learns she cannot remain a cynic – once she opens herself and her heart to her squirrel.
Grades 4-6
posted: , by Mary Peverada
tags:
Montgomery's View
|
Recommended Reads
|
Kids & Families