Montgomery's View: Singing through the Day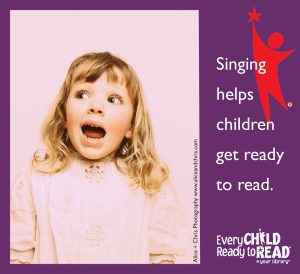 Reading, playing, talking, singing, and writing are the five practices that stimulate the growth of a child's brain and make the connections that will become the foundation for reading. The Sam L. Cohen Children's Library will be presenting Singing Through Your Day, a series of programs and workshops for parents and caregivers and their young children which will focus on the practice of singing. According to Every Child Ready to Read @ Your Library:
Singing helps children hear the distinct sounds that make up words. Songs also teach new vocabulary and introduce new ideas and concepts.

Sing with your children any chance you have: at home, in the car, during a walk. You don't need a perfect voice, just some enthusiasm.

Move to the music. Children develop motor skills as they clap, jump, twirl and spin to music.

Sing nursery rhymes or sing instead of reading a book. Find a book that is based on a song or make up a simple tune for one of your child's favorite books.
The final program in this series will be held on June 28th at 10:30 am
Singer songwriter Emilia Dahlin will be our very special guest in the Sam L. Cohen Children's Library series about the role singing plays in early literacy. During this program for our very youngest (birth-24 months) Emilia will demonstrate how parents and caregivers can sing through the day with their young children!
Born on a small farm south of Boston to a musical instrument collecting father and accordion playing mother, Emilia was destined for a life of music. She started piano, formally, at the age of five and trained classically for the next thirteen years. It was Christmas day, 1996, when Emilia decided she wanted to play the guitar. She went up to the attic, pulled out a warped and worn guitar, which once belonged to her great grandfather, and started to play. She never stopped. Throughout Emilia's fifteen-year musical career she's made Maine her home while performing in coffeehouses, performing arts centers, and festivals in the U.S., Canada, Brazil and Europe.  Known for strong storytelling sensibilities and memorable performances, Emilia has garnered many national awards, from Telluride Troubador, Winner of the Starbucks Music Makers Competition, Winner of Boston Music Conference Songwriting Competition, and the Great Waters Songwriting Contest.
Emilia is co-founder of The Transcendence Project which uses music as a medium for building community locally and globally.
Most recently, Emilia has stepped back from touring to focus on teaching locally with the Maine Academy of Modern Music where she offers songwriting in Portland Public Schools, co-directs the MAMMOTH Rock Chorus to elementary and home-schooled students and hosts and produces "The Kids Are Alright" family music series at the Portland Public Library.
posted: , by PPL
tags:
Montgomery's View
|
Programs & Events
|
Adults
|
Kids & Families