Movie of the Month: Soul Food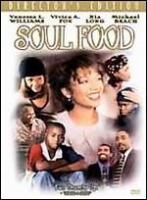 This year marks the twentieth anniversary of George Tillman Jr.'s Soul Food, a warm tribute to food and family. Irma P. Hall plays Big Mama, the matriarch who holds together three generations of family with her traditional Sunday dinners. The tradition goes back forty years, since before she and her husband moved to Chicago, and now she cooks for, and with, her three grown daughters and their families. When Big Mama is sidelined by health problems, old rivalries and resentments tear the family apart, and it is up to her young grandson Ahmad (Brandon Hammond) to devise a way to bring the adults back together.
The movie features as fine an ensemble cast as you will find. Vanessa Williams plays Teri, a self-described "successful lawyer" who resents having to pay more than her share of the family's expenses, and resents her husband for giving up his own career in law to pursue his dream of being a musician. Her sister Maxine (Vivica A. Fox) appears happily married to Teri's one-time boyfriend, and younger sister Bird (Nia Long) whose wedding opens the movie, has borrowed money from Teri to open her own hair salon. There is also an uncle who never leaves his room, and a cousin who shows up and seduces one of the husbands. Equal time is given to each character's story line, and the movie captures the soap opera-ish quality of real family drama without ever tipping over into sentimentality or melodrama.
The cooking scenes are sumptuous, and the film captures the feeling of coming together with family and friends for a special meal.
For more movies about food, click here.
posted: , by Patti DeLois
tags:
Library Collections
|
Adults
|
Seniors
|
Art & Culture