Munjoy Observer (1962-1965) added to Digital Commons
In 1962, the city of Portland launched its third urban renewal project – the Munjoy South Urban Renewal Project. Intended to address what was perceived as "urban blight," to use the language of the day, the project encompassed 79 acres of land between Congress, Mountfort, and Fore Streets, and the Eastern Promenade, and identified buildings and blocks that would be demolished entirely, as well as individual structures that needed to be improved or rehabilitated. The agency that oversaw this project, the Portland Renewal Authority, published a monthly (more or less) newsletter called the Munjoy Observer. Through the newsletter, the agency hoped to provide information and address concerns about the project. Today, the newsletters provide an interesting look at how the city coped with change fifty years ago.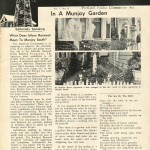 The Portland Room has digitized our issues of this newsletter and uploaded them to Digital Commons.
To read individual issues, click here: http://digitalcommons.portlandlibrary.com/citydocs_pra_newsletters/
posted: , by Gabrielle
tags:
Adults
|
Portland History