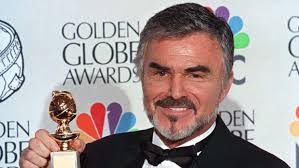 It is with great sadness that we say goodbye to Burt Reynolds, a multi-talented artist in a class all his own. Actor, athlete, singer, director, businessman, voice actor–he worked steadily throughout his career, and, shortly before his death, he had signed on to do a film with Quentin Tarantino.
Despite early comparisons to Marlon Brando, Reynolds did not take himself too seriously, and in addition to posing as America's first male centerfold (Cosmopolitan, 1972) he entertained us in such goofy films as The Cannonball Run and Smokey and the Bandit, while impressing us with his remarkable performances in such films as Deliverance, Citizen Ruth, and Boogie Nights (for which he was awarded a Golden Globe and an Oscar nomination.)
Reynolds died in Florida on September 6, 2018, at the age of 82. RIP.