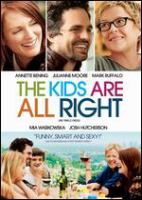 Brother and sister Joni and Laser (Mia Wasikowska and Josh Hutcherson) have not one Mom, but two, to whom they refer plurally, as in, "Don't tell Moms."
What they're not telling Moms is that they have sought out their biological father, the man whose donated sperm was used by both Moms so that Joni and Laser would be half-siblings.
Annette Bening and Julianne Moore play the Moms as a couple who have been together a long time–they seem stable, they are obviously committed, but over the years they have built up the kind of resentments that occur when couples become entrenched in the dynamics of their relationship. Nic (Bening) is tired of being the responsible one, but she's too controlling to let it go; Jules (Moore) resents being cast as the screw-up but can't seem to stop screwing up.
In a hilarious scene in which the Moms are expecting a different sort of disclosure,  Laser confesses that he has met his father, Paul (Mark Ruffalo) and wants to spend time with him. Enlightened as they are, the Moms agree to this, provided they can meet Paul. They invite him to a family dinner, during which he ends up hiring Jules to landscape his property.
Where things go from there I will not reveal, although I will say that, despite criticism from some viewers, nothing that happens seems out of character. In fact, what makes this movie so brilliant is the ensemble work of the cast, each of whom brings their character to life, creating a realistic family in all its lunacy, heartbreak, and humor.
For more movies about mothers, click here, and join us on Thursday evenings in May for our Mothers in the Movies series.