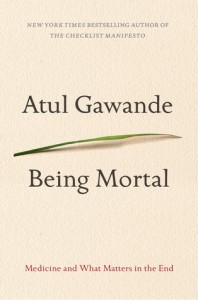 Over the past several months, PPL has held a range of discussion groups on the best-selling and oft-borrowed Being Mortal by Dr. Atul Gawande. Made possible by a generous grant from the John T. Gorman Foundation, our program engaged nearly 500 individuals – from independent seniors and family members, to assisted living residents and staff, to medical professionals
Our goals for the program were to help participants have wider understanding of the end-of-life experience for most Americans in this era, to have a way to develop and articulate their own perspective on the question of quality of life vs. quantity of time remaining, and to feel empowered to have thoughtful, necessary discussions on end-of-life issues with their families and caregivers.
We have received tremendous feedback from host facilities and from participants alike. PPL takes very seriously our vision of helping citizens be more literate, informed, and engaged, and we are gratified by participants' appreciation for the our help in framing these critical conversations.
Maggie Richards Editor at Henry Holt, has provided us with the outline and discussion guide that Dr. Gawande uses himself when he speaks with groups about the book. This guide will be included in the upcoming October release of the paperback but is not in any of the current editions; we are delighted that Dr. Gawande's publisher has entrusted it to us. You can download the guide here.
Additional discussion group guidelines – developed by our facilitators and with various audiences in mind – will be made available on our website shortly. We hope other libraries, individual book groups, and organizations that wish to initiate these critical conversations will find them useful.
If your book group would like to explore this topic, please be in touch with us by email at gilliss@portlib.org or at 207-871-1700 ext. 717 for details on how to borrow multiple copies of Being Mortal and use our supplied discussion guides to begin conversations.