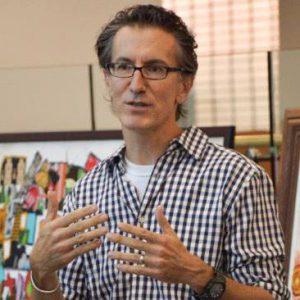 In 1979 the buzz around Portland (at least among kids) was that the new Portland Public Library building in Monument Square had electronic stacks that MOVED BY THEMSELVES… at the press of a button! The Star Wars/Jetsons-like future had arrived, and it was right here in Portland.
This was a pretty big deal in 1979. It was the kind of story that's worth talking about, and it spread fast, even in the pre-social media days.
I used the library often over the next decade for term papers, consulting more books than necessary as an excuse to operate the electronic stacks. I came to love the library for its free access to books, music, and videos, and also for offering what we now call "third space;" a public place to do your thing while feeling connected to the community around you.
In 2015, I moved back to Portland after many years away. With no term papers to write, and media accessible by smartphone, I confess I wasn't thinking much about PPL.
In the span of one week, however, I attended a business meeting in a PPL conference room, went to an art opening in the Lewis Gallery, and brought my daughter to story reading in the Sam L. Cohen children's library.
I discovered a PPL that was completely transformed. In addition to the art gallery, meeting spaces, and daily storytelling, there are music performances, author readings, lecture series, film screenings, maker fest, comic arts festivals, 3D printing, and so much more.
PPL has become a vibrant center for culture, performance, science, tutoring, and community events, and it's all free. It is vibrant and buzzing with life.
PPL welcomes more visitors each year than any other cultural or educational institution in Maine. Those who know about the library love it.
But my impression is that many in Greater Portland have not entered the main branch in years, maybe decades, and have no idea what PPL has become, and all that it offers BEYOND the traditional resources we associate with libraries.
I was honored to work with Sarah Campbell and her team to design a new brand for PPL that we hope will have something of the effect the electronic stacks did back in 1979 — create a buzz, encourage people to take a second look, and discover what the vibrant, 150-year-old "startup" in the middle of Portland has in store for you.
It's not what you may think of when you think "library."
Visit a show in the Lewis Gallery, or check out the Press Herald photo archive online at portlandlibrary.com. Attend a lecture or author talk. Host a business meeting in the conference space, or eat your lunch in the atrium. Bring your toddler to story time, your tween to Legos, or your grandparent to technology tutoring. And talk to the librarians! They are experts waiting to connect you with the portals to discovery you are looking for.
PPL is a jewel in the crown of today's dynamic, vibrant Portland.
It's the kind of story that's worth talking about.