We're coming down to the wire in the final days of voting for the Maine Reader's Choice Award, 2014! Book lovers across the state are invited to vote by September 15, 2014 for a favorite novel that has been nominated for the Maine Reader's Choice Award.
The four finalists for this year's award are:
TransAtlantic, by Colum McCann
The Golem and the Jinni, by Helene Wecker
We asked staff members for their thoughts on the four (very) different novels…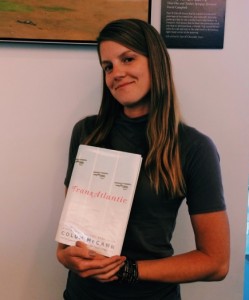 Science and Technology Team Leader Samantha S tackled a review of Colum McCann's wonderful TransAtlantic:
"TransAtlantic is a beautiful ode to Ireland – its landscape, people, language, problems, and history. The novel begins with a story about the first flight across the Atlantic. The rest of the pages involve lives that are interrelated, whether through family or acquaintance, and in each chapter McCann follows a different person that is somehow connected to every other person in the story…A pair of flyboys try to cross the Atlantic just after WWI in a dangerous technical feat; runaway and activist Frederick Douglas takes refuge in Ireland as he waits for supporters to purchase his freedom; an Irish immigrant to the US marries a man in the business of harvesting ice; and, yes, they all do fit together so perfectly that they require no literary mortar to hold their place in the larger whole. It is not until the end of the book that every relationship is made clear.
Nowhere is McCann's talent more on display then in the most pedestrian and contemporary story, which follows former Senator George Mitchell as he makes his way to Ireland for negotiations. Perhaps you don't imagine that sitting at JFK in the VIP lounge as an aging Senator ponders hearth and home, the joys of tea, and avoiding looking too long at a hostess's derriere could be worth reading? Maybe in the hands of a lesser author you'd be correct, but McCann's lyrical words make even the most mundane moments come alive with truth.
McCann is an author to savor, an Irish poet in the greatest tradition of that term, and the sooner you begin the journey that is reading his work, the sooner you will open your eyes to an author who just keeps getting better and better."
From Ireland to Holt, Colorado…Finalist Kent Haruf's

Benediction is the third book in his haunting, nuanced "Plainsong" trilogy. Haruf's deft, stark prose sails off the page: "That was on a night in August. Dad Lewis died early that morning and the young girl Alice from next door got lost in the evening and then found her way home in the dark by the streetlights of town and so returned to the people who loved her. And in the fall the days turned cold and the leaves dropped off the trees and in the winter the wind blew from the mountains and out on the high plains of Holt County there were overnight storms and three-day blizzards."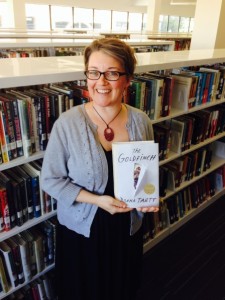 Setting down Haruf's frank meditation on the final reflections of a dying man…we arrive, almost inevitably, at best-selling author Donna Tartt's latest and heftiest of tomes: The Goldfinch. Here's the review from Tech Services manager Jessica T at the Main Library:
"The Goldfinch, Tartt's Pulitzer Prize-winning novel, eleven years in the making, is an atmospheric page turner that has stirred up a fair amount of literary controversy. Both praised and panned as Dickensian, it is an ornately scripted tale of the aftermath of a terrorist attack at New York's Metropolitan Museum of Art. Tartt's flawed, charismatic characters are unreliable narrators who propel the suspenseful narrative as they dance in and out of danger in pursuit and possession of the titular painting. Sure, it's probably a little too long at 700+ pages, but it includes passages like this one to savor:
'Unsteadily, I got up and went to the window. Bells, bells. The streets were white and deserted. Frost glittered on tiled rooftops; outside, on the Herengracht, snow danced and flew. A flock of black birds was cawing and swooping over the canal, the sky was hectic with them, great sideways sweeps and undulations as a single, intelligent body, eddying to and fro, and their movement seemed to pass into me on almost a cellular level, white sky and whirling snow and the fierce gusting wind of poets.' "
If you didn't spend last winter curled up with The Goldfinch, isn't it a relief to know that hundreds and hundreds of pages patiently await you this coming snowy season?
Our final (and succinct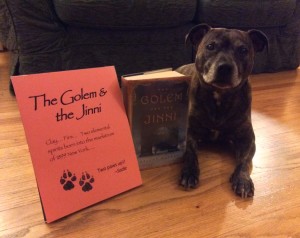 review-in-a snapshot!) comes from our four-legged friend, Sadie (side-kick of Kathleen, Head of Access Services). A creaturely review is appropriate for a stunning debut novel—Helene Wecker's bright, enchanting "The Golem and the Jinni,"—whose Jinni hero and Golem heroine are also inhuman, but grappling with their own fantastical, unique natures, and what it means for them to exist in this world. Sadie weighs in most favorably:
"Clay…Fire…two elemental spirits born into the maelstrom of 1899 New York…Two paws up!!"
Have your own thoughts on these four books? Follow this link to vote by September 15 for your own favorite pick for the Maine Reader's Choice Award 2014.
And if you're curious about the long list for the awards—or you're looking for a new book to read—check out all the titles that were considered by the awards committee here.
–Elizabeth, City of Readers Team