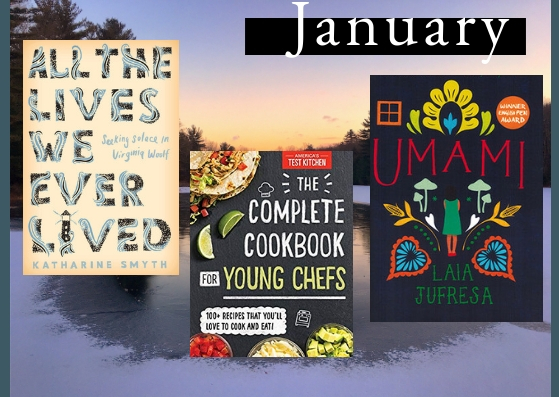 In January our staff looks forward to a New Year of books—what's on order? What are our stack-searching, reading-list resolutions? What words are sailing toward us? What favorite authors have new books out, and what new authors are we excited to read? Here's to all the bookish new beginnings that stir all reader's hearts and minds. And if you have any great suggestions for the library to add to our collections in 2019, be in touch at readersadvisory@portlandpubliclibrary.com. 
______________________________
Eileen's Reading Resolutions
Resolutions make me squirm.  Too many New Year's eves spent contriving resolutions, more than a few Januaries trying to fulfill the impossible or unlikely: wishing I was more ambitious, more imaginative, more productive, less lazy, less hungry, less directionless.   
This year maybe I can ease into resolve, keep things modest, reachable.  I want a goal with ample space for serendipitous side trails. I want to be resolute in a bendy way.  
So in 2019 I resolve that I will start as many books as I please, as many as call to me from the shelf because the cover is a smashing shade of teal, or the author's name makes me smile.  Further, I resolve… that I will not give a fig about finishing a book just because I started it. I give myself permission to put it down when I have reached page 7 or 70 but am not feeling the joy.  I resolve to let myself move onto the next without guilt or explanation.  I resolve not to feel bad about choosing fluff over substance, except when I want it the other way 'round.  I resolve to reread John Irving or Richard Russo or Kate Atkinson because they make me happy instead of taking yet another abortive stab at The Hobbit.  I resolve to ignore every article and book about the books everyone should read before they die.  Unless, that is, I am merely curious about their lists rather than embarrassed by the extraordinarily small number I am likely to have read.  I resolve to spend my time reading for pleasure: the pure pleasure of learning, of laughing, of thinking deep thoughts and feeling deep feelings, of finding the joy in words strung together in ways that delight and inform and make my mind reel with the beauty of someone else's take on language and life.  
And when next January comes around, if I am above ground and in a resolution-making frame of mind, I resolve to do the same thing.  
So many books.  Pick one and see how it fits. 
Carrie's Pick 
When the cold dark days of Maine winter set in nothing livens spirits and brings family and friends closer than cooking and eating together. If you are looking for an informative and well researched cookbook for young people look no further than the new title from America's Test Kitchen Kids, The Complete Cookbook for Young Chefs, on its way to the library in 2019.  With recipes for all your family feasts, snacks, desserts, dinners, breakfasts, and just about anything your kids might want to eat, along with some more adventurous offerings, all tested by 750 kids, this book is sure be checked out again and again.  
Winter is a great time to encourage engaging indoor activities and stay warm and cozy in the kitchen while strengthening fine motor skills, math, chemistry, social studies, history, and nutrition – just to name a few of the concepts that cooking and eating together can reinforce.  Break out the wooden spoons and measuring cups, get tips on the best knives for kids (hint a sharp knife is a safe knife), and give the young people in your life a chance to contribute to the family table. Experts, and parents, agree that a sure fire way to get kids to expand their palates and become more ambitious eaters is to involve them in the process from shopping and chopping to eating and cleaning up.  
So, if you are interested in measuring, weighing, sifting, whisking, simmering and then eating your own creations this book is for you and the budding chef in your life!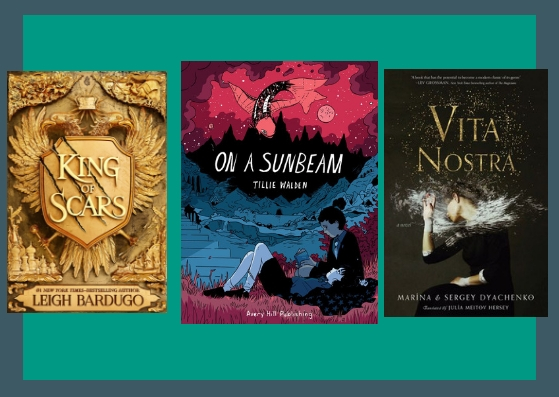 Kelley's Pick 
I think the entire Teen staff cannot wait to get their hands on King of Scars by Leigh Bardugo, because we are completely addicted to the Grishaverse. So if you are one of the lucky readers who have not yet delved into Bardugo's gorgeous universe, try to catch up before January 29! 
Harper's Pick 
Weird and spooky and unnerving, Vita Nostra by Marina and Sergey Dyachenko is a definite book to read if you want to mess with your head. You know that feeling when you get headhunted to attend a creepy surreal college where failing tests causes mysterious accidents to happen to your family members and you might be transforming into something no longer human? It's kind of like that. Want a fresh new start to your year? Try visualizing yourself into the form of an abstract concept of language! 
Nate's Pick 
As we head towards the beginning of 2019 I am especially excited to get my hands on Laia Jufresa's Umami. Originally written in Spanish and recently translated and published in English, this work meets one of my goals for 2019 which is to read as many translated books as I can get my hands on.  Furthermore, I greatly appreciate the ability of literature to serve as a sort of travel guide.  I find that an author's place knowledge is generally greater than what I can learn through guidebooks. The narrative and social, political, and economic dynamics captured in literature also tend to offer a fuller perspective of a locale. Umami is set in Mexico City, a city I traveled to in in 2018 and have been fascinated with ever since.  I am thrilled at the prospect of exploring this metropolis through Jufresa's senses.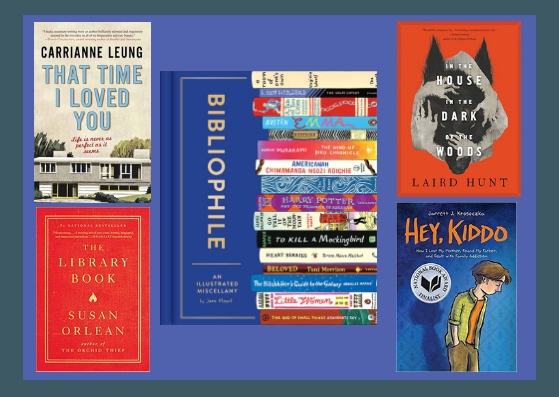 Sarah's Pick 
I can't wait to snatch up Carrianne Leung's collection of short stories That Time I loved You this  February. Leung, author of Toronto Book Award–finalist The Wondrous Woo (2014), makes her U.S. debut with this collection of linked stories that begin with several local adults committing suicide in the summer of 1979. June, a preteen whose parents remind her how much better life is in the suburbs of Toronto than their native Hong Kong, is the sole and repeated first-person narrator throughout the stories. I am drawn to the idea of standalone stories linked by time, place, and character, and look forward to seeing how it plays out. The publisher promises "10 sweet, sad, sympathetic stories…that paint a group portrait of immigrants, misfits, adults, adolescents, and teenagers, all of whom discover suburban comfort does not ensure happiness." Written in the tradition of Alice Munro and Jhumpa Lahiri, Leung's debut story collection sounds like it marks the career of a writer to watch! 
Aprill's Picks 
Jane Mount's Bibliophile: An Illustrated Miscellany is a pure gem of book, certain to inspire the year of reading ahead. Mount has built a career by painting portraits of readers' bookshelves, and her whimsical, yet crisp, illustrations make Bibliophile a total delight.  The book features cleverly themed collections that are sure to make your to-be-read pile grow and grow (and grow!), as well fun quizzes, portraits of various bookstore cats, and (my personal fave) famous fictional meals.  
Susan Orlean's The Library Book is more than a thorough and engaging history of the devastating 1986 fire-by-arson that devastated the Los Angeles Public Library—it's also a love letter to libraries themselves and to the vital role they play in our lives. 
The dark of January strikes me as a good time for scary fairy tales set in the deep, enchanted woods of colonial New England. I was bespelled Laird Hunt's A House in the Dark of the Woods with its wolves and witches and dancing pigs. 
The emotionally intense, powerfully drawn graphic novel memoir is one of my all-time favorite genres, and Jarrett Krosoczka's Hey Kiddo is one of the finest memoirs of this sort I've read in a long time. Krosoczka writes of a childhood shaped by his mother's addiction, his father's absence, the sometimes complicated love of his grandparents, and the saving grace of art. I also recommend watching the author's TED talk about his childhood and the vital role creativity has played in his life. As we enter the new year, and I'm thinking about all the ways that we can be kinder to each other. The compassion that Hey Kiddo inspires feels like a true gift.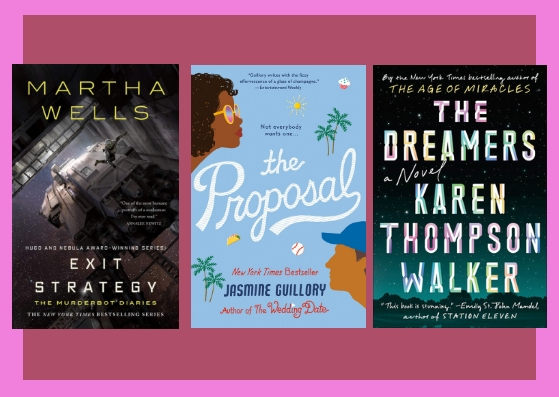 Emily's Picks 
I am in-between my graduate school semesters for the next few weeks, and I can't wait to catch up on some of the excellent books that came out in this past year which I haven't had the chance to read yet. I just started listening to Becoming, Michelle Obama's memoir, which she narrates herself, making it an intimate listening experience. I've also enjoyed diving into Akata Warrior on audio—Yetide Badaki narrates with a rich voice I loved in Akata Witch (a title downloadable on eAudiobook through PPL's cloudLibrary app), as she creates a cast of dynamic character voices for Sunny and her friends and teachers in Nigeria. I've set aside my copy of The Proposal until post-finals week, and I can't wait to start and hear more about characters I met in Guillory's The Wedding Date. I'm looking forward to reading the conclusion of the Murderbot quartet, Exit Strategy, and reading a recent short story about Murderbot in Wired made me immediately jump over to my library account to put it on hold! Others on my hold list include Girls of Paper and Fire by Natasha Ngan, On A Sunbeam by Tillie Walden, and with a look into books published in 2019, The Dreamers by Karen Thompson Walker, who wrote the moving book about the slowing of the earth's rotation called The Age of Miracles. I know reality will likely catch up with me soon, and I won't get to read all I'm looking forward to in the coming weeks, but I am certain I'll be heading into the new year with a great stack of books to keep me company.  
Marie's Pick 
When I found out that Margaret Atwood was writing a sequel to The Handmaid's Tale, I shrieked in excitement; it still feels surreal to me! I've loved the feminist dystopian classic since high school and it's a gift to know that more level prose and clever, cautionary world-building is on the way. According to Atwood, The Testaments (due out in September) will pick up 15 years after The Handmaid's Tale ended, and was inspired by current events, as well as questions from readers about the original novel. I'm also proudly 7th in line to borrow the second season of Hulu's screen adaptation of The Handmaid's Tale, which was just added to the library's DVD collection.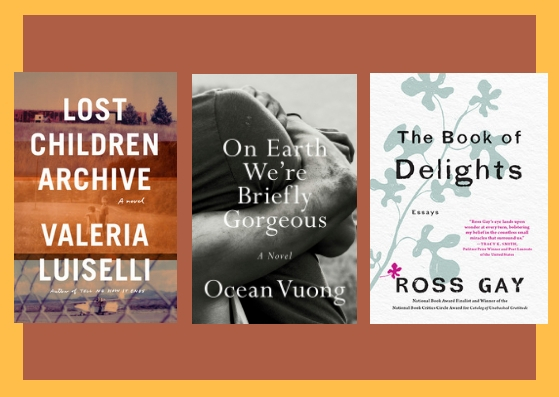 Elizabeth's Picks 
As I turn the pages of the new year, I've become happily stuck on Ursula K. Le Guin's simple (yet…complex!) words around setting out to build a new world, starting with her thought: "It does not have to be the way it is…" These new books shine a light on the transformative, trickster fluidity of writing that invites a poet to be a novelist, a poet to be an essayist, an essayist to be a novelist. 
"Why did you come to the United States?" For a year writer Valeria Luiselli volunteered as a translator for asylum-seeking children facing deportation, and her revelatory nonfiction book Tell Me How It Ends: An Essay in Forty Questions came out of the experience. In 2019 Luiselli asks her own questions in a new novel, Lost Children Archive. From the Publisher's Weekly starred review: "Juxtaposing rich poetic prose with direct storytelling and brutal reality and alternating narratives with photos, documents, poems, maps, and music, Luiselli explores what holds a family and society together and what pulls them apart." 
I don't even know if some books being published in 2019 will find their way to the library but I'm hoping, fingers crossed: Ross Gay, who wrote the joyous, complex, heart-balming poetry in 2015's Catalog of Unabashed Gratitude is back in February with a book of essays called The Book of Delights, which Algonquin Books tells us is a book of small and necessary joys, centered always in nature, the garden, the orchard, the flowers, pollinators, and the threads of connection we all need to live. 
Another great contemporary poet, Ocean Vuong (Night Sky with Exit Wounds) has a debut novel out this June: On Earth We're Briefly Gorgeous. From Penguin Random House: "With stunning urgency and grace, Ocean Vuong writes of people caught between disparate worlds, and asks how we heal and rescue one another without forsaking who we are. The question of how to survive, and how to make of it a kind of joy, powers the most important debut novel of many years." 
Nora's Pick 
As I try to honor the experiences of my past year and look ahead to 2019, I'm anticipating the January release of All the Lives We Ever Lived, Katherine Smyth's memoir and homage to Virginia Woolf. In her first book, Smyth traces the discovery of Woolf's To the Lighthouse, read quietly alongside her beloved father, through his death to cancer, and her subsequent reencountering of the novel in a post-father landscape: the uncharted territory of living on an earth from which one's roots have been torn. Encompassing a look at Woolf's work, her own childhood, and her experience of loss, Smyth's debut charts two changing relationships: that of daughter to father and that of reader to favorite writer—perhaps one of the most tempestuous and revealing relationships of all.  
There is no one test for a quality book. Does it fill time that might otherwise be unbearable? Does it distract you in difficult times? Does it make you laugh? Does it reveal something of yourself? Does it provide you with a set of companions? Do the words themselves nip at you with poetic resonance? Are you hiding or seeking to be found? All the Lives We Ever Lived is on my shelf for many reasons, as Woolf is no doubt on those curated by Smyth. Since losing my own father to cancer this past spring, I have sought desperately for books to entertain and distract, to envelop and take me away from this world, wanting to lob out the window every novel wherein a parent suddenly has cancer. But I think in 2019, I am ready for a new attempt: to relate and thus to forge ahead in my new landscape. With this resolution in mind, I look forward to Smyth's memoir. As Woolf writes in my favorite of her novels, The Waves, "I feel a thousand capacities spring up in me. I am arch, gay, languid, melancholy by turns. I am rooted, but I flow." 
 ______________________________
As always, thank you for reading.