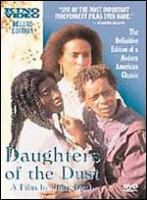 It's women's history month, and our featured film has lots of women and quite a bit of history–the well-researched and visually gorgeous Daughters of the Dust by writer/director Julie Dash.
Set in 1902 on St. Helena Island off the coast of South Carolina, the story is ostensibly about a family reunion that takes place just before a faction of the family moves North, but as the late great, Roger Ebert observed, in a review dated 25 years ago today, "…there is the sense that all of them are going…and all of them are staying behind, because the family is…a single entity." Indeed, the ancestors are present at the picnic, as well as children yet to be born.
The Peazant family is descended from the Ibo people of West Africa, and like others on the Sea Islands, their isolation has allowed them to maintain many of their traditions and rituals. They speak Gullah, which is mostly English in vocabulary but West African in its cadences and intonations. Nana Peazant, the matriarch, fears that the language, the traditions, the family history will be lost when the family assimilates into mainland culture.
It is rare to find a film set in these islands, focused on these people. In addition, Dash has researched and recreated authentic period hairstyles and exquisitely detailed costumes, and used the device of a visiting photographer to create beautiful tableaux. Check out Daughters of the Dust, and enjoy a unique cinematic experience.
For more films about women, click here and here.
For an interview with writer/director Julie Dash, click here.
And click here to read Richard Brody's New Yorker article entitled Forgotten Treasures of Black Women's Cinema.