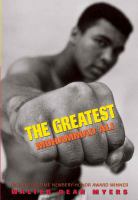 In a 1975 interview with Playboy, Muhammad Ali said:
"I'll tell you how I'd like to be remembered: as a black man who won the heavyweight title and who was humorous and who treated everyone right. As a man who never looked down on those who looked up to him and who helped as many of his people as he could–financially and also in their fight for freedom, justice and equality. As a man who wouldn't hurt his people's dignity by doing anything that would embarrass them. As a man who tried to unite his people through the faith of Islam that he found when he listened to the Honorable Elijah Muhammad. And if all that's asking too much, then I guess I'd settle for being remembered only as a great boxing champion who became a preacher and a champion of his people. And I wouldn't even mind if folks forgot how pretty I was."
We believe Ali will be remembered exactly as he wanted to be. He was a man of uncompromising principles and convictions, an inspiration to people all over the world. Stripped of his title, threatened with imprisonment, openly mocked and reviled, he never backed down, and he never gave up his fight for justice, equality, and peace.
Fortunately for us, he lived in a time when all of his work and achievements could be well documented, so we'll never forget his strength, his courage, his determination.
Nor will we ever forget how pretty he was.
For a list of materials about Ali, click here.