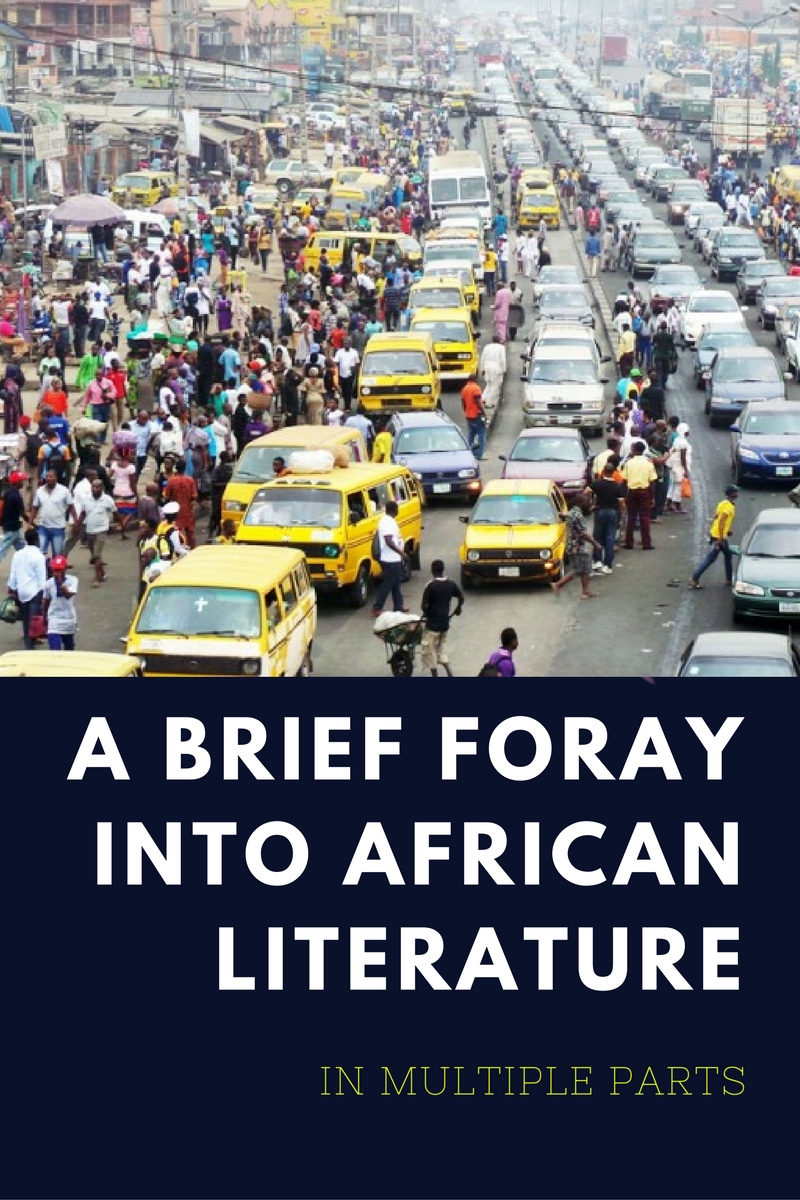 ---
PPL reference staff member Nate Mosseau takes us on a literary journey through the complex and diverse literary traditions and styles often reduced to the term "African Literature." This first installation in the series explores New Nigerian writings.
---
Where has the idea of a singular "African Literature"—literature from authors in 54 countries, and composed in thousands of indigenous languages—come from? I'd say this broad categorization (which I resist) stems from a combination of limited publicity, publishers, and attention. Though most of the continent, through exposure to colonial occupation, does share some set of modern historical similarities, I believe the idea of an overarching "African" literature fails to acknowledge the diversity of experiences which have influenced particular writers and works of writing produced on the continent. Categorization on a continental scale is both assuring and simplistic. In the west our exposure to the continent, home to more than 1 billion people, is still too often reduced to media images of starving children and aging dictators.  In writing this blog, it's my hope to explore an understanding of Africa as home to an immense diversity of people and experiences and to introduce readers to some of the newer works of literature coming out of the continent.
When I look at my own path toward a more thorough understanding of writing produced on the African continent, I run into a number of influential roadblocks. Firstly, there are simply a limited number of works published by African writers available in the US.  This is perhaps a combination of the quantity of work by African authors winding up on publisher's desks as well as the audience of readers in the English speaking world. Another factor which impacts access to works of African literature is translation.  Translation is a challenging and time consuming endeavor, and unfortunately a large number of books are only ever published in a single language, thus limiting the access of readers to works written in languages they are not fluent in.  Access for English readers, and access for readers of other widely spoken and published languages to works produced on the African continent is aided by the continued influence of colonial languages in most African states.  Many African authors write in French, Arabic, or English.  Some authors however, such as Ngugi wa'Thiongo, have rejected the use of colonial languages, arguing English lacks the vocabulary for the storytelling he aspires to.  I feel the realities of the publishing industry, the incongruity of colonial languages with the lived sociopolitical realities of a particular population and geography, the number of translators working on pieces written in indigenous African languages, and the limited history and influence of written literature in parts of the African continent should all be considered when approaching the topic of "African Literature."
Why am I so interested?  I believe literature is an effective tool for critiquing and engaging with one's lived reality.  A work such as Upton Sinclair's The Jungle, though a fictionalized account, was hugely impactful in changing working conditions across the US.  Many of the works I will review in this blog offer critiques of current socio-political realities in different African countries.  Some are overt, others more nuanced.  In this vein, literary works offer a unique vantage point to explore the emotions coursing through a place and a time. This is a facet of literature I particularly enjoy, as it allows the reader a sort of insider's tour minus the baggage, both literal and figurative, often associated with being a tourist.  Many of the works included in the forthcoming posts are set in some of the largest cities on the African continent.  This often makes for a particularly exciting background, as these cities are so unlike those found in the States or Western Europe.  Urban areas undergoing massive population growth over such a short period of time are faced with immense and novel challenges which are often met with equally novel solutions.  I find the way this ongoing relationship between population and area is written about to be particularly engaging, be it the description of an okada ride across Lagos or the convergence of Chinese business people, European aid workers and locals at a bar in Lubumbashi.
In these blog posts I'll work to spark interest in works, authors, and places previously overlooked by many readers; I will attempt to highlight new works, especially those experimenting with unique narrative and storytelling techniques; and I will attempt to add nuance and depth to the broad category of "African Literature."
---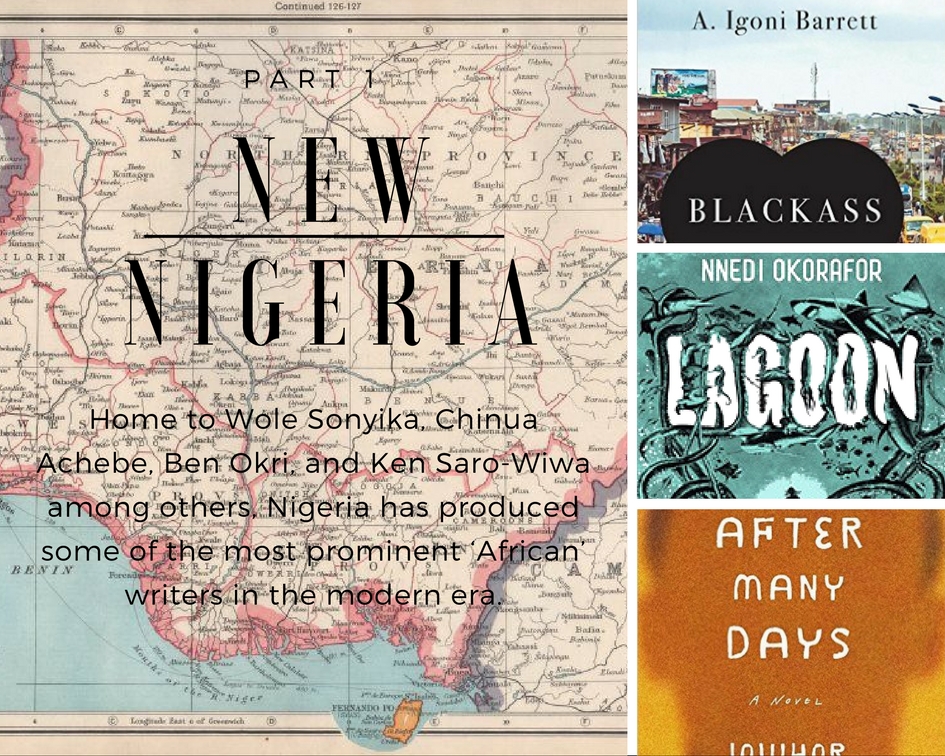 Issue #1: New Nigeria
Beginning with the publication of Things Fall Apart by Chinua Achebe in 1958, Nigerian authors have been repeatedly well-received by western audiences and publishers.  The first Nobel prize winner from the African continent, Wole Sonyika, called Nigeria home.  Ben Okri and Ken Saro-Wiwa also hailed from Nigeria.  More recently Chimimanda Ngozi Adichie and Teju Cole have produced literary works to widespread acclaim.
Aside from the aforementioned heavyweights, Nigeria hosts a burgeoning literary scene.  Writers hailing from Port Harcourt in the southeast to Lagos in the southwest are publishing short stories and novels that stand alone as powerful portraits of life, but also acquire added depth and poignancy through their exploration of a nation-state undergoing substantial economic, religious, and geopolitical changes. These books also challenge conceptions of what a novel is, experimenting with the inclusion of Twitter feeds and emails to better incorporate our current forms of communication within their stories.  What does it mean to come of age in the largest city of the most populous country with the largest economy in Africa?  What sort of stresses are exerted on a Port Harcourt family after the disappearance of their oldest child during anti-government protests following the government's execution of noted Rivers State environmentalists? Why would aliens choose Lagos as their first contact point with Earth?  How are members of the LGBTQ community treated in Nigeria?  These are just a few of the questions examined by some of Nigeria's newest authors of note.
Blackass – A. Igoni Barret
Set in present day Lagos, this bitingly satirical novel begins with protagonist Furo awaking in his childhood bedroom to find overnight his skin has turned white.  Thus he embarks on a journey which takes him across Nigeria's premier city where he must grapple with obstacles ranging from inflated transportation costs as a result of his new pigmentation, to his attempts at leaving his old life, and all the friends and family associated with it, behind.  In this way Barret highlights for the reader the multiple ecosystems existing simultaneously within the municipality of Lagos.  Each neighborhood he visits offers Furo a new Lagosian experience, enlightening him to the diversity of the city's cast of characters.  Along the way he is brought into contact with a set of housewives living in Lagos's ritzy Victoria Garden City, each the mother of a biracial child and living off the largess of expats from around the world. Furo also runs into the author, who makes multiple cameo appearances throughout the book during which he presents as both male and female, among a variety of equally thought-provoking instances of social commentary. Furo's metamorphosis further serves as a powerful way of confronting many of the racial biases apparent within Nigeria's social and political hierarchies, as the impact of his new skin color is considered throughout the story by both the main character and those he interacts with along the way.  A truly entertaining and poignant tale.
Lagoon – Nnedi Okorafor
Another novel which employs Lagos as its backdrop is Nnedi Okorafor's newest Sci-Fi offering, Lagoon. In this story alien beings make first contact with planet Earth in Lagos.  A mysterious force draws the story's three protagonists, Agu, Anthony, and Adoara, to the lagoon located to the city's north and west where the alien ship has landed.  Upon making contact with Ayodele, the alien's spokesperson, the three main characters are thrust into a journey which has them fighting to unite the populations of Lagos and greater Nigeria in an attempt to show Earth's new visitors that the human race is worth saving.  We learn along the way that the aliens possess the ability to inhabit any living form they come into contact with. Why Lagos?  It seems to offer us both the best and worst in humanity, from charlatan evangelical preachers to heartbreakingly earnest soldiers and everyone in between. Okorafor makes an Atwoodesque plea for the biological beings of Earth who lack vocal chords by highlighting the alien invaders' interests in Earth's nonhuman life. The author grants trees, vines, bats, marlins and more the agency to act upon desires previously inhibited by human interference and supremacy.  Many of my favorite parts of this book are found in Okorafor's forays into the lives of tertiary characters.  We are introduced to an evangelical preacher, bent on converting Earth's newest inhabitants to the ways of Jesus Christ, LGBTQ advocates who see the aliens as potential powerful allies based on their ability to change forms and exist as both male and female genders, and young men who spend much of their days sending out 419 email scams.  By positing bits of Lagos throughout Lagoon, these descriptions add layers of depth to an already enthralling story.
And After Many Days – Jowhor Ile
Departing from Lagos, Jowhor Ile's premier novel finds us in and around Port Harcourt, the capital of Nigeria's Rivers State.  Rivers State is home to the majority of Nigeria's oil reserves, resulting in an often contemptuous relationship between provincial and national government actors.  Port Harcourt also played a prominent role as the capital of the short-lived Biafran state during Nigeria's Biafran War, which took place between 1967 and 1970.  The impetus for the story is the disappearance of the oldest son of the Utu family in 1995, a time of intense civil unrest in southeastern Nigeria following the execution of Ken Saro-Wiwa and 8 other environmental activists from the area by the military dictator Sani Abacha.  Ile uses a series of flashbacks to illuminate the both recent history of Rivers State and Port Harcourt and the more intimate history of the Utu family.  And After Many Days skillfully depicts the influence of multinational energy corporations through a series of tense and divisive community meetings.  The gap between urban and rural life is illustrated in the retelling of vacations taken to the Utu's familial village. Ile's prose reveals both his intense thoughtfulness and artistry.  Passages blend together across time and space, creating a matryoshka-like story within a story within a story as the author lays out his tale through multiple intertwined recollections.  Part of what I enjoyed so much about this novel were Ile's depictions of various Rivers State citizens' conflicts with the Nigerian federal government.  These interactions serve to highlight the challenges of existing in a resource-rich area within a country run by a less than benevolent government.
---
I believe that by better understanding the context in which a piece of literature was conceived of and produced in, we as readers are better able to appreciate said work.  It is my hope that this blog post, by attempting to examine through the work of Nigerian authors some of what it means to be Nigerian in the present day, helped to highlight some of the dissonance within the idea of a singular "African Literature."  The characters, genres, and storytelling techniques apparent in the novels reviewed above are illustrative of the diversity and nuance found in writing throughout the African continent.  In the coming months I will continue to review literature from a variety of African countries in the hopes of continuing this discussion.
-Nate Mosseau, PPL Reference Staff