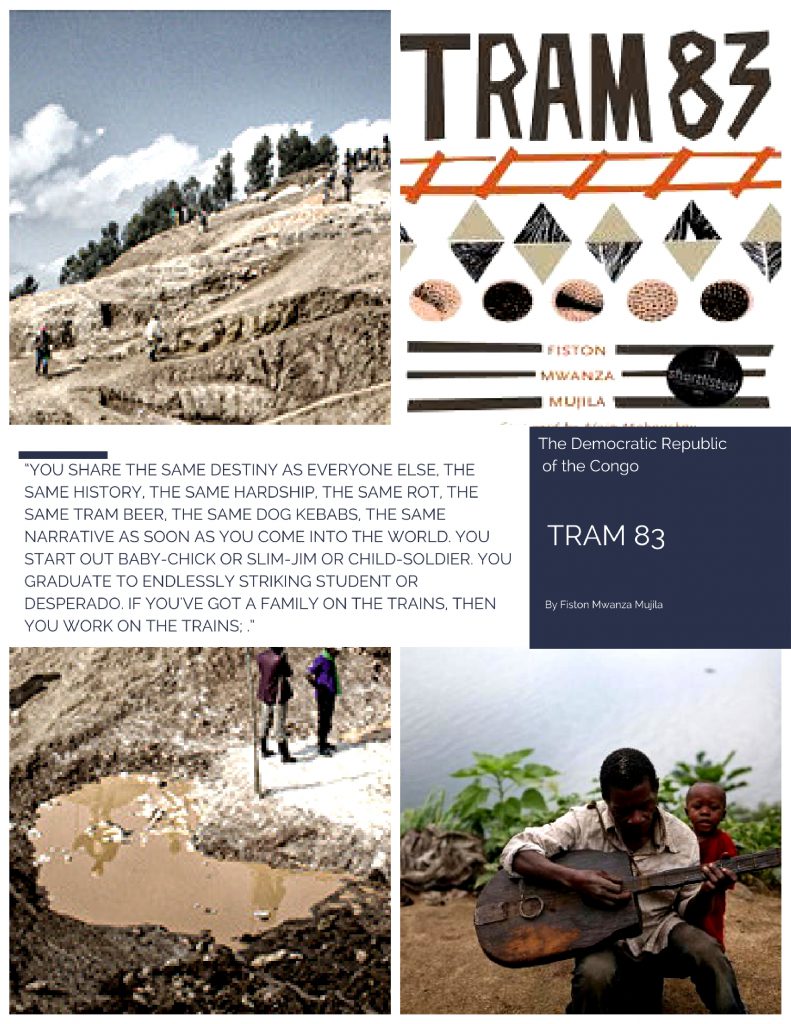 Nate, a Reference Staff member, continues his exploration of contemporary African Literature on the blog with a look at the DRC and a review of author Fiston Mwanza Mujila's recent novel "Tram 83."
One of the largest countries in Africa, the DRC opens eastwards from a spigot of land on the Atlantic Ocean, where the country is bordered to the north by the Republic of Congo and the south by Angola and the Congo river meets the Atlantic Ocean and progresses eastward increasing in latitudinal breadth, into central Africa, before coming to an end in the African Great Lakes region where it is bordered by the Central African Republic, Rwanda, Burundi, Uganda, South Sudan, Zambia and Tanzania.
This multitude of borders, access to the Atlantic Ocean, and being home to one of the continent's largest rivers has impacted the DRC's history in a variety of ways. Initially colonized by Belgium, and administered by the county's sovereign, King Leopold's tyrannical reign over the DRC has been well documented by authors such as Adam Hochschild and Dave Van Raybrouck.  In these accounts he is depicted as a ruthless despot, set on extracting as much wealth out of his colony as possible regardless of the human, social, or political cost. More recently the DRC's vast mineral wealth has come to be coveted by private corporations and individuals from a variety of countries.  Rich in diamonds, coltan, and timber, among other resources, fighting during recent conflict in the DRC frequently occurred over access to such valuable materials.  This wealth, coupled with ethnic tensions and violence linked to the genocides in Rwanda and Burundi has made for a tumultuous half century of independence as examined by Jason Stearns and Leive Joris in their works on the subject.
Out of this history comes Fiston Mwanza Mujila and his novel Tram 83.  Set in Lubumbashi, a city of nearly two million people in the south eastern part of the country, Tram 83 explores the relationship between the local population, western non governmental organizations, and international business interests.  Told mostly through the perspectives of Lucien, a local playwright and his friend Requiem, an experienced conman, Mujila's novel paints Lubumbashi as an isolated confluence point, composed of "lovers of romance novels and dissident rebels and brothers in Christ and druids and shamans and aphrodisiac vendors and scriveners and purveyors of real fake passports and gun-runners and porters and bric-a-brac trades and mining prospectors short on liquid assets and Siamese twins." 
Far from the reach of DRC governmental entities, rules and norms are dictated by outside economic interests and local militia leaders.  Much of the story takes place in the novel's eponymous nightclub where deals are struck and alliances made.  The novel takes on notes of magical realism, extraordinary sequences of events which recall atrocities experienced by the citizens of many African nations under colonial rule.  Whereas Requiem has committed himself to the apparent absurdity of life in present day Lubumbashi, reveling in its unique freedoms and stratifications, Lucien spends the novel dreaming of a way out: "So whenever I write, it feels like my age is reduced by half, or even fifteen, seventeen, perhaps thirty-five years. It feels like I am returned to the belly of my mother and therefore have no one to answer to. I forget, in turn, my ragged clothes and my tuberculosis and my setbacks and my old pairs of shoes…"
Working on a play, Lucien hopes his ability as a writer will afford him opportunities to escape Lubumbashi.  As the realization of this dream fluctuates in its likelihood, readers are granted the opportunity to experience a variety of the characteristics that make Mujila's Lubumbashi such a unique place.  From mines, to battlefields, universities, and trains, the mosaic of the city is a character in its own right.  Mujila's ability to effectively convey the present-day implications of colonialism on African countries through the tale of a single Congolese city is truly remarkable.  This novel is as entertaining as it is informative and the pace of the story makes it hard to put down.
-Nate Mosseau, PPL Reference Staff
_____________________________________________
Curious about other contemporary writing from countries in Africa? You can read Nate's first blog post in this series ("New Nigeria") here.