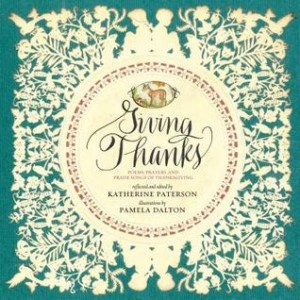 Forget the turkey. Do you think of the Thanksgiving table as a place for jokes, speeches, storytelling, banter, quiet rumination…or…poetry? Take a gander at the Cranberry Cantos, a sampler of Thanksgiving-related poems chosen by the editors at the Poetry Foundation. Selections include Richard Blanco's poem "América," from his book "City of a Hundred Fires," which you can find at PPL (Blanco's new memoir, "The Prince of Los Cocuyos," is also well worth a read). Or find other poets at PPL who are mentioned in the sampler: Maxine Kumin, Joy Harjo, Eamon Grennan, CK Williams, Paul Lawrence Dunbar, and Sharon Olds.
If you read just one of the poems, be sure to check out Dunbar's very wonderful "Signs of the Times," which wins my vote for poem I'd most love to hear read aloud at the Thanksgiving table.
Speaking of recitations…here's a link to a recording of poet Kevin Young reading aloud Sharon Olds' selection, "First Thanksgiving," (a poem of a daughter coming back from college for the first time since she's left home). PPL also has Kevin Young's own new collection, "Book of Hours."
Other possibilities for your Thanksgiving poetry reading:
If all this isn't enough poetry for you, please join us in December for PPL's Poetry Aloud Winter Poem Spectacular. What's Poetry Aloud all about? Bring a poem you love by a published author to read aloud to your fellow poetry-lovers in the Rines Auditorium on the night of Monday, December 22. Since our readings have gone so quickly in the past, feel free to bring two "short or medium sized" poems or one longer poem to read. Doors open at 5:45; the reading will take place from 6-7 sharp on the eve of December 22. We'll have wonderful treats as usual. And we don't usually focus on specific themes, but this time around, feel free to share one of your favorite wintry, festive, or holiday poems!