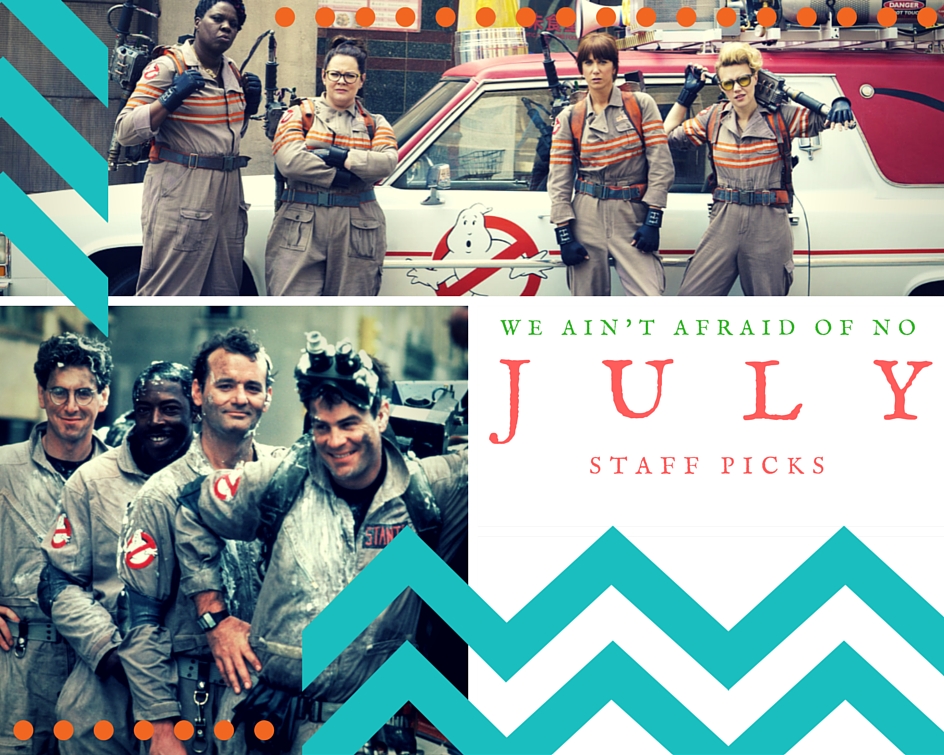 We've noticed that the library is just chock full of stories built upon stories. Books become films. Comic books become films. Films become films. Also: fairy tales are fractured, classics are reborn, characters evolve, one story inspires another wholly new. At worst, the old made new is a little awful, and leaves us wistful for the original. At the very best, though, remakes and reworkings offer bold and creative new worlds at play with the old. Our July staff picks explore the idea of everything old made new again.
Case study:  The Haunting of Hill House. Shirley Jackson's unsettling novel was made into the 1963 black-and-white film The Haunting, in which super-scary wallpaper (uh-huh) and terrifying sound effects psychologically mangled me every Halloween of my childhood. So good! Then The Haunting was remade with cheesy CGI (no subtlety = no fear) in 1999. I felt an incredible sense of loss and dismay. Would anyone ever know how great the original film remake of the original book was?
Haunting aside, there's hope, and endless reboots to check out. The Princess Bride swashbuckled straight into The Princess Bride. Roald Dahl's fantastic Fantastic Mr. Fox morphed into Wes Anderson's fantastic Fantastic Mr. Fox. Like Water For Chocolate? Like Water for Chocolate. Orlando became Orlando: Annie became Annie. The Namesake became The Namesake. In the near future, The Immortal Life of Henrietta Lacks will become The Immortal Life of Henrietta Lacks. Why change the names? Meanwhile, classic folk and fairy tales, myths, and legends can be revisited again and again. Catherynne M. Valente's Deathless is a brilliant re-telling of the Russian fairy tale The Death of Koschei the Deathless. The One Thousand and One Nights are wonderfully retold by Hanan Al-Shaykh, Naguib Mahfouz, and Renée Ahdieh, among others. The Odyssey re-envisioned becomes Love in the Time of Global Warming or The Penelopiad or O Brother Where Art Thou? How to choose between all these exciting versions? And then there's our favorite comics…as Marvel remakes a version of the Avengers for the umpteenth time this summer, let it be known: I'd love to see Kamala Khan on the big screen.
Which brings us to July 2016…as Ghostbusters just became Ghostbusters! I'm looking forward to catching this newest of remakes this week. I'm sure it won't be as scary as The Haunting, but I bet the blazing comic talent of Leslie Jones, Melissa McCarthy, Kristen Wiig, and Kate McKinnon will truly shine. Like ectoplasm.
---
Kelley's Picks
The Lunar Chronicles by Marissa Meyer – Science fiction meets classic fairy tales in clever ways. One of my favorite YA series of the past five years (and I'm not alone); if you haven't read these yet, you're in for hours of addictive adventure, romance, and one seriously evil queen.
Wildwood Dancing by Juliet Marillier – the Twelve Dancing Princesses has been my favorite fairy tale since childhood, and this adaptation is just lovely inside and out. It's clear from the sweeping text to the glossary in the back that the author did some serious research into Transylvanian folk tales and customs. A classic.
Howl's Moving Castle – Diana Wynne Jones (book), Hayao Miyazaki (film) and a dreamy, brooding wizard voiced by Christian Bale. This adaptation sure has my number.
---
Elizabeth's Picks
Beauty! Life! Poetry!
One of my favorite novels, Zadie Smith's On Beauty, is a homage to E.M. Forster's Howard's End, which was also made into a fantastic movie with Anthony Hopkins and Emma Thompson. Forster's writing (along with the work of luminaries like Kazuo Ishiguro and Henry James) provided Ruth Prawer Jhabvala, James Ivory, and Ismail Merchant with inspiring film fodder for years.
 Old-fashioned as this choice may be, my picks for a book-and-film-original-and-remake-duo are the lovely and irrepressible A Room with a View and A Room With A View (the Merchant Ivory version) which both make me beam, whether I am re-reading or re-watching. Forster's heartwarming chapter titles show up in the book (of course), but also helpfully turn up onscreen in the film as the scenes change. Chapter 13: How Miss Bartlett's Boiler Was So Tiresome. Chapter 14: How Lucy Faced the External Situation Bravely. Chapter 15: The Disaster Within. In the film, you also get to see George climb up a tree in Italy and shout "Beauty! Life! Poeeetrry!" in a deeply beautiful and silly and life-affirming scene, while Daniel Day-Lewis is wonderful as a mustachioed and stuffy Cecil. Poor Cecil.
Back to the book. In one of the best chapters in literature (Chapter 19: Lying to Mr. Emerson), you really get to sink into Mr. Emerson's sweet advice to Lucy Honeychurch as she's trying to sort out her life and her heart. I would quote his kindhearted wisdom here, except it's scattered over eighteen pages. It has to do with not getting stuck in a terrible muddle, making the wrong choice, and ruining your life. You should read it, because the whole scene is much better in the original: the book. (But how nice it is to have to choose between the good movie and the good book).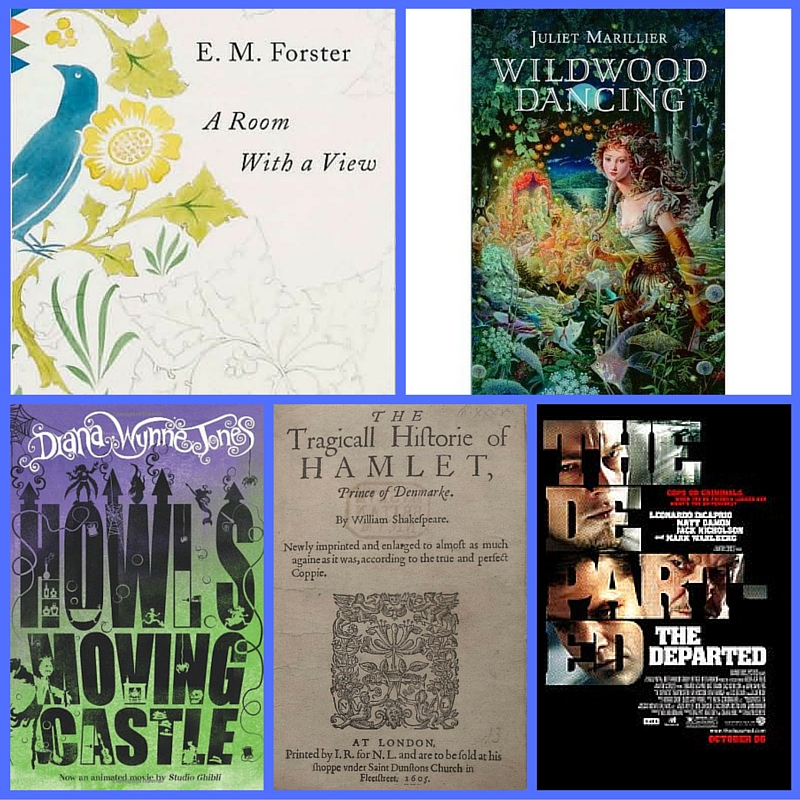 Sonya's Picks
Hamlet on Harleys
It may not fit the quiet, thoughtful librarian stereotype to admit this: I love the FX show Sons of Anarchy. It is loud and filled with mayhem, but man… is it good! So good. The acting is spot on and the story line is intense (to say the least).
Here's the twist: SoA is based on Shakespeare's Hamlet. Show creator Kurt Sutter has admitted it is not a version of Hamlet, but it is definitely influenced by it. "I don't want to overplay that but it's there. It was Jax's father who started the club, so he's the ghost in the action. You wonder what he would have made of the way it turned out."
The show includes a discontented prince (Jax), a treacherous stepfather and an honorable dead father whose voice we hear guiding Jax throughout the series. There are further theme similarities regarding external symbols vs. internal truth. Numerous episode titles refer to Hamlet including Burnt and Purged Away, To Be, Act 1, and To Thine Own Self.
So for the more erudite library users, you can feel A-OK about binging on the tales of this outlaw motorcycle club because it is based on the Bard, after all.
When you finish, get back to me on which character you think best exemplifies Ophelia.
We have all seven seasons on DVD at PPL.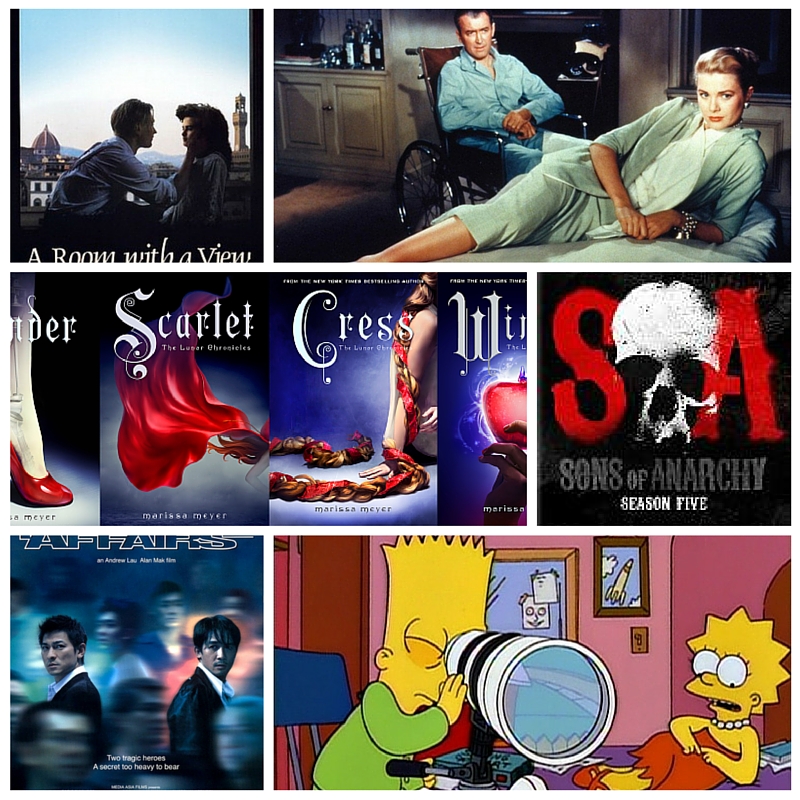 Raminta's Picks
Infernal Affairs vs. The Departed
It seems as if Hollywood spends a considerable amount of time remaking perfectly good shows and films. Such as Broadchurch, a British miniseries starring David Tennant. I didn't watch the US remake, Gracepoint, starring David Tennant (see what they did there?) because I wasn't too keen on the original. Aside from television, Hollywood just can't seem to come up with original blockbusters (that aren't based on comic book heroes).
A few years ago, my uncle (a PI turned nurse) told me of this fantastic movie based on the life of Boston gangster Whitey Bulger.
"Martin Scorsese is a GENIUS!" he shouted. "Martin Scorsese is a thief," I retorted. The Departed, by all accounts, is actually a decent movie. However, it is not a work of genius. It is almost a shot for shot remake of the brilliant Chinese movie Infernal Affairs starring Andy Lau. Any implication that this is the story of Whitey Bulger's life is purely coincidence. A few weeks after our initial conversation, my uncle and I sat down and watched Infernal Affairs. "Holy Cow! That's a much better film," he yelled with his thick Boston accent. I had finally won my argument.
Now I'm not saying, that Hollywood CAN'T make decent remakes. The Departed really is a great film. You just have to remember that it's not original. I'm just saying: sometimes you really should see the original… Now just don't get me started on the remake of The Wicker Man starring Nic Cage.
---
Patti's Picks
Rear Window and Planet of the Apes, Simpsons-style
Rear Window, the Hitchcock film starring Jimmy Stewart and Grace Kelly, was remade in 1998 as a TV movie starring Christopher Reeve as the wheelchair-bound hero. The movie was remade again in 2007 as Disturbia starring Shia LeBeouf as a young man under house arrest. My favorite remake was done by The Simpsons, in Season 6, Episode 1, titled "Bart of Darkness."
The Simpsons have remade, referenced, or spoofed dozens (hundreds? thousands?) of stories (including the Ghostbusters) from classic and popular culture. Another favorite Simpsons remake is Planet of the Apes as a musical starring Troy McClure (Phil Hartman), featuring the lyrics, "I hate every ape I see/ From chimpan A to chimpan Z."
---
As always, thanks for reading! For more suggestions from the PPL collections, check out our booklists for Adults, Kids and Families, and Teens.