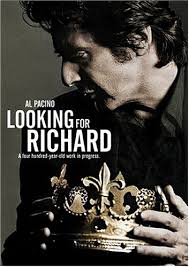 Al Pacino spent four years making this film, the purpose of which is to share his feelings about Shakespeare, and to make one of the Bard's most difficult plays accessible to a modern audience.
And what are Pacino's feelings about Shakespeare? He loves him, he's passionate about him, because the plays are all about human emotions, which are the same no matter the time or place. Pacino believes the legacy of Shakespeare's plays belongs to actors, who must find the feelings in the words of their characters and transmit them to the audience.
And so he assembles a troupe of American actors to discuss and parse and act out scenes from Richard III. He talks about the relationships among the characters–the Yorks, the Lancasters, the brothers and nephews and wives who all have their own ideas about who should wear the crown. He talks to British actors like Derek Jacobi and Vanessa Redgrave and Kenneth Branagh about whether Americans can do justice to Shakespeare, whether we have perhaps become estranged from the language, or lack the knowledge of British history. He does man-in-the-street interviews to find out whether people think Shakespeare is relevant to them, and why or why not. He explores various settings, and films scenes from the play, and the entire film becomes an experiment in Shakespeare.
Sometimes described as "video Cliff notes," this film can reawaken a passion for Shakespeare, or introduce the reluctant student to his timeless revelations about the human condition.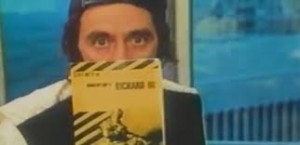 Highly recommended.
For more Shakespeare films and adaptations, click here.