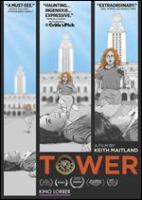 On August 1, 1966, Charles Whitman took an arsenal to the top of the clock tower on the campus of Texas University in Austin and opened fire, killing 16 people and wounding another three dozen. It was America's first mass shooting.
But this movie isn't about Charles Whitman. It's about the people to whom he happened–the victims, the survivors, the witnesses. Using a unique combination of rotoscope animation and archival film footage, filmmaker Keith Maitland recreates the events of that day as told by the people who lived it.
A mass shooting may seem an unlikely topic for animation, and animation may seem an unlikely medium for a documentary, but Maitland says he realized early on that he would not be able to use the Texas University campus to recreate events with live actors. With animation, he could portray the geography of the campus from the points of view of his various narrators, who include students, news reporters, law enforcement agents, and civilians who were there.
The result is a surprisingly moving account of ordinary men and women responding to what was, at the time, an unthinkable crisis. In 1966, there was no such thing as grief counseling or "closure" (just as there was no such thing as hostage negotiations–law enforcement made no attempt to capture Whitman alive.) Several of the interview subjects reveal that they have never spoken of these events to anyone in the fifty years since the shootings occurred, and it is evident that the emotion is still raw.
This film has, deservedly, won several awards, including the Critics Choice Award for Most Innovative Documentary, and the SXSW Film Festival's Audience Award and Grand Jury Award. The Portland Public Library is proud to make this extraordinary film available to its patrons. Click here to request it.