Libraries are one of the few inclusive public spaces where everyone is welcome to access library materials, public computers and to be a creative learner.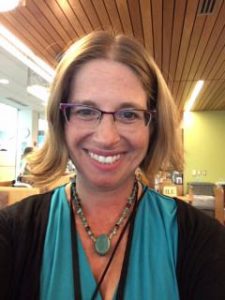 As Portland Public Library's new Social Worker in Residence, I look forward to drawing on both my educational and professional experiences to work collectively with library staff on becoming a more trauma-informed and trauma-sensitive space.
I have over 18 years of experience helping people access food, housing, and healthcare and working with people experiencing substance use, mental illness, and poverty. I enjoy putting my social work skills to use and working with communities on program development, outreach, and engagement, and relationship building all with a trauma-informed and strengths-based perspective.
Library patrons experiencing homelessness have very few places to seek refuge during the day. The Portland Public Library is a safe, quiet, welcoming space that is open to all. Many people go to the library when they don't know where else to go. I hope to be that person who can listen to people's stories, provide answers to their questions, and help connect them to the social services and resources in the community that will meet their needs.
Michelle Lamm, MSW, received her Master in Social Work from Boston University in 2000. Before joining the PPL staff, Michelle spent 9 years working as the Preble Street Maine Hunger Initiative Program Manager. Michelle has a wide range of experience working with children, families, and seniors. She has extensive knowledge of food insecurity, homelessness, and poverty.
Welcome, Michelle!