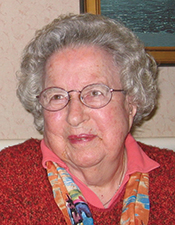 Jean Fritz, an award-winning writer whose books helped change children's biographies from dry works of dates and facts to quirky stories that made the person seem real, died on Sunday, May 14, 2017 at her home in Sleepy Hollow, N.Y. She was 101.
Mrs. Fritz was the author of nearly 50 books, many were biographies of characters in early American history – and were written as the buildup for America's Bicentennial was seizing the country.  These included:  And Then What Happened, Paul Revere? (1973); Why Don't You Get a Horse, Sam Adams? (1974); and Where Was Patrick Henry on the 29th of May? (1975); Will You Sign Here, John Hancock? (1976); Can't You Make Them Behave, King George? (1977); and Shh! We're Writing the Constitution (1987).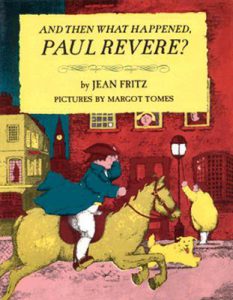 The reader of her biographies will find little known but interesting facts that Mrs. Fritz discovered  while researching: one small example, Paul Revere discovered he had forgotten his spurs and dispatched his dog to fetch them (something not mentioned in Longfellow's poem about that famous ride.)
Mrs. Fritz was born in China to missionary parents, and she wrote a memoir of her childhood in China.  The book Homesick: My Own Story won a National Book Award and was named a Newbery Honor Book. She was the recipient of many other awards and honors including the Laura Ingalls Wilder Medal, awarded by the American Library Association for a distinguished body of work in children's literature, and the National Humanities Medal, presented in 2003 by President George W. Bush.
 In 1988, she was interviewed by The Christian Science Monitor and explained her interest in bringing history alive for children: "I got so frustrated with having to fix up fictional plots that I was glad to finally get away from all that, and just tell things the way they happened — which often is a lot stranger than anything anyone could make up!"
Jean Fritz made larger than life figures more human with wit and humor.  She made a great contribution to children's literature.  She was a giant in the field.