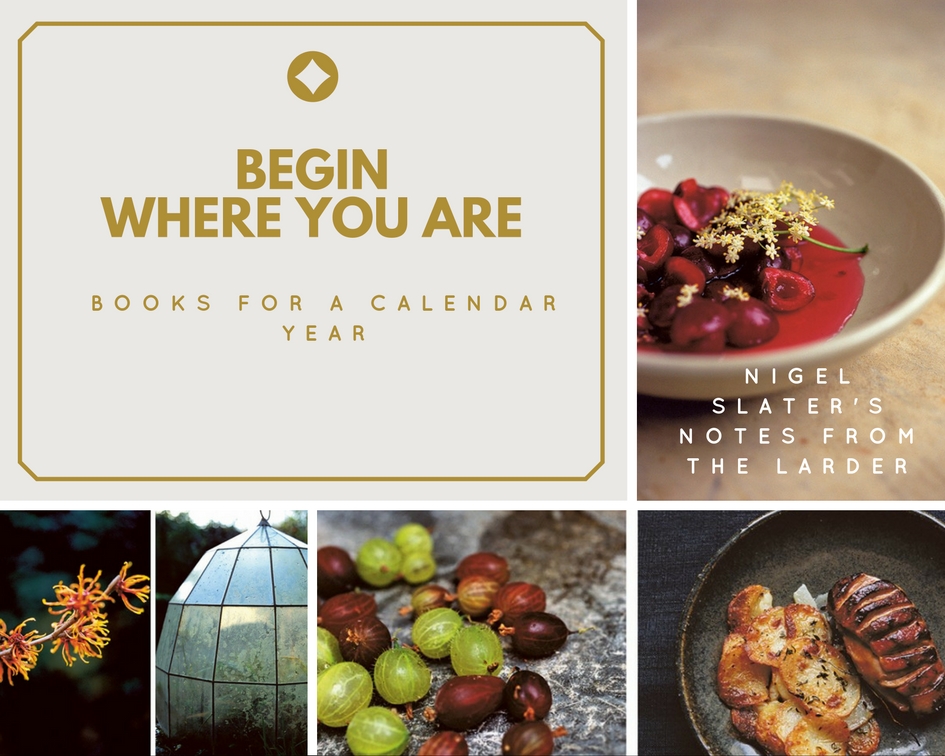 "My energy and curiosity may be renewed but the larder isn't. There is probably less food in the house than there has ever been. I trudge out to buy a few chicken pieces and a bag of winter greens to make a soup with the spices and noodles I have in the cupboard. What ends up as dinner is clear, bright and life-enhancing. It has vitality (that's the greens), warmth (ginger, cinnamon) and it is economical and sustaining too. I suddenly feel ready for anything the New Year might throw at me." –Nigel Slater, Notes from the Larder: A Kitchen Diary with Recipes
The calendar year is a simple trick up nearly any kind of author's sleeve: our lives are ordered by years, by seasons passing, and a writer can easily order a book in this way. I thought of this recently as I took down Nigel Slater's Notes from the Larder, which begins tidily with his cooking in January as he runs smack into the New Year and considers his options, and continues with a gently torrential output of words about seasonal ingredients and recipes straight on through to December. Have I ever read this tome cover to cover? I haven't, but I suspect the time to start is now.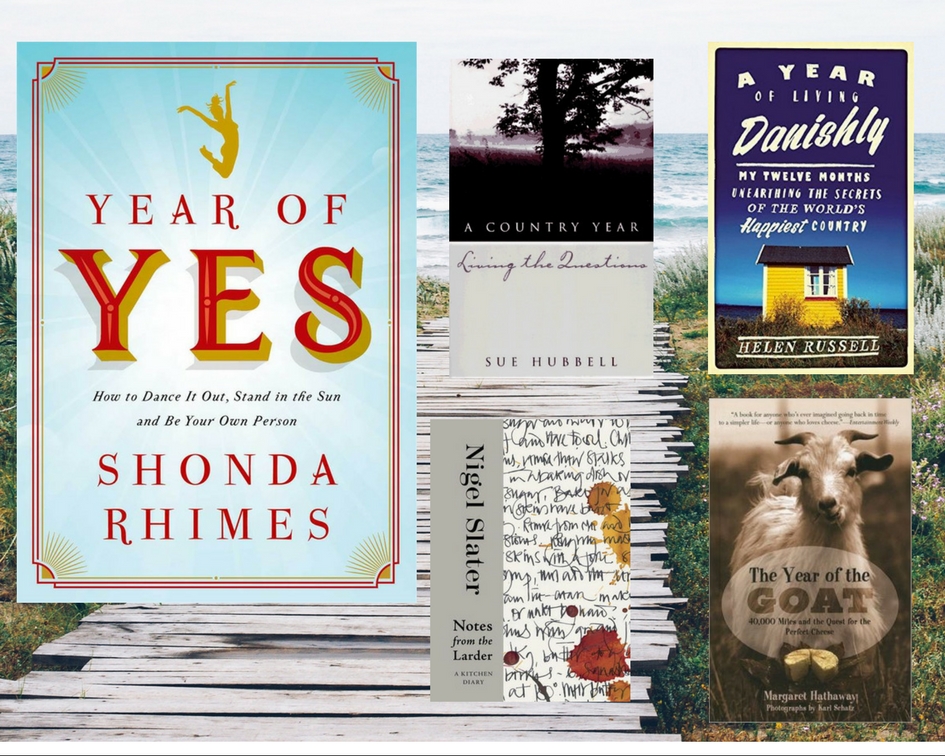 There's a real reader's pleasure in matching a January to another January in a book, or if you're impatient for summer, you can (hooray!) just skip ahead. If you're interested in this sort of reading–either the record of a year in nature, in cooking, or authors exploring interesting ideas and setting specific goals over the course of a year–here's a list of a few to consider, from Shonda Rhime's Year of Yes to Margaret Hathaway's The Year of the Goat.  If you have a literary bent, pick up A Reader's Book of Days: True Tales from the Lives and Works of Writers For Every Day of the Year. Or you can get really wild with The Year of Living Danishly.
Nature writing lends itself particularly well to this sort of ordering (Winter! Spring! Summer! Fall!)–as it does in one of my own very favorite books, Sue Hubbell's A Country Year: Living the Questions. Or you can peer up at the night sky with A Year of the Stars: A Month-by-Month Journey of Skywatching, and dig in the soil with A Homesteader's Year on Deer Isle. Find these titles and more in our PPL catalog booklist Begin Where You Are: Books for a Calendar Year.
With warm wishes for a new year of reading.
-Elizabeth, PPL Reference Staff