Now you'll be able to stream movies, tv episodes, audiobooks, and music for FREE using your PPL library card. HOOPLA is a division of Midwest Tape, a trusted name in the library world of audiotapes, movies and music.  We selected their product for ease of use and the breadth of their content.
To begin you'll need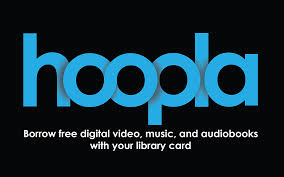 a Portland Public Library card. Go to hoopladigital.com and:
#1 Follow their fast, easy, four-step sign-in process.
#2 If you want hoopla on the go, you can also install their free mobile app on your iOS or Android device.
That's it! Once you sign in, you are set to begin borrowing. You can borrow up to 6 items per month and borrowing times are  21 days for an audiobook, 7 days for music, 3 days for video.
From "Guns, Germs, and Steel" to "Heidi," from "The Big Lebowski" to "The Nuremberg Trials," hoopla has something for everyone. Try it and let us know what you think!