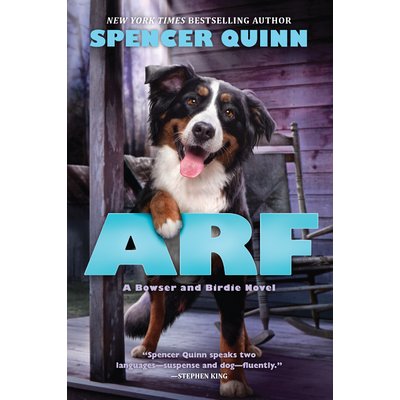 Arf (A Bowser and Birdie Novel)
written by Spencer Quinn
published by Scholastic Press
Birdie Gaux and her faithful canine sidekick, Bowser, are back in another mystery.  In this sequel to WOOF, Birdie and Bowser find themselves unexpectedly in the middle of a cold case, the murder of Birdie's police detective dad. Suspicious happenings and characters give Birdie pause – two house burglaries on the same day, the arrival of a young woman with green hair and a man that is a little too interested in the Gaux home. The novel is written from the dog's point of view – and Bowser is quite hilarious. But the humor does not throw the reader off the scent nor does it distract the reader from the serious events. Bowser proves himself a hero – and Birdie proves herself a fine detective. This dialogue driven novel will entertain mystery lovers and dog lovers alike. The narration by Jim Frangione is perfect.
Here's hoping for installment #3 in this mystery series.
Spencer Quinn is the author of the bestselling Chet and Bernie mystery books for adults.
Pick the audio book up at the Portland Public Library.