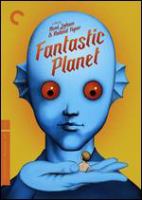 On the planet Ygam, the dominant species is a race of blue giants called the Draags. Among the species they dominate are the Oms, humanoid creatures believed to be incapable of rational thought. When a pet Om named Terr gets his hands on his owner's telepathic educational device, he runs away with it and joins a group of rebellious Oms who use the information to plan their escape to the Wild Planet.
This film was among the first animation made for adults in the early 70s, a collaboration between French and Czech filmmakers, and it is a beautiful example of pre-CGI animation, with a political message as relevant today as it was in 1973.
This edition is one of the latest releases from the Criterion Collection, and extras on the disc include an interview with filmmaker Roland Topor and a documentary about filmmaker Rene Laloux, as well as two short films on which they collaborated–Les temps morts (1965) and Les Escargots (1966.) There is also the option for an English language soundtrack.
For a list of other science fiction titles, click here.
For other recommended World Language films, click here.