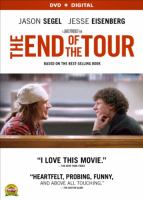 David Foster Wallace was the Kurt Cobain of the literary world, an artist whose brilliance was so isolating that in the end he could not live with it.
In 1996, Wallace did a book tour for his highly acclaimed novel Infinite Jest, and on the last leg of the tour he was joined by writer David Lipsky, who was assigned to do a profile of Wallace for Rolling Stone. The End of the Tour is based on Lipsky's book Although of Course You End Up Becoming Yourself, which transcribes the five-day interview. (The Rolling Stone article was never actually written until years later, after Wallace's death.)
Jason Segel plays David Foster Wallace as a man struggling to keep it real in the face of critical accolades, publicity, and the onslaught of demented fans and groupies. Jesse Eisenberg's Lipsky is a writer who admires Wallace while at the same time envying and resenting his talent and success. Together they present a fascinating and convincing look into the world of writers and the publishing industry, as well as an exploration of the dynamic between a journalist and his subject.
If you're celebrating National Novel Writing Month, you can find a list of other recommended movies here.