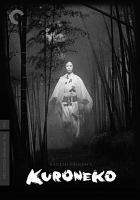 The Japanese have a long history of ghost and spirit folklore, and in this movie, director Kaneto Shindo has combined elements of several stories with his own social criticism to create one of the most romantic and haunting ghost stories ever.
Set during the medieval civil wars of Japan, the movie begins with a group of samurai soldiers coming out of the bamboo groves to descend upon the home of Yone (Nobuka Otowa) and her daughter-in-law Shige (Kiwako Taichi) who are home alone because Yone's son Hachi (Kichiemon Nakamura) has been conscripted into military service. The samurai brutally rape and kill the two women and burn their house to the ground, but the next morning, the women's bodies are still there, and they are visited by a black cat who licks their wounds.
Three years later, samurai warriors are disappearing from the Rashomon Gate, seduced by a beautiful young woman who lures them into her home, introduces them to her mother, serves them sake, and then rips open their throats with her teeth.
No one among the samurai is brave enough to hunt down this killer, but then along comes Hachi, the sole survivor of a ferocious battle in another part of the country, and he is promoted to samurai and put in charge of evicting the evil spirits from the grove that was once his home.
Whether he recognizes his wife and his mother, indeed, whether they really are his wife and his mother, I leave for you to determine. All I can tell you is that the images from this film–the ghostly glow of these spirits and the creeping mist in the bamboo groves–will haunt you long after the movie is over.
For the Criterion essay by Maitland McDonagh, click here. For a list of other recommended Halloween movies, click here.