November is Picture Book Month and what better way to celebrate this literary art form, than to come to the Portland Room to look at the picture books held in the Children's Special Collection.
Picture books are generally thought of as books in which the images and ideas join to form a whole. They can contain pictures with little text (like many alphabet, counting books, or concept books), be wordless with no text, be picture storybooks, or picture informational books where the illustrations are as important to the story as is the text.
One of the earliest innovators of using illustrations to supplement text was Johann Amos Comenius. In 1658 he wrote, "Orbis Pictus," an informational text accompanied by woodcut illustrations of everyday objects.
Today's picture books, however, where the meaning of the text extends beyond the illustration, got their start in the illustrations of Randolph Caldecott (1846-1886), Kate Greenway (1846-1901), and Walter Crane (1845-1915), aided by the color printing techniques of Edmund Evans (1826-1905).
Today's Randolph J. Caldecott Medal (United States) and the Kate Greenaway Medal (Great Britain) honors the artist of the most distinguished picture book in a book for children published during the preceding year in those respective countries.
A number of picture books in the collection are written and illustrated by Maine-based authors and illustrators, among them Margaret Wise Brown, Dahlov Ipcar, and Bruce McMillan. It also has books that are pivotal in the evolution of illustration in picture books such as Beatrix Potter's child-hand-sized picture storybooks and Maurice Sendak's Where the Wild Things Are.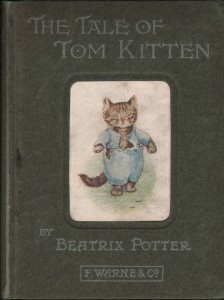 The collection is not limited to English language editions. It also includes several French, German and Italian language picture books.
Regardless of the type of picture book in the collection, almost all of them share one very common element. Their pages are soft and well-worn, indicative of children turning the pages over, again and again. You cannot help noticing as you turn the pages of these books, too, that they have been well-loved over the years.