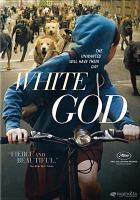 This month the Library is featuring films about animals. White God, a Hungarian film, boasts probably the largest canine cast since 101 Dalmatians, but make no mistake: This is not a family film.
Thirteen-year-old Lili (Zsofia Psotta) must move in with her father for a few months while her mother is away on business. Her dog Hagen is not welcome to stay with her, partly because her father is not a dog person, but also because the government has placed a high tax on mongrels–they have a vision of a Budapest populated by purebreds. Hagen is what Lili calls a "mixed breed," but to the authorities, he's a worthless mutt.
So Lili and her dog are separated, and the story is about their journey back to each other. Again, this sounds deceptively simple and heart-warming, but the film is actually a unique blend of parable, revenge fantasy, and a touch of horror. Imagine The Incredible Journey written by Hitchcock and directed by Tarantino.
While Hagen endures some harrowing experiences as a street dog, Lili struggles with adolescence and rebellion. Meanwhile, her school orchestra is rehearsing for a performance of Tannhauser. I mention this because the work underscores the theme of the redemptive power of love, but the music used to score the film is actually Liszt's Hungarian Rhapsody #2.
This film, directed by Kornel Mundruczo, premiered at the Cannes Film Festival in 2014, where it won the Prize Un Certain Regard, and also the Palm Dog Award.
Indeed, it is the performances of the dogs that make this film so extraordinary. Only the lead dogs were trained–the rest of the dog cast is made up of over 200 rescue dogs (almost all of which were subsequently adopted) and Mundruczo has captured them in all their natural dogginess. There is no computer-generation used, there are no cute dog tricks; these are real dogs behaving like real dogs, and if that sounds too ordinary, I assure you that this film offers some stunning images, the like of which you have never seen before, and will not soon forget.
For a list of other recommended films about animals, click here.