October is American Archives Month. Portland Public Library's Portland Room and Archives is a rich resource for researching family genealogies, house histories, historical research of businesses and industries in Maine as well as other historical topics. Each week in October the Portland Room will feature some of the resources that can be used in researching these areas.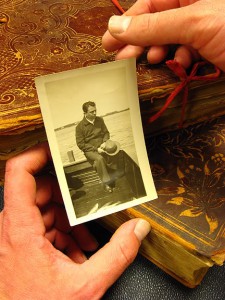 Genealogy Research: Interested in where you are in your family tree, or in those that came before you? In addition to the genealogical databases PPL subscribes to, such as Ancestry.com and Heritage Quest, we have vital records (records of birth, marriages, and deaths) on microfilm from pre-1892 – 1955. There are also some print versions of vital records for some individual Maine towns. Ancestry.com and Heritage Quest also have census records, which are invaluable for tracing family members back in time. Resources for passenger lists are also available through Ancestry.com, but the Portland Room also has some passenger lists in print format.
The Portland City Directories are also great resources for tracing your family. In addition to listing residents, the directories are searchable by street. Sometimes the date of death appears, and often the residents' occupations and the location of where they worked is present.
There are also town and county histories as well as some published family histories in the Portland Room. We also have indices for the burial records at the Eastern and Western cemeteries.
A final favorite is searching obituary and death notices through the microfilmed copies of the Portland newspapers.