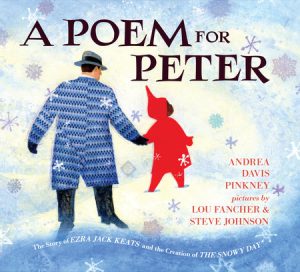 A POEM FOR PETER
written by Andrea Davis Pinkney
illustrated by Lou Fancher & Steve Johnson
Published by Viking
This is a love poem to Ezra Jack Keats – the man who gave us Peter and his snowy day. The book opens with Peter (Brown-sugar boy in a blanket of white./Bright as the day you came onto the page./From the hand of a man who saw you for you.) – and moves right into the story of Jacob (Jack) Ezra Katz.
 In free verse his life sweeps onto the page.  His Polish immigrant parents work hard to support their family – but the hardship of establishing a life in a new land leaves the family poor and struggling.  Ezra's artistic talent is clear from an early age – his father sees a career as a sign painter, his mother sees the fine artist she dreamed of being herself. He is encouraged by parents, teachers, friends, and librarians to improve his "knack."  Ezra has to pass on college scholarships and work for the WPA when his father dies the day before his high school graduation.  His talent is used in the Air Force during World War II. After the war he sees discrimination up close and "rearranged his name" to counter the ads saying "No Jews Need Apply".  He became Ezra Jack Keats.  Keats cut some photos of a little black boy from a life magazine and hung them near his desk for years.  When asked to write and illustrate his own book he was inspired by this little boy staring out at him.
This is an homage to Ezra Jack Keats and The Snowy Day  (and Peter) that is lyrical, thoughtful and loving.  The illustrations complement the poem – and the art work of Ezra Jack Keats. Through mixed media collage Fancher and Johnson have captured the essence of Keats' style perfectly.
This is the perfect book to highlight during Poetry Month!  Pick up a copy today