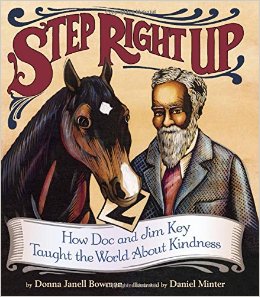 Step Right Up: How Doc and Jim Key Taught the World About Kindness
by Donna Janell Bowman and illustrated by Daniel Minter 
Published by Lee & Low Books Inc.
This is a lovely picture book biography of former slave Bill "Doc" Key who became a self-trained veterinarian.  As a free man he started traveling with his medicine wagon and found a rundown circus with a neglected and abused gray mare. He bought the horse and nursed her back to health.  As she was a purebred Arabian he hoped her offspring might become a champion  racehorse.  But the colt was spindly legged – and most thought he should be put down. Doc was determined to heal the colt as best he could.
The colt, Jim seemed to watch Doc's every move – even when he played with his dog. Soon Jim was showing Doc that he could do dog tricks like fetch, sit, and roll over. Doc took the horse on the road and entertained as he sold his medicines. Doc began to wonder what else Jim could learn – and through patience and kindness he learned to read, add and write.  They became one of the most famous entertainment acts at the turn of the twentieth century.
The author has brought to life the patient Doc Key and his extraordinary horse.  Although they were famous in their day their story has faded over time.  This book provides a well-deserved reminder of the duo and their accomplishments. The picture book has beautiful illustrations rendered as linoleum block prints painted with acrylic by Daniel Minter. These illustrations are an integral part of the book and expand the story. (The illustrator lives in Portland.)
Doc and Jim Key clearly show that kindness towards animals brings great rewards.