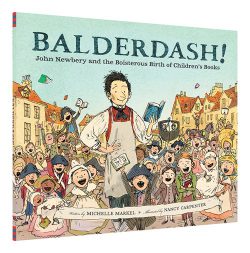 BALDERDASH!: John Newbery and the Boisterous Birth of Children's Books
written by Michelle Markel
illustrated by Nancy Carpenter
published by Chronicle Books
John Newbery was the pioneer of children's books and this picture book biography revels in the birth of these books. The reader is told on page one that if they lived in 1726 there were books about adventure and travel and shipwrecks and pirates and monsters – but all of them were for adults.  Once John Newbery became a printer and a publisher, he saw a niche and aimed to fill it.  He felt that "Reading should be a treat for children" (as a philosopher had said.) Children should be offered more to read than moralistic, preachy tales and religious texts.
Businessman that he was, John Newbery created A LITTLE PRETTY POCKET-BOOK (and offered it for sale with a ball or a pincushion – a merchandising deal.)  These creations were illustrated and not as dry as the books forced upon children.  Thus began, in a very small way the creation of children's literature.
But hopefully the reader will not be confused by the fact that these were not the children's books of today – they were the first toe in the water.  By today's standards they are dry and preachy – but by 1726 standards they were a treat.  Also, the reader might get the wrong impression from the illustrations – everyone was not literate nor could they all afford to purchase books.  Quibbles aside – this is a fine celebration of John Newbery and the small revolution he started.
The American Library Association established an annual award to honor "the most distinguished contribution to American literature for children" in 1922 and named it after John Newbery.  Next month, at the American Library Association's annual conference in Chicago the 2017 Newbery Award will be presented to Kelly Regan Barnhill for THE GIRL WHO DRANK THE MOON.  
There are brief notes and a bibiography at the end.