Again we meet, fine readers young and old;
my blog, it has a secret to be told:
The Bard has tales in comic form, you see,
And found they can be at the lib'rary!
Welcome back, dear reader, to Capes Optional, PPL's Grade-A, cage-free graphic novel blogorama for your eyeballs. Everyone knows that Batman v Superman: Dawn of Justice is out in movie theaters in just a few weeks, but much like Lex Luthor taking over the Justice League Watchtower, ye olde William Shakespeare has conquered the hearts, minds, (and indeed, gallery space) of the Portland Public Library — and he hath not spared mine lowly publication! Thus, I bring you five Shakespeare graphic novels that you can find right on the shelves of PPL to satisfy both your love of graphic novels as well as your craving for the immortal works of the Bard.
               Manga Shakespeare's Julius Caesar illustrated by Mustashrik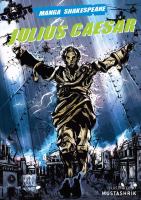 Our first graphic novel comes from a series called "Manga Shakespeare," which takes the original texts of the works and pairs them with art inspired by modern Japanese illustrators, often re-imagining the settings of the plays in fantastical ways. In this instance, ancient Rome is transformed into a steampunk-style desert world, with the conspirators against Caesar wearing visors and flying helicopters, and the warriors of the Roman Empire fighting with semi-automatic weapons on motorcycle-back. The artwork is all black-and-white and can end up looking a little repetitive eventually, but any lover of manga or anime will be right at home in this interesting retelling of the classic tragedy.
               The Tempest adapted by John McDonald and illustrated by Jon Haward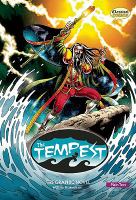 Ahh, The Tempest. This play by Shakespeare is closest to my heart as I played a role in a production at the University of Southern Maine. The incredible imagery of  it – the magics of Ariel, the conjured storm, the monstrous Caliban – is a joy to enact on stage, and this graphic novel, part of a series from Classical Comics, is equally beautiful. Classical Comics actually releases three versions of its Shakespeare graphic novels: one in the original Old English; one in "plain text" easy to understand; and one in "quick text," which omits everything but the central plot from the story. PPL has  the "plain text" version, which makes for an easy read without losing all of the nuance and tangential plotlines that Shakespeare is famous for. The artwork is colorful and fun, and the characters pop right out of the page. Can you guess what my role in the play was?
               Romeo & Juliet illustrated by Will Volley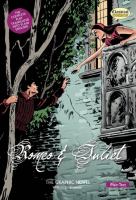 This is another one of Classical Comics' graphic novels. We have the "original text" version on our shelves, so it remains a tough read for those not versed in or used to the Old English. Romeo and Juliet, for its credit, is one of the more grokkable of the Bard's plays, but still, for every one of its "Wherefore art thou Romeo?"s (which actually means "Why is your name Romeo?"), there is a "to-night she is mew'd up to her heaviness" (which I've got nothing for). Volley's art is quite a bit different from Haward's – think Prince Valiant compared to Ninja Turtles – but it helps make the story easier to follow, and certainly to differentiate between similar sounding characters (Benvolio, Mercutio, and Tybalt could all have the same voice, as far as I'm concerned.)
               Macbeth adapted and illustrated by Gareth Hinds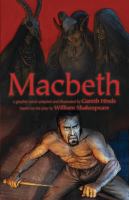 This graphic novel is a masterpiece. Hinds keeps most of the original text and adds to it a distinctive art style that brings to life the tragic tale of hubris and comeuppance. This particular graphic novel is certainly not for the faint of heart (Hinds shows no quarrel with depicting blood and bone in his paintings), but leaves lasting impressions. The eerie depiction of the ghost of Banquo staring down Macbeth at his banquet table in Act 3 Scene 4 is spine-chilling, and the final showdown with Macduff is pure comic-book action (with no capes required!). Not for the kids, but perfect for comic readers looking for superheroes saving Scotland, and not Metropolis.
               King Lear illustrated by Gareth Hinds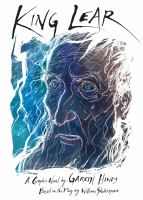 Another of Hinds' works, the art of King Lear is markedly different from that of Macbeth. King Lear, in our children's section and meant to be an introduction to Shakespeare, has the artwork and the story literally intertwined, the winds of the art carrying the words from characters' mouths to ears, letters spelled out in lightning cascading towards the wretched king, and color schemes that permeate the entire piece. The letter work is a little hard to read at times, and certainly parents will want to show some discretion before showing some of the artwork or reading some of the plot to younger children (speaking of eyeballs), but this is a beautiful way to read through one of Shakespeare's more tragic plays.
There are more graphic novels based on Shakespeare's works within the PPL collection, including different retellings of the same plays (four each of Romeo and Juliet and Macbeth!), and you can discover those here. Also look for references – both subtle and overt – to the Bard in works such as Alan Moore's The League of Extraordinary Gentlemen or Neil Gaiman's The Sandman.
I love reading graphic novel versions of literature, and I hope that this blog will inspire you to go beyond the Bard and into other genres as well. Next time, we'll look at some of my favorite Batman and Superman graphic novels just in time to enjoy the new movie. So keep reading, dear reader, and remember: "gentle breath of yours my sails must fill, or else my project fails!"