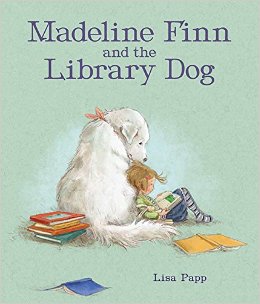 MADELINE FINN and the LIBRARY DOG
written and illustrated by Lisa Papp
Published by Peachtree
Madeline Finn does not like to read. She does not like to read anywhere at any time. It is hardest at school when asked to read aloud. It is too hard to figure out the words, make her mouth work and listen to the giggles of classmates. Madeline desperately wants to receive a star sticker from her teacher – but all she ever gets are hearts that say Keep Trying. She wishes upon a star that she will get her very own star. But everyday she struggles to read aloud. One day at the library she is introduced to a reading dog. Bonnie, a big white dog, does not giggle, does not squirm – she just listens.  Bonnie and Madeline read together every week. Madeline Finn learns that reading is fun and with Bonnie by her side she is not afraid to go slow or make mistakes.
Find a copy of this book at the library and find out if Madeline Finn earns her own star!
The Portland Public Library has Reading Dogs – Emmie and Flip. They are at the library on Tuesday afternoons from 3:30 to 5:00.  Registration is required. Come and read to one of them – perhaps Madeline Finn and the Library Dog would be the perfect choice.