posted: , by Ellen Gilliam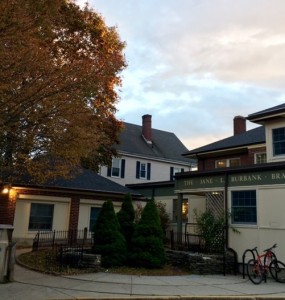 Portland Public Library's Burbank Branch at 377 Stevens Avenue in the Deering neighborhood will close for renovations on Saturday, December 5, at 5 pm. We anticipate that the building will be closed for approximately seven months, and we expect to reopen mid-2016.
Frequently Asked Questions (FAQ) about the Burbank collections and services to patrons during the branch's closure can be found HERE.
Planned renovations will provide:
– upgrades to building systems (heating and air conditioning; electrical; information technology)
– accessibility improvements (elevator to replace stairlift)
– increased energy efficiency
– enhanced browsing experience
– improved ergonomics to handle the flow of materials at the 6th busiest lending location in the state
Starting Monday, December 7, 2015 PPL will offer expanded service at our Riverton Branch, located at 1600 Forest Avenue:
Monday 1-6pm
Tuesday 10am-7pm
Wednesday 10am- 6pm
Thursday 10am-8pm
Friday 10am-6pm
Saturday 10am-5pm
 Members of our Burbank Branch team will help staff Riverton during this period, and portions of our Burbank collection will also temporarily relocate to Riverton. Other Burbank collection items will be available upon request via the Library's online catalog. We will deliver them promptly to your preferred pickup location (Riverton Branch, the Main Library, or Peaks Island Branch). We are ready to help make this transition a smooth one for our patrons.
We are excited to serve our Burbank patrons in a fresh, engaging, and more efficient space. Stay updated at PPL's website (portlandlibrary.com) or by visiting the branch. We look forward to keeping the community informed about our progress and ways to be involved.