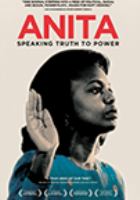 Anita: Speaking Truth to Power
It used to be that sexual harassment of female employees was the privilege of bosses everywhere. Even when there were laws on the books, complaints were rarely filed, and even more rarely heard in court. Women who complained were likely to lose their jobs, and so they mostly suffered in silence.
It was the testimony of Anita Hill in 1991 before a Senate Judiciary Committee that broke the silence and brought the issue to national attention. For nine hours, Hill described the indignities to which she had been subjected by her former employer, Supreme Court Justice nominee Clarence Thomas, when she worked for him at the EEOC.
For those who have forgotten, or those who are just now hearing about it, this film demonstrates, through footage of the hearings, the determination of the all-white, all-male Committee to disregard or deny the unpleasant truth.
After compelling Hill to appear before them and testify truthfully, the Committee proceeded to put her on trial, questioning her "motives" and her character, attempting to discredit and humiliate her, forcing her to repeat again and again the details of her harassment. Clarence Thomas denied everything, declaring the investigation "a national disgrace" and "a high-tech lynching."
What's most remarkable about all this, aside from the obvious malice of the Committee, is the grace and dignity that Hill maintained throughout her testimony and its aftermath, a grace and dignity she maintains to this day.
Directed by Academy Award winner Frieda Mock ("Maya Lin: A Strong Clear Vision," 1995) this film is well worth 77 minutes of your time.
For more information, you can read the complete transcripts of the hearings, or Hill's memoirs.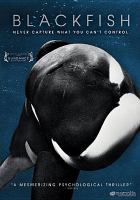 Blackfish
In February of 2010, a senior animal trainer named Dawn Brancheau was killed at Florida's SeaWorld by a whale named Tilikum. SeaWorld presented this as an isolated incident caused by "trainer error," but in fact Brancheau was the third person to be killed by Tilikum since he'd been taken into captivity in 1983.
Filmmaker Gabriela Cowperthwaite interviews a number of orca experts and former SeaWorld trainers–SeaWorld did not respond to requests for interviews with current employees–who expose the fact that many of SeaWorld's public statements could charitably be described as erroneous, including their claims that whales in captivity live longer, healthier lives than those in the wild. The fact is, in the wild, they live longer, and they don't kill people.
This film demonstrates what a good documentary can do: It educates and entertains, even as it exposes the truth and changes the way we think about its subject. By some accounts, SeaWorld has lost over $25 million in revenue since this film came out, and rumor has it that they are now, by popular demand, looking into creating more suitable habitats for their animals.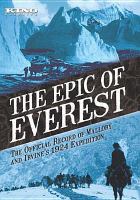 The Epic of Everest
The British Film Institute recently restored this footage of George Mallory's final, fatal attempt to summit Mount Everest in 1924. Filmed by Captain John Noel using equipment he had specially made for the expedition, this film includes some stunning images of both the mountain and the local people. Silent, with a new soundtrack composed especially for this edition.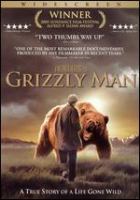 Grizzly Man
In the Tarot deck there's a card called The Fool, and it is usually pictured as a young person prancing along the edge of a cliff with a little dog, oblivious to the fact that one misstep could be fatal. It's the kind of clueless person that God is said to watch out for, and I think of it every time I see Grizzly Man, director Werner Herzog's film about bear enthusiast Timothy Treadwell.
Treadwell, who was no biologist or animal behavior expert, spent thirteen summers living among grizzly bears in the Alaskan wilderness, and while the fact that he was finally killed by a bear might seem inevitable to some, it does not negate the fact that for over a decade he was not killed by bears. He lived in their territory, alongside them, with no weapons and nothing to defend himself except his own faith that the bears understood the purity of his love for them. One man interviewed in the film speculates that the bears tolerated Treadwell and left him alone because they sensed there was something wrong with him.
That may be true, or it may be that Treadwell was right to think the bears knew him and accepted him as a friend–it's worth noting that the bear that killed him was a stranger to him, not one of the regulars.
Over the years Treadwell recorded nearly a hundred hours of film, mostly of the bears, up close and personal, and it is some of the most spectacular nature footage you'll ever see. How it fell into the hands of Werner Herzog I do not know, but it is an excellent pairing of filmmaker and material. Herzog has made a career out of documenting other people's obsessions, and this film is one of his most fascinating.
To read about Treadwell, check out The Grizzly Maze, by Nick Jans.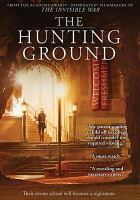 The Hunting Ground
This is a 2015 documentary about sexual assault on college campuses. It cites some disturbing statistics from multiple studies, and, through interviews with students and administrators (and some former administrators) it goes on to provide anecdotal evidence of how these crimes happen, and how institutions handle them.
Spoiler alert: Most institutions do not handle them well. In too many cases, reports of rape are treated not as human rights violations but as public relations problems. Administrators are often more concerned with keeping up the appearance of a safe environment than with actually providing one. Students are discouraged from pressing charges and subjected to a lot of hemming and hawing about how difficult it is to know what really happened in these he-said/she-said situations. In fact–and this is a long-standing statistic, not particular to this film–the likelihood of a rape or sexual assault report's being false is no higher or lower than for any other crime.
It's a bleak picture, but the good news is that student victims are organizing. They are going public with their experiences and supporting each other in seeking recourse through Title IX.
The dvd contains extras that answer questions about sexual assault and direct victims to help and support.
The filmmakers, Amy Ziering and Kirby Dick, also made the film The Invisible War, about rape in the military.
In the Realms of the Unreal
For roughly forty years, Henry Darger was a custodian at a Catholic hospital in Chicago. A quiet man, he might go days without speaking to anyone, but when he was alone in his rented room, he expressed himself freely. When he passed away in 1973, he left behind his life's work: two volumes of autobiography, a novel titled The Story of the Vivian Girls, in What is Known as the Realms of the Unreal, of the Glandeco-Angelinian War Storm Caused by the Child Slave Rebellion, and hundreds of paintings illustrating the novel.
Darger has become a prime example of an outsider artist, and this film not only introduces us to his seemingly ordinary life and the bizarre world of his imagination, but also invites us to consider how many of the seemingly ordinary people around us might be harboring extraordinary inner lives.
For further reading about Henry Darger, see Henry Darger, Throwaway Boy by Jim Elledge.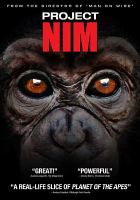 Project Nim
This is the story of Nim Chimpsky, a chimpanzee born in captivity in 1973 and taken from his mother a few days later to be used in an experiment by Columbia professor Herbert Terrace.
The purpose of the experiment was to determine whether a chimp raised as a human would acquire and use language. How successful the experiment was, and how reliable the results, remain matters of controversy to this day.
Through archival footage and reenactments, director James Marsh (Man on Wire) examines the methodology of the experiment and explores the ethical issues it raises as well as the emotional aftermath for all the sentient beings involved.
For more reading on the subject, put in a MaineCat request for Silent Partners: the legacy of the ape language experiments, by Eugene Linden, and see also the dvd Koko, a talking gorilla.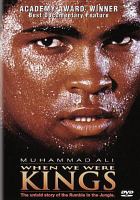 When We Were Kings
You don't have to have an interest in boxing to be captivated by this film, filled as it is with music, suspense, and larger than life personalities.
In 1974, an unknown promoter named Don King offered Muhammad Ali and then-heavy-weight-champion-of-the-world George Foreman five million dollars each to fight each other. Having secured contracts from both fighters, King went looking for the ten million dollars. It was put up by Mobutu Sese Seko, President of Zaire (formerly the Belgian Congo) who thought it would generate good public relations for his country.
And so the Rumble in the Jungle came to be. It was an international spectacle, prolonged by the postponement of the fight when Foreman was injured during sparring. It also became an international celebration of culture, and created an awareness of and an interest in African-American roots in Africa.
Featuring James Brown, B.B. King, George Plimpton, Norman Mailer, and Spike Lee. Dvd extras include an interview with director Leon Gast.
For more about Muhammad Ali, see The Trials of Muhammad Ali.
For a list of other recommended documentaries, click here.