We are excited to announce that throughout 2017, PPL will celebrate 150 years of education, entertainment, and discovery for all.
The year-long celebration of PPL's "birthday" will include special events and programs at all locations. "The story of the Library is the story of our community," notes Executive Director Sarah Campbell. "This is an exciting time to reflect not only on how the Library has been important in the history of Portland, but also on the library offerings and partnerships that bring the community together and build our civic life with one another."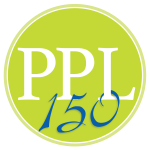 Celebrations kick off on Wednesday, January 25 with birthday treats at all branch locations. In addition to special events planned throughout the year that include historical exhibits in the Lewis Gallery at the Main Library as well as pop-up exhibits across the system and a family-friendly BooktoberFest celebration this fall, we will have 150th commemorative stickers, bags, and more as giveaways or for purchase to mark this exciting anniversary.
Wednesday also sees the launch of "My Card, My Story," a collection of crowdsourced stories about the unique library experiences of PPL patrons, staff, and community members. We invite you to contribute your personal stories about what your library card means to you. We will feature these perspectives on our social media channels and publications throughout the year. Patrons are asked to submit their story at any PPL branch location using one of our story cards or by completing this Google form.
Portland Public Library was incorporated on January 22, 1867, just six months after the devastating Portland fire of 1866 which left more than 1,500 buildings destroyed and 10,000 people homeless. Prior to this time, Portland's libraries were private institutions where only paying members could view or borrow materials. The then-radical notion of a public library open to all was described by Mayor Charles Chapman as "so veritable a home of true democracy … an atmosphere of philosophy, knowledge, and fancy." Freedom and inclusiveness remain core PPL values.
Today, Portland Public Library provides service and support to 675,000 visitors annually at four locations and a bookmobile and is the most visited cultural institution in Maine.