Our staff picks for July focus on favorite new fiction and authors at the library.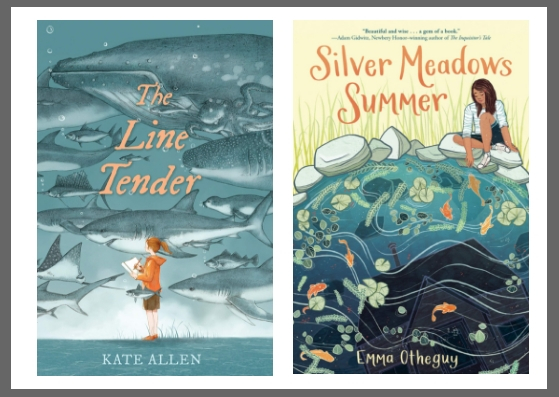 Nora's Picks
A number of authors have made recent middle grades debuts with stories of children contending with difficult situations through forming relationships with the natural world (Kate Allen's The Line Tender, Sandy Stark-McGinnis's Extraordinary Birds). Emma Otheguy's Silver Meadows Summer is a particular gem that tells of eleven-year-old Carolina's search for belonging when she moves with her family from Puerto Rico to upstate New York. Carolina tries to construct a sense of place by fixing up a cottage in the woods and drawing her surroundings, undulating between finding solace in the delights of this new natural landscape and aching for the flamboyán tree outside her old home. Like a steady chant throughout, Robert Frost's iconic fork in the woods converses with Spanish poet Antonio Machado's "Caminante, no hay camino," reinforcing for Carolina that she can forge her own path by walking. A beautiful read for children navigating unfamiliar places or for all of us as we consider the experiences of many members of our community who are trying to recreate home in a new country.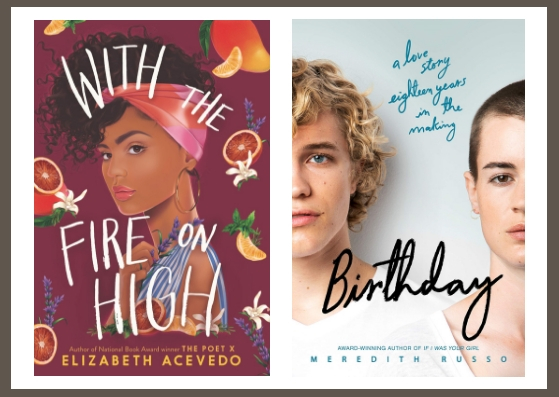 Teen Picks 
Here are a handful of brand new or forthcoming YA titles that our Teen Librarian is looking forward to reading this summer: 
For my LGBTQ+ Realistic Fiction shelf: Birthday by Meredith Russo 
For my #ownvoices Realistic Fiction shelf: With the Fire on High by Elizabeth Acevedo 
For my Sci-Fi/Fantasy shelf: The Kingdom by Jess Rothenberg 
For my Mystery/Thriller/Maine author needs: The Missing Season by Gillian French 
For my Horror shelf: Five Midnights by Ann Dávila Cardinal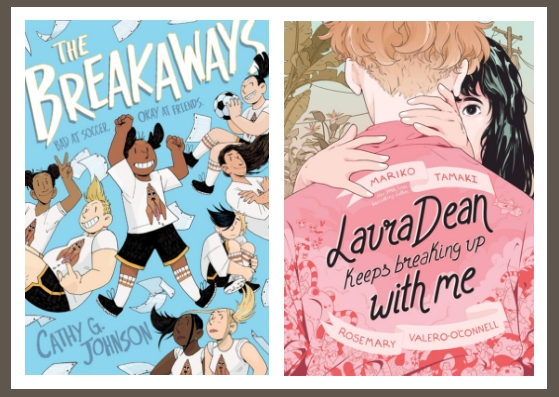 Emily's Picks 
For anyone looking for a fun new graphic novel for middle school and teen readers, try The Breakaways, a story of a soccer team full of kids who are really not so good at soccer, but are learning to be good and supportive friends. It's a funny and sweet story, and one that will appeal to any kids who love a good graphic novel about friendship.  
For teen readers and fans of YA fiction, check out Laura Dean Keeps Breaking Up With Me, a richly illustrated graphic novel. Freddy is desperately in love with her girlfriend Laura Dean, and very aware that Laura Dean is a really bad girlfriend. Freddy's friends are increasingly uninterested in helping her to break up, since Freddy is pretty bad at committing to it. Friendships are central to this graphic novel, as is learning to recognize when you're being a bad friend and need to do better. Mariko Tamaki's graphic novels are thoughtfully written, and combined with Rosemary Valero-O'Connell's illustrations, the overall effect is delightful.  
Anyone looking for a new science fiction book to jump into should check out Light From Other Stars by Erika Swyler. Nedda Pappas is one of four people living aboard the space shuttle Chawla, on a mission to save humanity by colonizing a distant planet. Chapters take readers back in time to 1986, when Nedda was an 11-year-old child growing up in Florida and thrilled to watch Challenger's launch. In this story, Challenger's explosion not only rocks her community, but also causes one of Nedda's father's inventions to trigger an unexpected series of events, altering time. In a book that could be all about fantastical scientific events, Swyler also writes rich relationships between Nedda and her family, and fellow space travelers. 
If you're looking for more reading perfect for summer escapist reading, try a romance!  
The Bride Test | A Prince On Paper | Red, White, and Royal Blue | Bloom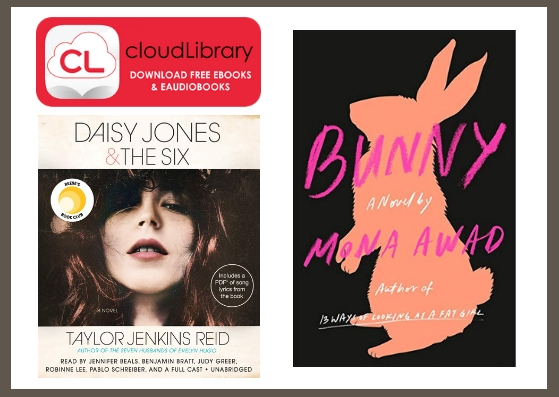 Becca's Picks 
While I don't manage Portland Public Library's fiction collection, I am an avid reader of the genre. One of my favorite things about being a librarian is reviewing trade publications for the latest novels. When I read a trade, I often have two tabs open: our ordering platform and my personal Goodreads account. 
 Audiobooks are the perfect complement to long car rides stuck in traffic on Route 1. I nabbed Daisy Jones & the Six as soon as it became available on CloudLibrary, and I was not disappointed. It boasts an uncomplicated story and Fleetwood Mac-level drama. Plus, the cast includes Jennifer Beals and Judy Greer, who are delightful narrators. I roared through this 10-hour audiobook in a few days. 
 Mona Awad's Bunny is my top choice for beach reading this summer. "Dark Tales of College" is one of my favorite niche sub-genres. Bunny follows the exploits of one MFA student as she enters a strange rich-girl clique with a horrifying secret. This book sounds like it will be a combination of The Secret History, Heathers, and my friend's erotica writing group; I can't wait to read it!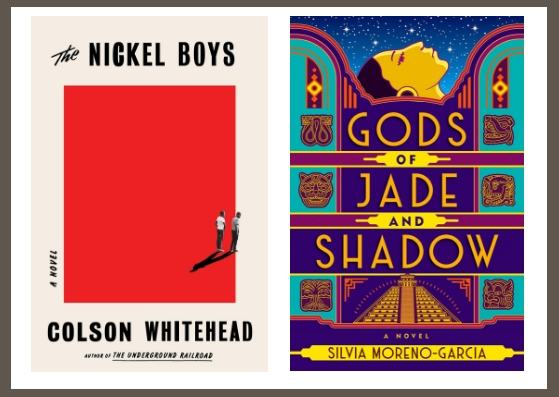 Sarah's Picks 
The library's hold lists show that a startling number of Portland readers are itching to get their hands on Ocean Vuong's debut On Earth We're Briefly Gorgeous and Colson Whitehead's newest release The Nickel Boys this summer. As the hold lists continue to grow, what do we read while we wait our turn?  
There are a few hidden gems coming in late July that I plan to snatch up for those lazy lounging days. The first is Gods of Jade and Shadow by Silvia Moreno-Garcia. This historical fantasy is set in Mexico in the late 1920's, post-revolution into the Jazz Age. Protagonist Casiopea, feeling stifled by small town life and working as her grandfather's maid, opens a strange box in his room as an act of defiance and accidentally frees the spirit of the Mayan god of death. The novel fuses fantasy, mythology, and historical fiction to tell the story of Casiopea's odyssey across Mexico and into the Mayan underworld. A feisty female protagonist, an alluring god, underworld adventure, 1920's Mexico…yes, please!  
Next is The Escape Room by Megan Goldin. Summer is the perfect time for a psychological thriller, and this one promises not to disappoint. Picture a group of Wall Street elite believing they're taking part in a team building exercise – an escape room challenge – only to realize that it's not a game and their lives are on the line. And it all takes place in an elevator! This fast-paced, compulsive page turner sounds perfect for a day at the beach.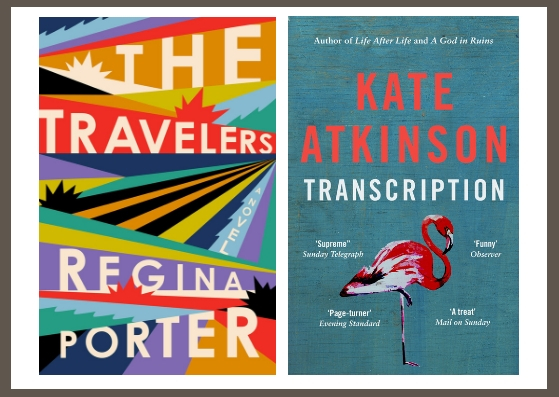 Elizabeth's Pick 
The day Mrs. Christie came toward me with that iron, I remembered what it was like…to want to protect the ones you love. More steam was coming off her body than the iron she held.  

I've been there. Our bodies carry steam for us.
I kicked off summer reading with The Travelers, falling into Regina Porter's writing and characters, so focused on their voices that I read almost the whole novel through on one of June's rainy days off work.  The Travelers is a page-turner full of secrets and truths with a captivating cast of parents and children, cousins and neighbors, friends and lovers: a world of gripping, intertwined histories and voices that collide and spark on the page, moving deftly through decades from Georgia to Vietnam to Portsmouth to New York to Berlin. With historical photographs, an homage to the aviator Bessie Coleman, and a deep dive into the play Rosencrantz and Guildenstern Are Dead. 
Catherine Chung's The Tenth Muse, a historical novel about a genius mathematician and a mysterious theorem, is at the top of my hold list: "The first thing I remember being said of me with any consistency was that I was intelligent—and I recognized even then that it was a comment leveled at me with as much disapproval as admiration. Still, I never tried to hide or suppress my mind as some girls do, and thank God, because that would have been the beginning of the end."
Eileen's Pick  
Transcription by Kate Atkinson 
She sensed something murky was creeping towards her.  It was a cruel thing, trying to sprout and find the light of day.  It was truth.  She wasn't sure that she wanted it.
It is London, 1940.  Juliet Armstrong (whose compelling backstory stands tall on its own even without the intrigue that quickly unfolds) toils away at the keyboard of an Imperial typewriter, transcribing recordings of Nazi sympathizers meeting in what they think is a safe place for folks of their ilk to further their political ends.  Inside and outside of the Dolphin Square apartments where this bit of MI5 business is conducted, alliances are formed, dogs are encountered, adventures are had, blood is shed; and Miss Armstrong's transcription, necessarily imperfect and inconclusive, goes on and on.  If there is truth to be had, it curls elusively in the indecipherable spaces, the "inaudible gaps" where revelation is muted or overwhelmed by extraneous sound or obliterated by the occasional technical glitch.   
Twists and turns are de rigueur in any Atkinson narrative, but anticipating the unexpected doesn't get me anywhere close to predicting what's ahead.  Ever.  She seems to write from an odd remove, but very much in the moment.  That is certainly true of Transcription, this 2018 spy novel.  The story begins with an ending, bends around to the beginning, leaps to a conclusion… make that conclusions, very much plural.  The road to page 335 is littered with questions, all seeking truth, or maybe masking it.  Or manufacturing it.  Doubting it.  Shrugging in the face of it, perhaps?  Well, Juliet would approve of that summation.  She and Atkinson both love a well-placed question mark, it seems.  They are scattered across every page like bread crumbs in a fairy tale forest.  In a story where characters morph and shift constantly, it only makes sense that even familiar names would be followed by question marks: "Juliet?"  "Perry?" "Godfrey?"  Is nothing certain?  In fact, it is not. 
The writing is strong, the story is gripping. It is on our New Books shelf just waiting to be scooped up for a lazy summer's day read.  But I warn you, you will find yourself thinking complicated thoughts in spite of the warm sun on your face, or the sound of soft rain on the porch roof.  Lazy won't cut it with a Kate Atkinson book, but she is worth the effort. 
___________________
As ever, thank you for reading!