Welcome back to Capes Optional, dear eyeballers of the blogosphere, where we, for one library, welcome our new robotic overlords. It's Maker Fair time again at PPL, and tomorrow our halls and meeting rooms will be filled with exhibits and demonstrations of all genres and interests: book coloring, lock picking, coffee brewing, duct tape crafting, candle making, and absolutely everything in between. It's a perfect day to spelunk into the bottomless depths of creativity or to discover a new hobby.
In keeping with the Maker spirit, I have found an arms-full of books that you can find on our shelves based around robotics and the sciences, and I think you'll find something of interest no matter who you might be. Allons-y!
Chobits, Vol.1
by Clamp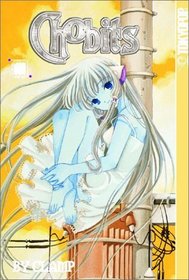 Chobits can be found in our Teen section, and is a popular manga and anime from Japan of the "ecchi" style, meaning playfully sexual without being explicit or adult-only. In Chobits, there exist what are called "persocoms," computers that can do everything your smartphone can except look like people and walk around with you while they do it. The story is about Hideki, a young man who can't hold a job, can't get into school, and certainly can't afford a persocom, who stumbles upon one of the robots in a trash heap. The beautiful persocom is named Chi, and as Hideki finds out, is more than just a regular computer-girl.
Rust: Visitor in the Field
by Royden Lepp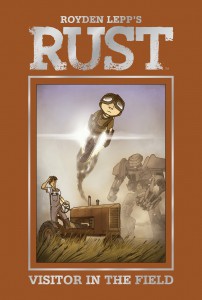 Rust: Visitor in the Field, as well as other books in the Rust series, is set on a small farm that could fit onto any Central- to Northern-Maine hillside…until Jet Jones flies through the barn, a jetpack on his back and being chased by a 30-foot-tall robot killing-machine that the country had used to fight a war with decades earlier. From there, the action and intrigue never stop. Lepp's illustrations are, aptly, all the color of rust, but are wide and expressive, telling the story of a farmer, his family, and the robotic war that won't ease its grip on humanity, with marvelous success. Rust can be found in the children's section at PPL.
The Manhattan Projects, Vol. 1: Science. Bad.
written by Jonathan Hickman, illustrated by Nick Pitarra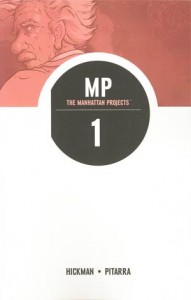 Are you as much a fan of alternate histories as I am? Then The Manhattan Projects will be right up your alley. Set in an alternate World War II, the graphic novel series follows Joseph Oppenheimer, evil twin of real-life American scientist Robert Oppenheimer, conducting secret military science experiments under the titular "Manhattan Projects." Any follower of history will recognize the project as that which developed the atomic bomb, but would probably not be familiar with FDR being artificial intelligence, Japan having teleporting robot soldiers, Doctor Einstein being an alcoholic sadist, and aliens being eaten by the Army to gain knowledge of space travel. Sound interesting? Pick up The Manhattan Projects.
Descender, Vol 1: Tin Stars
written by Jeff Lemire, illustrated by Dustin Nguyen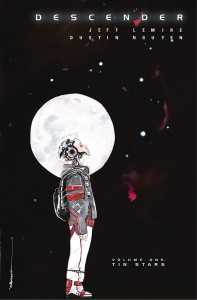 Jeff Lemire, writer of DC Comics' critically acclaimed Animal Man and Marvel's Old Man Logan, brings us Descender, a creator-owned comic about a young android trying to find where he fits in a big universe. TIM-21, or TIM for short, is a robot created to "entertain, protect, and assist in the education" of his human friend Andy. But TIM wakes up after ten years to find Andy missing and robots outlawed throughout the solar system; robotic, planet-sized monstrosities called Harvesters attacked the galaxy and destroyed entire civilizations, and a fearful population banned any mechanical intelligence as a result. But TIM isn't a monster…is he? Descenders was just picked up by Sony Pictures to become a blockbuster movie, and you can read all about TIM and his robot dog Bandit right at the library before anyone else.
WWR, World War Robot
written by Ashley Wood and TP Louise, illustrated by Ashley Wood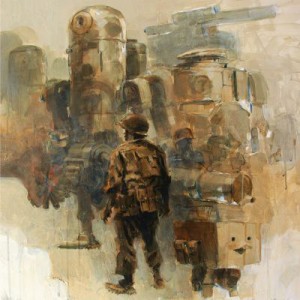 It's difficult for me to tell you the plot of World War Robot…because that plot is entirely up to you. World War Robot is a series of journal entries, letters, transcripts, and diaries of a fictional Great War that occurred during the 1980s and 1990s, accompanied by beautifully rendered paintings by Ashley Wood. In the timeline of WWR, a group of fanatically-religious humans took over Earth, and those seeking refuge from the violent cult fled the planet to colonize Mars. Earth retaliated, and the Terrans and Martians, as they are called, go to war with robots at their sides. The story is beautifully left with gaps in the narration and told only through "primary documents" of the time, and the paintings are breathtaking. A look back at a tragic time in one version of our past, and one not impossible to see in our future.
These are just the beginning! For superheroes that tie-in to our Maker theme, be sure to go look up DC's Cyborg and Firestorm, and, of course, Marvel's Iron Man.
Science and robotics are all the rage in 2016, with new advancements in artificial intelligence and the newest iGadget always front-page news, and what better way to immerse yourself in the spirit of creation than to go to the Maker Fair on April 23rd? I'll be there, and I hope that you will too. Until next month, chums, may your screens of death never be blue and may your Roomba not try to take over the world.