We're embracing the joy, the cheesiness, and the heartache of love this February at Portland Public Library. The shelves are bursting with love-themed materials for all: Not On Love Alone, a cookbook for newlyweds; Nikki Giovanni's Bicycles: Love Poems, Jeanne Córdova's When We Were Outlaws: A Memoir of Love and Revolution, Ann Patchett's memoir, This is the Story of a Happy Marriage, Karl A. Pillemer's 30 Lessons for Loving, Shel Silverstein's The Missing Piece…
Here are a few Staff Picks from the library (and some pertinent quotations) to help warm your hearts throughout these cold winter days.

Let's kick off the love with a soundtrack to read by! Here's Jim's heart-wrenching staff pick: Maria Callas singing O Mio Babbino Caro in 1965.
For lovers of novels, short stories, or novels-in-verse…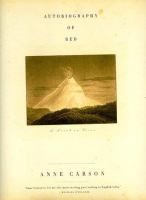 Autobiography of Red: A Novel in Verse, Anne Carson
"Loosely based on the Greek myth of Geryon, a winged creature with a human face, Carson's novel is about that particular flavor of love that is so easily tangled up with shame, loneliness and fear, that infatuation we are especially prone to as young people. It's about being a monster and falling hard." -Hazel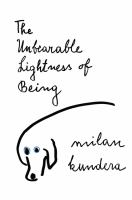 The Unbearable Lightness of Being, Milan Kundera
On Kundera's novel: "Life is complex. Relationships are complex. We all have different needs." -Scott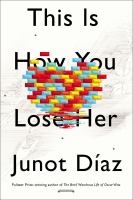 This is How You Lose Her, Junot Diaz
A favorite quotation from Junot Diaz's stories of love:
"You must learn her.
You must know the reason why she is silent. You must trace her weakest spots. You must write to her. You must remind her that you are there.You must know how long it takes for her to give up. You must be there to hold her when she is about to.You must love her because many have tried and failed. And she wants to know that she is worthy to be loved, that she is worthy to be kept.
And, this is how you keep her." 
-George
You can find more fiction recommendations on love here, including Emma Hooper's fantastic new novel "Etta and Otto and Russell and James," James Baldwin's classic "Giovanni's Room," Louise Erdrich's "The Painted Drum" (on healing, and mothers and daughters, and loving oneself), Haruki Murakami's "Norwegian Wood," and Ali Smith's myth-retelling, bright-light-of-a-love-story, "Girl Meets Boy."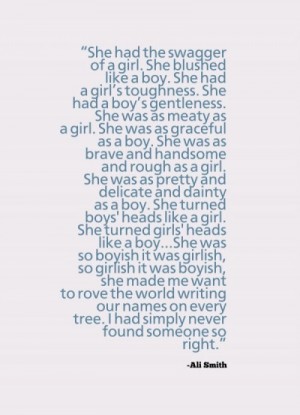 More More More: Children's & Teen Picks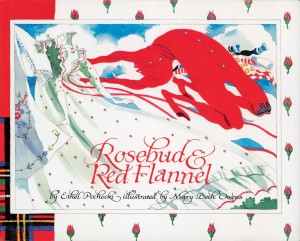 Rosebud & Red Flannel, Ethel Pochocki
Illustrated by Mary Beth Owens
"The unlikely love story, set on a clothesline, of a delicately embroidered nightgown made in France and a pair of red long johns (irregulars) purchased in an Army/Navy surplus store."
-Jerri
More More More Said the Baby, Vera B. Williams
"I 'love, love, love' More More More Said the Baby by Vera B. Williams. Love abounds and play is paramount when 'babies are caught up in the air and given loving attention by a father, grandmother, and mother.' Colorful, multicultural, and diverse, this book is perfect for sharing with your favorite preschooler."
-Carrie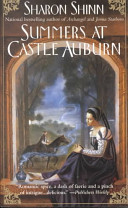 Summers at Castle Auburn, 
Sharon Shinn
"A bit of mystery, a pinch of romance, a dash of class intersect with a deeply flawed prince, a beloved uncle, a fae race enslaved in this story about a girl who becomes quintessentially herself as she grows up.  Amid poison, slavery, murder and politics, this surprisingly lighthearted growing-up tale focuses on a girl and her sister as they become the adults they wish to be."
The Scorpio Races, Maggie Stiefvater
"Man-eating horses that come out of the ocean are not romantic. But two young teens betting everything on a deadly race while simultaneously falling for each other IS romantic. This book is tender, magical, and empowering, and the writing is superb. The audiobook is also superb (and a treat for fans of British accents)."
-Kelley
Harry Potter and the Order of the Phoenix, J.K. Rowling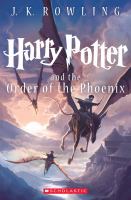 "There is a room in the Department of Mysteries that is kept locked at all times. It contains a force that is at once more wonderful and more terrible than death, than human intelligence, than the forces of nature. It is also, perhaps, the most mysterious of the many subjects for study that reside there. It is the power held within that room that you possess in such quantities and which Voldemort has not at all.That power took you to save Sirius tonight. That power also saved you from possession by Voldemort, because he could not bear to reside in a body so full of the force he detests. In the end, it mattered not that you could not close your mind. It was your heart that saved you."
—Albus Dumbledore
"I memorized this quote when I first read the book.
Love, the most powerful magic of all.
Everything I needed to know about life, I learned from Albus Dumbledore."
-Laura
 Love at the Movies: Film Picks
Secretary, directed by Steven Shainberg
"Maggie Gyllenhaal and James Spader star in Secretary, a date movie for the bondage and discipline crowd. Based on a story by Mary Gaitskill." -Patti
Shopgirl, directed by Anand Tucker
"I don't often say this but, when it comes to Shopgirl, I liked the movie even more than the book. In this 2005 adaptation of his own novella, Steve Martin plays one part of a love triangle along with Claire Danes and Jason Schwartzman. The story plays out some insightful differences between personality types and how each character's love is a wholly different feeling. While diehard Martin fans may grumble that this is not the Steve they used to know, he has only traded a little bit of his nonsense for a dose of reason. A far cry from another, more pointed, comedy that we have all come to love- Roxanne- this is still a worthy film for Valentine's Day." -Zeb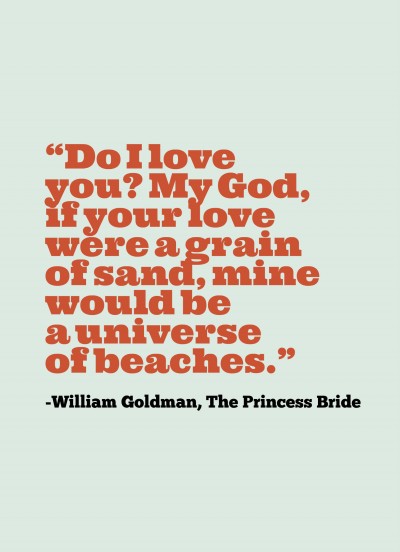 (Love Is) All There Is: Non-Fiction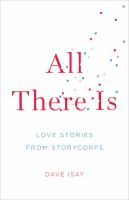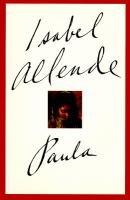 All There Is: Love Stories from StoryCorps, edited by Dave Isay

"An anthology that has such a generous variety of experiences of love in people's own voices."  -Priscilla

Paula, Isabelle Allende

"A wonderful memoir about the love between a mother and a daughter. " -Brandie

You Are Happy, Margaret Atwood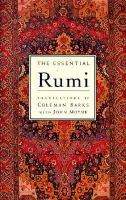 "I drink tea,/ fingers curved around the cup. Impossible/ to duplicate these flavours…it's your surprised body,/pleasure I like. I can even say it,/though only once and it won't/ last:  I want this. I want/this." -From the poem "There is Only One of Everything," Brian's pick from Margaret Atwood's book of poetry.
 The Essential Rumi, translated by Coleman Barks
"A thousand halfloves must be forsaken to take one whole heart home." -Raminta
The Prince of Los Cocuyos: A Miami Childhood, Richard Blanco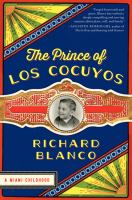 "For Love, I recommend 'The Prince of Los Cocuyos: A Miami Childhood,' by the poet Richard Blanco.  It's a sweet memoir of his childhood growing up with his Cuban immigrant family in Miami, where all his relatives recreate the Cuba of their bittersweet memories.  It's filled with the longings and dreams of his parents and grandparents to see their beloved Cuban homeland again.  And it's the story of young Ricki caught between two worlds—one the world of his ancestors and the other his struggle to find his identity as a gay young man in a culture that refuses to accept such a possibility.  This memoir is filled with the love of family, country of origin and the hopes and struggles of young Richard growing up in two cultures.
It's a great read!" -Sage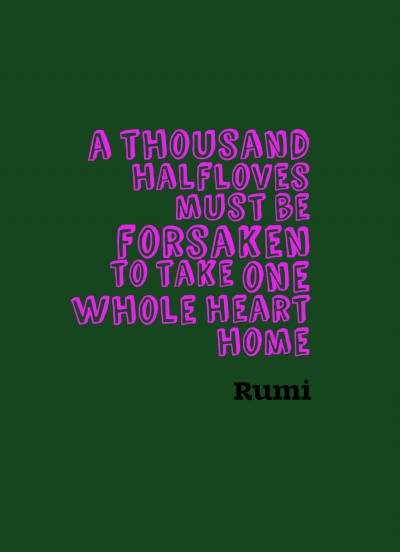 Tough Love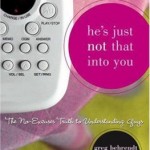 He's Just Not That Into You, Greg Behrendt
"Sometimes you just need to face the truth. #toughlove." -Sonya
Sadly: there are other kinds of love. Unrequited love. Love and loss. Thankfully: you can mine library materials for wisdom and guidance. For hope: there's bell hook's All About Love: New Visions, or Cheryl Strayed's Tiny Beautiful Things, which collects her "Dear Sugar" columns on life, love, and relationships. Sugar observes: "You will learn a lot about yourself if you stretch in the direction of goodness, of bigness, of kindness, of forgiveness, of emotional bravery. Be a warrior for love."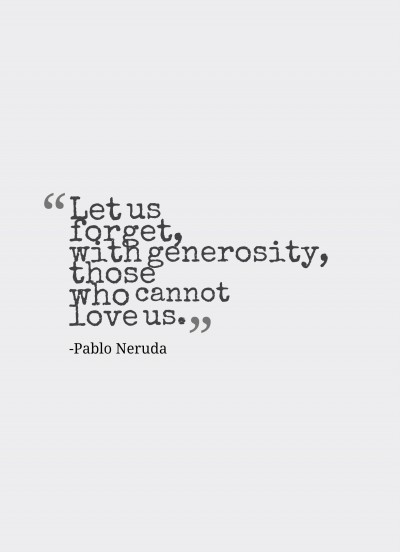 If Music Be The Food of Love: Play On
Tom W. weighed in for music with Jim Kweskin and The Jug Band's song "Blues My Naughty Sweetie Gives To Me." Enjoy the tremendously fine spoon, banjo, and fiddle-playing, as well as the poignant lyrics: "The only blues that's on my mind, they're the very meanest kind/The blues my naughty sweetie gives to me." Here's the band playing live:
If you enjoyed Jim Kweskin, check out his recording in the library on "Troubadours of the Folk Era." For more jug band music, try "The Best of the Memphis Jug Band," or "Ruckus Juice and Chitlins: Classic Recordings of the 1920's and 30's."
"Peel Slowly and See," The Velvet Underground
"I've thought long and hard about all of the epic love stories contained within our collection, but I keep going back to The Velvet Underground whose songs so have so perfectly captured every emotion I've ever experienced about love – romantic or not: euphoria, melancholy, heartache, lovesickness, happiness, sadness, desperation, contentment.  The library has "Peel Slowly and See" which is comprised of so many of these amazing songs." -Rachael
Bob Dylan's song "Not Dark Yet" takes us home. "One of the great songs about love and loss, and no longer being in one's younger years." -Wendy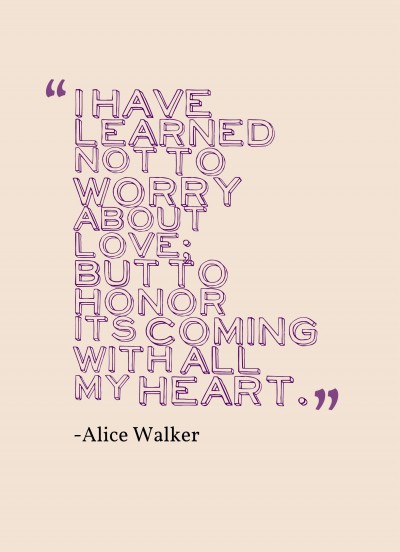 One Last Confirmation

A last quotation comes from Zadie Smith's novel On Beauty, a book so thick with thoughts on marriage, fidelity, friendship, family, and heartbreak that Smith might have easily titled it…On Love.  Here, the character Jerome is sitting quietly, mulling over his brother and sister. It's a brief moment in the book, a beautiful recognition of him and them, their world and their being so strongly and simply together, even in the curl of their hair, in a love that might just always sustain them.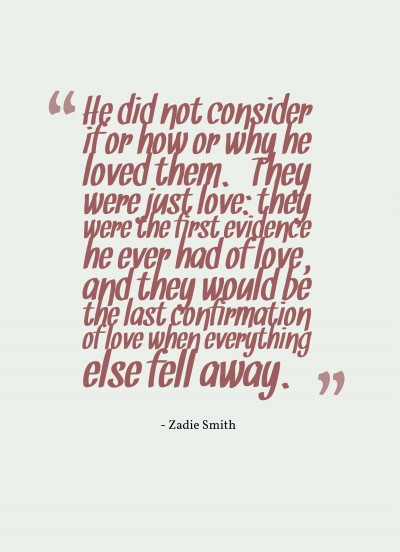 "People talk about the happy quiet that can exist between two loves, but this, too, was great; sitting between his sister and his brother, saying nothing, eating. Before the world existed, before it was populated, and before there were wars and jobs and colleges and movies and clothes and opinions and foreign travel — before all of these things there had been only one person, Zora, and only one place: a tent in the living room made from chairs and bed-sheets. After a few years, Levi arrived; space was made for him; it was as if he had always been. Looking at them both now, Jerome found himself in their finger joints and neat conch ears, in their long legs and wild curls. He heard himself in their partial lisps caused by puffy tongues vibrating against slightly noticeable buckteeth. He did not consider if or how or why he loved them. They were just love: they were the first evidence he ever had of love, and they would be the last confirmation of love when everything else fell away."
Thanks for reading.