Are you excited about the eclipse? So are we! Here is some information our librarians have put together to answer all of your eclipse-related questions. We hope that your viewing experience is safe and enjoyable!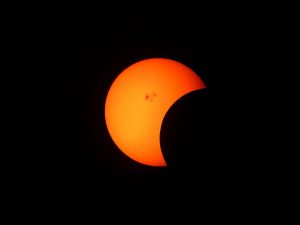 WHAT IS A SOLAR ECLIPSE?
A solar eclipse is a rare natural event caused when the moon passes between the sun and Earth. The moon temporarily blocks the sun from view either partially or totally, depending on where in the world it is observed. In Portland this summer, we will be able to see approximately a 58% eclipse at the maximum magnitude.
WHEN WILL IT HAPPEN?
The 2017 eclipse will take place on Monday, August 21st. It is estimated to begin in Portland at 1:29pm and last until 3:57pm. The maximum eclipse is expected to occur at 2:45pm.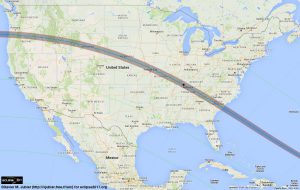 WHERE WILL IT HAPPEN?
It will be visible in some form throughout much of North and Central America. The total eclipse will follow a narrow path from Oregon to South Carolina.
HOW DO I WATCH IT?
It is never safe to look directly at the sun, even when it is partially eclipsed by the moon. The only safe way to look directly at the sun is through special-purpose solar filters, such as "eclipse glasses." Ordinary sunglasses, even very dark ones, are not safe for looking at the sun. You must be sure you are looking through authorized eclipse glasses that have been verified to be compliant with the ISO 12312-2 international safety standard. Look for this symbol:

CAN I USE A WELDING MASK TO WATCH THE ECLIPSE?
Using a welding mask or welding glasses to view the eclipse is only safe if they darken at shade #13 or above. Auto-darkening masks are not recommended as some older models may not darken as quickly as you need them to. Most welding lenses (masks, helmets, and goggles) start at a shade rating of #8 and can go up to #13 or above. To ensure complete safety, use lenses with a rating of #13 or above, which have been certified by the American National Standards Institute. To read more about these standards, click here.
WHAT DO I DO IF THE LIBRARY IS OUT OF FREE ECLIPSE GLASSES?
If you were not able to get free eclipse glasses before supplies ran out, don't panic! Here is a list of alternatives to safely viewing the eclipse.
Purchase ISO Certified Eclipse Glasses
You might still be able to find glasses available for purchase. Check this listing of reputable vendors compiled by the American Astronomical Society:
https://eclipse.aas.org/resources/solar-filters
Make a Simple Pinhole Projector
You can make your own pinhole projector to indirectly view a projection of the eclipse – just like you did in 3rd grade! This video from NASA offers simple how-to instructions using a cereal box:
https://eclipse2017.nasa.gov/how-make-pinhole-projector-view-solar-eclipse
Make an Elaborate Pinhole Projector
Our friends at NPR created this how-to video that features a variety of DIY pinhole projectors. You could make a different one for each member of your family:
http://www.npr.org/2017/08/17/543633362/make-your-own-eclipse-viewer?
3D Pint a Pinhole Projector
Did you know that the library has a 3D printer that you can use? Our public computing staff has been having a lot of fun with these 3D pinhole projector designs from NASA:
https://eclipse2017.nasa.gov/2d3d-printable-pinhole-projectors
Watch a Live-Video Stream
Experience the eclipse virtually by watching one of the livestreamed webcasts from Space.com's curated list:
https://www.space.com/37736-total-solar-eclipse-2017-live-streams.html
WHEN WILL THERE BE A TOTAL ECLIPSE IN MAINE?
On April 8th, 2024, there will be a total solar eclipse visible from northern Maine.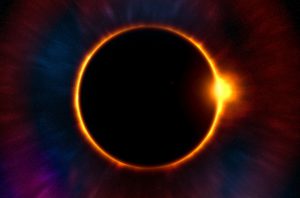 SOLAR ECLIPSE TERMS
Total Eclipse & Partial Eclipse
Depending on where you are when an eclipse happens, the moon might block out the entire sun or just part of it.
Corona
This is the thin ring of sunlight that remains visible around the moon during a total eclipse.
Umbra & Penumbra
The umbra is the darkest, fullest part of the moon's shadow, as would be seen during a total eclipse. The penumbra is a partial shadow, as we will see during this year's solar eclipse in Maine.
THE ECLIPSE IN MYTHOLOGY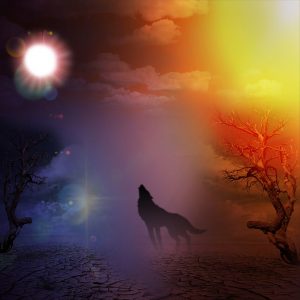 Norse Mythology
Hati the moon devourer and Skoll the sun devourer are the sons of Fenrir and Gulveig-Hoder. These two sons are actually giant wolves who guard the forest where the sun and moon sleep. Skoll chases the sun across the sky and into the sacred forest. Sometimes he catches it and devours it – temporarily.
Hindu Mythology
Svarbhanu is a demon who hides the sun. His downfall is caused by Indra, the king of heaven, who manages to replace the sun in the sky.
Other Customs
The ancient Chinese banged pots and drums to try and scare away the dragon who was devouring the sun. The ancient Peruvians shot arrows into the sky to fend off the beast which was attacking the sun.
MORE INFORMATION
Here are some websites that offer a wealth of reliable, reputable, trustworthy information about the 2017 Solar Eclipse:
American Astronomical Society
https://eclipse.aas.org/
NASA
https://eclipse2017.nasa.gov/
Space.com
https://www.space.com/33797-total-solar-eclipse-2017-guide.html
Starnet Libraries
http://www.starnetlibraries.org/2017eclipse/