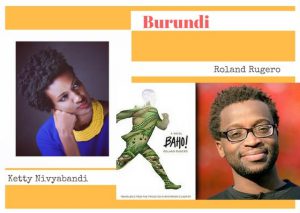 Nate, a Reference Staff member, continues his exploration of contemporary African Literature on the blog with a look at Burundi and a review of author Roland Rugero's recent novel "Baho!"
Burundi, a nation of approximately 11,000,000 people, is nestled in the highlands of east Africa; the country became independent from Belgium in 1962. Nigel Watt has explored an overall history in his volume Burundi, while Robert Kruger and Kathleen Tobin have documented specific periods of time during Burundi's more recent past. Kruger and Tobin illuminate how ethnic and politically inspired violence in Burundi often came to mirror events in neighboring Rwanda.  Though the populations were and remain similar in their makeups, roughly 85% Hutu and 14% Tutsi, unlike in Rwanda, Tutsis in Burundi maintained prominent roles in the military and police forces through the late 1990s. Whereas post-independence violence in Rwanda was often perpetrated by Hutus against Tutsis, the opposite proved true in Burundi.  This mirroring perhaps played out most vividly following the Rwandan genocide of 1994, when a mass migration of Hutu flowed from Rwanda into surrounding countries such as the Democratic Republic of the Congo and Burundi.  In Burundi these refugees often became victims of retaliatory acts of violence by the military and police forces.
Currently, Burundi finds itself mired in violence and governmental repression. As part of the peace process, constitutional reforms were enacted in the late 1990s which established gender and ethnic quotas in the parliament, military, and police forces in order to create more representational systems as well to discourage future unrest.  Though initially praised by diplomats such as Robert Kruger, following these reforms Burundi has been ruled by a single individual, Pierre Nkrunziza, who has been broadly criticized for seeking a third presidential term on the basis of a constitutional loophole and for his increasing repression of critical voices.  Fearing this violence and repression, many Burundians including human rights activists and writers like poet Ketty Nivyabandi, have left the country, seeking asylum in Belgium, France, Canada, and here in Portland, ME.
Author Roland Rugero is a 31-year old Burundian writer and journalist. Rugero grew up in a book-loving family, and he's dedicated to fostering the growth of the Burundian literary scene. He's worked as a journalist in Burundi since 2008—writing articles, for example, about innovative bicycling programs that are using people-power to generate electricity in Burundian homes—and cofounded a writing workshop that meets weekly in Bujumbura, the capital city of Burundi. Rugero's fiction explores, among other things, conflict in Burundian society today. His second novel 'Baho!' was recently translated by Christopher Schaefer.
Baho! examines an instance of communal justice carried out against a mute village teenager, Nyamuragi. The above interaction begins at an area of riverbank in Hariho, the village that serves as the setting for 'Baho!'.  Approaching the riverbank, Nyamuragi finds himself alongside a young female villager, Kigeme, to whom he attempts to indicate that he desperately needs an appropriate place to relieve himself.  Although his gestures were intended to communicate simply his wish for directions they are understood by Kigeme to demonstrate far more ominous desires.  As word spreads through Hariho, which has been plagued by a recent rash of sexual assaults, the interaction in question and following accusation prove difficult for Nyamuragi to refute or negotiate due to both his inability to speak and a rising collective anger within the community towards perpetrators of sexual violence.
As the acts that constitute the timeline of Baho! occur in no more than thirty minutes, Rugero uses much of the novel to share the background stories of Nyamuragi and Kigeme, as well as the stories of members of the mob of Hariho villagers that has formed around Nyamuragi. By exploring their unique circumstances and reasons for joining in the interrogation Rugero individualizes members of the mob, thereby adding a certain amount of nuance to a group phenomena often characterized by its lack of humanity and its inability to reason.  Though Rugero mentions ethnicity explicitly only once, the use of the mob functions as a stand-in for much of the ethnic violence experienced by Burundians throughout the second half of the 20th century.  Rugero's use of vocabulary in explaining the mob's actions further illustrates the connection to such past instances,
"They had to punish the vermin, because law is weaker than crime, because it allows a killer to live. The deed comes back on the man.  Eliminate the impure man and you protect yourself from evil.  Crystal-clear, the message goes down smoothly with this crowd, overheated with anger and thirsty for rain."
The Othering of Nyamuragi, by casting him as impure and unworthy of any form of justice, speaks to the ways in which Hutu and Tutsi propagandists described each other during times of violence. In Rwanda the Tutsi were referred to as 'inyenzi,' or cockroaches, during the genocide of 1994.  To remove the humanity from a person or group of people is to remove a certain amount of empathy from the situation, to forgive one's own transgressions as being insignificant due to who they were directed against.  In this situation Nyamuragi is nothing more than a mute, potential-rapist, and the crowd reserves no sympathy for him.
But Rugero does not allow for this simple understanding of the situation. We as the reader are allowed to know more, to peel away the layers of Nyamuragi, to learn his history, and to us he becomes much more than the impure vermin.  We are provided Nyamuragi's backstory: we learn of his expulsion from primary school on account of his muteness, of his learning to read and write on his own, of his fondness for sheep and shepherding, and his insatiable appetite.  We are also told of the death of his parents, though the brevity of this revelation seems to hint at death being a common occurrence within the village of Hariho.  All of this affects the way we perceive Nyamuragi and serves as a contrast to the perception held by the mob in pursuit of him. The tragedy seeps in.
"Nyamuragi was born alone. He had never had a conversation.  Nor a discussion.  Nor a debate.  He had been born mute; speech was etched into him.  He drew nourishment from it as a matter of course.  Awkwardly.  Alone.  In isolation.  He knew no friend, and he had no family to count on."
'Baho!' the imperative form of the verb "to live" in Kirundi, finds footholds throughout the characters and events that make up the book, which is full of references to Burundians' struggles to survive. Be it through the relaying of folktales or explaining the secret agenda of one of the mob's leaders, Rugero peppers his story with instances of life and death that add complexity to the apparent reasons for characters' involvement in the story's main action.  This includes an old one-eyed woman, introduced at the beginning of the book, who recounts the story of a father and his daughter's marriage, the apparent moral of which hints at the importance of perserverance and level-headed decision making even in the face of dire circumstances.  A leading member of the justice-seeking mob's significance is revealed when Rugero shares his story: acts he's witnessed and participated in have left him changed, and cause him to act in a very deliberate way during the events of Baho!
Roland Rugero's Baho! is simple and confined.  At times it reads like a play, with pauses in action filled by narration from different characters.  Yet this simplicity hints at histories and emotions grander in scope, as if both the collective sorrow and immense capacity for life held within the Burundian citizenry find release through the actions of Nyamuragi and the Hariho mob.  Rugero's novel is well worth a read and will satisfy readers of all different types.